2011 NFL Free Agent Receivers
By: Roshan Bhagat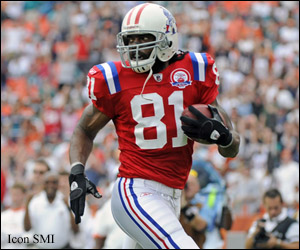 Vincent Jackson (SD) (Franchised) – Despite all of the turmoil and media noise regarding Vincent Jackson over the last two years, it would appear likely that he and team will patch things up and ink a long-term contract. Though Philip Rivers succeeded without Jackson in 2010, Coach Norv Turner paid complements to his star receiver, saying he was a better player last year than he was in 2009.
Sidney Rice (MIN) – Coming back from a pretty serious hip injury, Rice continued to impress with his athletic ability and added to his highlight reel. His per game numbers didn't mimic his dominant 2009 season, due primarily to inadequate quarterback/O-line play. Re-signing Rice will be of the utmost importance if they wish to accelerate the learning curve for Christian Ponder.
Santonio Holmes (NYJ) – Aside from the "character concerns," the Steelers were quick to send Holmes packing to the highest bidder because of the expected cost in retaining Holmes this offseason. Now that decision will fall squarely on the shoulder of the Jets. Holmes is the best receiver on a talented receiving corps. He's a good route runner and is known to come up big late in games. With certain teams being forced to spend big money to reach the higher projected cap floor, Holmes could be a player they look at.
Braylon Edwards (NYJ) – Edwards has been the big play threat on an offense that is most explosive when the running game opens up the playaction to him down the field. He's been linked to several teams this offseason including the Redskins and Bears, but ultimately, his future will probably be tied to the decisions reached by both the Jets and Santonio Holmes. If the Jets first want to wait to for Holmes, don't expect Edwards to wait around for that decision with money to be made in free agency.
Malcom Floyd (SD) – Floyd was given the highest tender last offseason and came through for the Chargers. However, it's expected that the Chargers will only retain one of Floyd or Jackson and the latter seems more likely right now. Floyd is a tall, athletic downfield threat with the body control to become a number one receiver in the league. He'll be heavily pursued by several teams.
Steve Smith (NYG) – Smith was the perfect slot receiver for the Giants' terrific threesome and was on his way to his second consecutive 1000-yard season before an injury derailed him in the middle of the year. He's fully expected to re-sign with the Giants, but will be at least limited for start of training camp.
Santana Moss (WAS) – Santana Moss has become somewhat of a forgotten player, but is still a productive top receiving option. Though the Redskins may pursue one of the younger options, both Shanahan and Moss have expressed mutual interest.
Randy Moss (TEN) – Moss has burned a few bridges already, but there will be a niche market for Randy Moss this year. Given the admiration Moss has shown for the Patriots organization, they'll have the first crack, but I'd be shocked if anything materialized on that end. Rumors suggest Moss is in "freakish shape" and will return with a "chip on his shoulder." If either of those hold true, he will be a bargain. It will take a stable locker room to bring that out in Moss.
Plaxico Burress (NYG) – Burress will ride Michael Vick's success to a contract. Vick came out of prison a different person. Will Burress? We do know that he's long and talented—a combination that several teams are looking for.
Terrell Owens (CIN) – Given his age, baggage, and the recent surfacing of his ACL injury, the market for Owens diminishes every year. I wouldn't be entirely shocked if he's played his last down in the NFL, but He will be playing football somewhere next year. He loves the game too much to have it robbed from him by injury.
James Jones (GB) – Will the Packers be willing to pay Jones like a starting receiver? With his known case of the drops and Jordy Nelson's big Super Bowl, the Packers aren't expected to retain Jones. Though he doesn't have the reputation of other receivers, he has age and potential on his side. He's a complete receiver with the entire route tree under his belt.
Steve Breaston (ARI) – The Cardinals know the health of Breaston's knee better than any other teams. If it checks out clean, they also know his abilities better than anyone else. He's a breakout star in the making and would form a formidable duo with Larry Fitzgerald if the team could get their quarterback situation untangled. His future is murky, at best.
Other Notable Free Agents:
Early Doucet (ARZ) – Restricted
Brian Finneran (ATL)
Donte' Stallworth (BAL)
TJ Houshmandzadeh (BAL)
Rashied Davis (CHI)
Devin Aromashadu (CHI)
Antonio Bryant (CIN)
Chansi Stuckey (CLE)
Sam Hurd (DAL)
Jacoby Jones (HOU)
Mike Sims-Walker (JAC)
Kevin Curtis (MIA)
Hank Baskett (MIN)
Greg Lewis (MIN)
Lance Moore (NO)
Courtney Roby (NO)
Derek Hagan (NYG)
Brad Smith (NYJ)
Johnnie Lee Higgins (OAK)
Legedu Naanee (SD)
Brandon Stokley (SEA)
Laurent Robinson (STL)
Mark Clayton (STL)
Micheal Spurlock (TB)
Maurice Stovall (TB)

Tight Ends:
Zach Miller (OAK) – Miller is without a doubt the Raiders top offensive target. He's a reliable target who has produced at a high level without a legitimate starting quarterback. Unlike many of the hybrid tight ends around the league, Miller is also a good blocker with a very bright future ahead of himself. The Raiders recognize this.
Kevin Boss, NYG – Boss is a well-rounded tight end in line with the Giants emphasis on the running game. Though opportunities have been somewhat limited by the success of the Giants receiving corps, Boss has been reliable and effective when thrown to. There's mutual interest on the table.
David Thomas (NO) – Thomas is reliable pass-catching tight end with the ability to start in the league. Under Sean Payton's offense with Drew Brees at the helm, Thomas has become a big part of the passing offense and the Saints should look to re-sign him.
Other Notable Free Agents:
Ben Patrick (ARZ)
Dante Rosario (CAR)
Jeff King (CAR)
Desmond Clark (CHI)
Reggie Kelly (CIN)
Robert Royal (CLE)
Spencer Havner (GB)
Donald Lee (GB)
Leonard Pope (KC)
Joey Haynos (MIA)
Matt Spaeth (PIT)
Randy McMichael (SD)
Daniel Fells (STL)
John Gilmore (TB)
Jerramy Stevens (TB)
Bo Scaife (TEN)