2016 NFL Mock Draft
By: Robert Davis | Updated: 4/27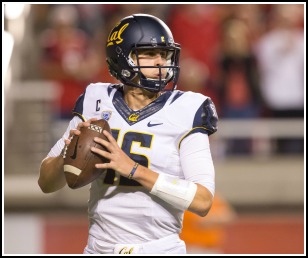 Los Angeles(from Ten) - Jared Goff, QB, Cal
The Rams didn't make the move up here without knowing who they wanted. Goff will be the face of the franchise as they take on Los Angeles.
Philadelphia(from Cle) - Carson Wentz, QB, North Dakota St.
Much like LA, the Eagles traded up here knowing who they wanted to get. This is a great situation for Wentz, as he won't be forced to play right away.
San Diego - DeForest Buckner, DL, Oregon
Tunsil and Ramsey may be the best players available, but their run defense has to be addressed. Buckner is the ideal five tech, but is also underrated as a pass rusher.
Dallas - Jalen Ramsey, DB, Florida St.
Rumors have Ramsey atop the Cowboys draft board. Landing him at 4 is tremendous value. Joey Bosa will draw a lot of attention, but building a long, athletic and versatile secondary is too hard to pass on here.
Jacksonville - Laremy Tunsil, OT, Ole Miss
Most have the Jags pegged for a defender, but it would be too hard to pass on Tunsil with this pick. He would be a big upgrade at left tackle, and would allow Luke Joeckel to move over, giving Blake Bortles a great set of bookends in front of him.
Baltimore - Joey Bosa, DL, Ohio St.
Ozzie Newsome is one of the best in the business when it comes to the draft, but the pick is made easy here. Bosa is tremendous value and he will help a team looking for front seven help.
San Francisco - Ronnie Stanley, OT, Notre Dame
With the dream of a QB falling here dashed over a week ago, the 9ers settle for adding a standout up front on the offensive line.
Cleveland - (from Phi via Mia) Ezekiel Elliott, RB, Ohio St.
This may be a hot spot for a trade, and the Browns would like to move down some more. If they are here though, they need playmakers on offense in the worst way. Elliott would give the offense an identity with his workhorse ability, but still has the ability to make big plays to change the game.
Tampa Bay - Vernon Hargreaves, CB, Florida
Upgrading the secondary will be a priority on draft day, and having the ability to select the drafts top pure cover man would be hard to pass on. Some people are overrating the length issue with Hargreaves. He is a tremendous football player and a great cover man. His quickness, toughness, and instincts make up for being an inch short.
NY Giants - Myles Jack, LB, UCLA
Jack could go as high as #5, but the Giants are hoping he makes it here. They spent a lot on the defensive side of the ball in free agency, but adding a playmaker like Jack could be the biggest addition of them all.

Chicago - Leonard Floyd, OLB, Georgia
It is a must that the Bears add speed and playmaking off the edge. It is a weaker year for edge rushing talent, but Floyd's length and athleticism is special in any year.
New Orleans - Sheldon Rankins, DT, Louisville
The Saints are still searching for players who can apply pressure and stop the run. Rankins can do both from an interior line position, which is hard to find.
Miami(from Phi) - Darron Lee, LB, Ohio St.
The Dolphins would love for Myles Jack or Ezekiel Elliott to fall here, but they don't. They get the next best thing at linebacker in Lee, adding big time speed and cover ability to their linebacking corp.
Oakland - William Jackson, CB, Houston
Adding Sean Smith was a good start, but more help is needed. Jackson brings more length and cover ability to a completely overhauled secondary. The defense is shaping up to be a unit that could surprise next year.
Tennessee(from LA) - Jack Conklin, OT, Michigan St.
They were originally pegged to select a tackle at the top of the draft, and they look to be in good position here to upgrade the RT spot. Conklin is a great fit at RT and would be a great addition to the unit tasked with protecting Marcus Mariota.
Detroit - Taylor Decker, OT, Ohio St.
The Lions finally decide to pop for a tackle early, shifting Riley Reiff over to the right side. Decker might be an ideal fit on the right side, but he would be an upgrade at left tackle for the Lions.
Atlanta - Shaq Lawson, DE, Clemson
Although Vic Beasley didn't have quite the instant impact expected, the Falcons go back to the Clemson well for their first rounder this year. They are still looking to upgrade their pass rush, and pairing Lawson with Beasley would be a great pair of players on the edge.
Indianapolis - Jarran Reed, DT, Alabama
The Colts have to get an impact from this pick, and Reed can provide just that in the running game from day one.
Buffalo - Kevin Dodd, DE, Clemson
Dodd's best football is ahead of him, but his ability to play the run and get up field would be a nice addition to Rex Ryan's defensive line.
NY Jets - Paxton Lynch, QB, Memphis
The fact that Ryan Fitzpatrick is still a free agent tells you how much the Jets like him as the long term answer at QB. The selection of Lynch gives them a real QB to groom. Fitzpatrick would still be welcomed back, but this team cannot move forward with Geno Smith as their quarterback.
Washington - A'Shawn Robinson, DT, Alabama
The Skins are looking to get better against the run, and Robinson will help out right away in that regard. He brings a little versatility with the ability to play multiple spots up front.
Houston - Corey Coleman, WR, Baylor
Coleman is a big play waiting to happen, and that home run ability is exactly what the Texans are looking to add to their offense. His ability to stretch the field and turn nothing into something would help take some pressure off DeAndre Hopkins.
Minnesota - Laquon Treadwell, WR, Ole Miss
Finding Teddy Bridgewater a go to weapon is a priority on draft weekend, and the Vikings couldn't be happier Treadwell slides to them. His size and ability to go get the football are exactly what they're looking for.
Cincinnati - Josh Doctson, WR, TCU
The run on receivers continues with Doctson to the Bengals. With Marvin Jones and Mohamed Sanu departing in free agency, the Bengals have to get some more weapons out wide.
Pittsburgh - Eli Apple, CB, Ohio St.
Apple could go higher than this, but the Steelers are very happy he's still on the board. He's arguably the best player available at a big need position, and brings the length and athleticism teams covet in corners today.
Seattle - Jason Spriggs, OT, Indiana
Offensive tackle was a need before Russell Okung signed with Denver. Pete Carroll has to get some talent up front to protect Russell Wilson.
Green Bay - Reggie Ragland, ILB, Alabama
Ragland falling here would be a coup for the Pack. Not only does he give them a true middle linebacker to lead the defense and help against the run, but it allows Clay Matthews to move back outside.
Kansas City - Mackensie Alexander, CB, Clemson
Alexander's ability to play press man and use his physicality to his advantage would be a great fit in KC. The departure of Sean Smith has left a hole in that role, and Alexander is a tremendous talent.
Arizona - Karl Joseph, S, West Virginia
Adding another active, aggressive and instinctive playmaker in deep coverage could really make the Cardinals defense tough.
Carolina - Artie Burns, CB, Miami
The corner spot was a need before the surprising decision to rescind the franchise tag to Josh Norman, kicking him out of town. While the Panthers have no drafted for immediate need in the first round in recent years, this year the most upside left may match their need at corner. Burns is extremely gifted, he just needs to focus more. If focused, he can be better than the man he's replacing.
Denver - Connor Cook, QB, Michigan St.
The Broncos really could go a number of ways here. Their depth in the front seven was hit hard in free agency. OL, DL, or WR could be options. But, none are bigger than the QB spot. Mark Sanchez is not the answer. Cook needs some work, but is battle tested in the Big Ten and in big games. He could play right away and let the defense win games, much like Peyton Manning and Brock Osweiler did last year.
NFL Draft | 2016 NFL Mock Drafts | Profiles | 2016 NFL Free Agents | NFL Forum | Contact
Copyright &copy 2016 FootballsFuture.com. Do not duplicate or redistribute an any form.
Privacy Policy