2011 NFL Free Agent Running Backs
By: Roshan Bhagat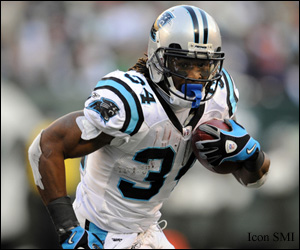 DeAngelo Williams (CAR) – The emergence of Mike Goodson and Jonathan Stewart could easily allow the Panthers to let Williams walk. While Williams does seem interested in testing the market for his final big contract, the Panthers also seem interested in matching any offer made elsewhere. If rumors are true, the Broncos will make a push for Williams and the fit seems very reasonable.
Ahmad Bradshaw (NYG) – A 25-year old Ahmad Bradshaw would certainly be an attractive hire on the free agent market. He has age, speed, and versatility on his side. He has said that he'd like to return to the Giants it would be odd if New York didn't at least make a strong push to keep him. If they deem the fumbling issue to be too big a roadblock then there will be plenty of other suitors ready to make him a sizeable offer.
Cedric Benson (CIN) – A murky situation for Cedric Benson worsened this offseason when he was charged on a misdemeanor count of assault. The Bengals haven't shied away from character problems, but typically are less willing to forgive them once they've already been acclimated to the team. Benson scrapped together a second consecutive 1000 yard season, primarily pounding the ball between the tackles, but I'd be surprised if the Bengals didn't put more trust into back-up Bernard Scott with whom they have confidence.
Mike Tolbert (SD) – Restricted – The 2010 season ushered in the return of the bruisers at running back and few were more effective than the former fullback. With only three accrued seasons, Tolbert has been tendered at the second-round level and will likely remain with the Chargers.
Darren Sproles (SD) – The Chargers have rewarded Sproles handsomely over the past two years, but with Mathews and Tolbert, there are conflicting reports about the team's interest in retaining the scat back/returner. For the number of weapons they have on the roster, touches may be limited for Sproles, which would suggest his value would be higher elsewhere.
BenJarvus Green-Ellis (NE) – Restricted – Green-Ellis is a punishing runner that eclipsed the 1000-yard mark last season and received a second-round tender from the Patriots. Though the team drafted both a second and third round running back, Ellis is expected back, but his touches may be limited this year.
Ronnie Brown (MIA) – At 29 with an injury history and a lone 1000 yard season in his career, Brown hasn't earned his second big contract. Hampered by an inert passing attack, his talent was neutralized in a big contract year. It's unlikely that Brown will return to Miami. In free agency, he may He may look for a short deal hoping to recapture some of his youth and try for a bigger payday at the age of 30 or more realistically opt for stability.
Ricky Williams (MIA) – Williams continues to defy the odds as he turned in another successful rushing season over the age of 30. While the Dolphins could probably still use his services as a back-up, it seems more likely that he too will be playing elsewhere this season.
Michael Bush (OAK) – Restricted – Receiving a first- and a third-round tender from the Raiders, it's almost a guarantee that Bush will function as an insurance policy and short-yardage back behind Darren McFadden for the upcoming season.
Le'Ron McClain (BAL) (FB) – With the success of Peyton Hillis, McClain will probably ask for more carries, which is generally associated with more money. Without McGahee the Ravens may be able to offer him just that, but he's still far more valuable as a fullback.
Lawrence Vickers (CLE) (FB) – The Browns drafted the two-way backer/fullback from Stanford, which has raised speculation that Vickers may not be re-signed. Vickers has also fed into the speculation after showing confusion over not even being shown a restricted tender. The switch to the West Coast offense would explain it.
Vonta Leach (HOU) (FB) – The Pro Bowl fullback loves smashing heads with linebackers, paving the way for the league's leading rusher. He was also the lone fullback to make the NFL Network's player-voted top 100. Leach should very much be considered a part of the Texans' future.
John Kuhn (GB) (FB) – Kuhn has become a fan favorite and a locker room leader in Green Bay. He's a lunch pail guy who provides versatility on offense and consistency on special teams. The Packers should take care of him.
Other Notable Free Agents:
Tim Hightower (ARZ) – Restricted
Jerious Norwood (ATL)
Mike Bell (CLE)
Justin Fargas (DEN)
Laurence Maroney (DEN)
Kevin Smith (DET)
Brandon Jackson (GB)
Joseph Addai (IND)
Mike Hart (IND)
Patrick Cobbs (MIA)
Albert Young (MIN)
Sammy Morris (NE)
Kevin Faulk (NE)
Fred Taylor (NE)
Julius Jones (NO)
Jerome Harrison (PHI)
Mewelde Moore (PIT)
Brian Westbrook (SF)
Kenneth Darby (STL)
Cadillac Williams (TB)
Tiki Barber (FA)
Jason Snelling (ATL) (FB)
Brian Leonard (CIN) (FB)
Jerome Felton (DET) (FB) – Restricted
Korey Hall (GB) (FB)
Naufahu Tahi (MIN) (FB)
Tony Richardson (NYJ) (FB)
Heath Evans (NO) (FB)
Marcel Reece (OAK) (FB) – Restricted
Ahmard Hall (TEN) (FB)

Continue to Free Agent WRs -->