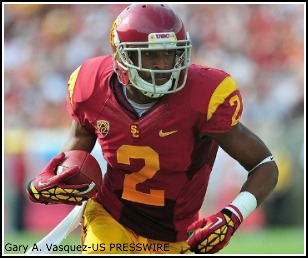 The 2013 NFL Draft may not have an elite prospect at the wide receiver position, but the class could prove to be extremely deep with the help of some playmaking underclassmen. USC's Robert Woods, Tennessee's Justin Hunter, and Cal's Keenan Allen all have the option of returning to school, but would top the WR list should they enter the draft.
Robert Woods of USC has been Matt Barkley's top receiver the past two seasons, but super soph Marqise Lee has taken that honor this year. That is no slight on Woods; Lee is the best WR that doesn't play on Sundays. While his numbers have taken a hit, the ability has not. Woods is the most complete and most polished receiver available for this years draft. He is a tremendous natural athlete that is great in the open field. He is quick, can start and stop with anyone, and has the acceleration and long range speed to take it the distance. While a bit thin, he is a bit over 6' tall, and plays much bigger than his weight suggests. Woods will work the middle of the field and can take a hit. Woods is a polished route runner, with great hands, and is viewed as a team leader. The natural tools and polished skills give him a very low floor but big time upside. The only potential issue with Woods may be minor durability concerns. There is the thin build and how that may carry over to the NFL, but he has also had a nagging ankle injury at USC, which he had surgery on after the 2011 season. Should he declare, Woods will be in contention for the top spot at WR, and looks like a first round lock.
WR RANKINGS
Cordarrelle Patterson, Tennessee
Robert Woods, USC
Keenan Allen, California
Justin Hunter, Tennessee
Tavon Austin, West Virginia
Terrance Williams, Baylor
Quinton Patton, Louisiana Tech
Marquess Wilson, Washington St.
DeAndre Hopkins, Clemson
Kenny Stills, Oklahoma
Tennessee's Justin Hunter has that size and speed combo that most coaches dream about. He stands 6'4 with the speed to outrun defenders and get down the field vertically. What sets him apart from most receivers with his size, is his ability to change direction. Both in and out of routes and in the open field to make plays, Hunter moves very well and accelerates well out of his cuts. He is the type of wideout you can make any throw to: a jump ball down the field, across the middle of the field, or even on a quick screen with the ability to make a big play. Hunter is coming off a knee injury that ended his 2011 season that will be looked into, and he will need to get stronger to be a physical threat over the middle of the field. Hunter has also had some issued with catching the football consistently this season, which will be something he has to improve on. Physically speaking though, he is the type of player that could perform very well in the post season and be the first receiver selected in April.
Keenan Allen of Cal may not be the most explosive wide receiver, but he is one of the most consistent and dependable. He has good size, a sturdy frame, and excellent hands. Those traits will make him a great target over the middle, and the type of receiver QB's look to for first downs on key possessions. He is also a great natural athlete with great ball skills. He can go up and outjump and outmuscle defenders for the football in the red zone. Allen shouldn't be miscast as solely a possession receiver though, because he is a good athlete with the speed to get down the field and make some plays. He just does not have blazing speed and won't run by defenders consistently, but he can make some plays. He's currently out with a knee injury that doesn't appear to be a long term concern, but is something to watch. Allen probably won't carry a premium grade on draft day, but is a possible first rounder, but would be a steal if he slipped to the second round.
West Virginia's Tavon Austin is arguably the top senior wide receiver available, but unquestionably the biggest playmaker. Everything he gives up in size(5'8 175), he makes up for with big plays. Saying he has tremendous quickness, elusiveness, and speed is an understatement. He truly is a threat to go the distance every time he touches the football. Austin will not be a fit for every team because of his lack of size, ability as a red zone threat, and because he won't catch 100 passes. But as an all purpose offensive weapon and special teamer, he could rate very highly. He will add a special element to many teams offenses, and teams that use him with a specific role in mind, should be very happy.
Marquess Wilson, formerly of Washington State, may be one of the bigger wild cards for the 2013 draft. On the field, he has the size and talent to be included amongst the top tier of wideouts with Woods, Hunter, and Allen. He has the length, athleticism, and straight line speed to be a difference maker at the next level. Wilson would be a tough matchup in the red zone and in jump ball situations because of his length, leaping ability and great ball skills. He is also a willing threat across the middle of the field, although he will have to add significant bulk to make a living in this area of the field. Legitimate border line first round talent on the field. The true questions with Wilson stem from his indefinite suspension for a violation of team rules, followed by him leaving the team. Wilson claims new coach Mike Leach and staff abused him and his teammates. The entire situation will be looked into heavily, because character has become a key trait among draft eligible prospects. Wilson was viewed as a hard worker and good kid prior to this incident, but all details will come out in the coming months, at least for NFL teams. That will absolutely effect his draft status, but the kid is a potential impact NFL talent.
Baylor's Terrance Williams was overshadowed by RGIII and Kendall Wright last year, but was expected to be the teams top playmaker this year, and he hasn't disappointed. He has over 1,400 yards and ten TD's already in just nine games. Williams has always had the talent, but was a work in progress. While he still needs work sharpening his routes and becoming more consistent with his hands, he has definitely shown improvement during his career. He has a great frame, giving him the size to make plays over the middle and to match up in one on one situations. For a player standing 6'3 and 205lbs, he also shows impressive vertical speed, allowing him to make plays down the field and also get separation on defenders. Williams has had some issues showing aggressiveness and toughness on the field in the past, but has come on as a senior. He will need to continue to develop his skills before he reaches his potential, but the all around skills are there to be a productive NFL receiver.
Da'Rick Rogers of Tennessee Tech(formerly Tennessee) is in a similar boat to Marquess Wilson. Off the field concerns may have as much to do with his draft stock as anything he does on the field. He left Tennessee after multiple drug issues and suspension, and ended up at Tennessee Tech for his Junior season. It appears he has already made up his mind to enter the draft this year. Rogers is one of the more physically imposing players at the receiver position this year. He has a tall, sturdy frame for a wide receiver and is very physical on the field. He is tough to jam at the line because he is so strong. He will cross the middle, take hits, and keep on moving. He's a tough match up in the red zone because of his size and strength; he's tough to stop in a one on one situation near the goal line. Rogers has enough speed to make some plays and get down the field vertically but he is more of an intermediate threat and possession receiver. Just how high he goes in April will depend on how much teams feel he has matured and left his attitude behind, and how determined he is to reach his potential. The skills are there to warrant a second round selection, but he may be available later depending on what teams feel about his character concerns off the field.
Louisiana Tech's Quinton Patton is one of the more underrated prospects available for this draft. If he played at a bigger school, he would be garnering attention as a surefire second round talent. A solid post season on the workout circuit could push him up into that area, but right now, he appears to be more of a mid round selection that could be a steal. Patton has good size at 6'1 200lbs, and is a very fluid athlete. He is very smooth on the field. He is a natural receiver and just seems to know how to get open and can really go up and get the football. Patton's hands are top notch. He can make the difficult grab look easy, and will make plays across the middle while taking a hit. Patton may not overpower defenders with sheer size, or run by them with blazing speed, but his ability to get open and catch the football all over the field is special. He has the skills to be a contributor in the NFL, and could outplay his draft position when all is said and done.
Michigan's Denard Robinson will get a lot of attention after the season as a receiving prospect, because he simply won't cut it as a quarterback in the NFL. All the tools are there to play in the NFL: decent size, tremendous natural athleticism, good speed and agility, and he has made a lot of big plays on a big stage at the college level. He will have to show teams he has the ability to pick up the game from a receiving standpoint and show a natural feel for the receiving game, but the raw tools are there to develop. How much development he shows in the post season as a receiver will determine where he goes in April.
West Virginia's Stedmon Bailey, Clemson's DeAndre Hopkins, and Tennessee's Corradelle Patterson, and Oklahoma's Kenny Stills are underclassmen to keep an eye on as potential day two targets should they declare.
Senior's Markus Wheaton(Oregon St.), Aaron Dobson(Marshall), Cobi Hamilton(Arkansas), Tavarres King(Georgia), and Virginia Tech duo Vincent Fuller and Marcus Davis are a few other names to keep an eye on as the draft approaches.
The tight end class looks a little lean this year, with no senior tight end looking like a day one or two selection. Junior's Tyler Eiffert of Notre Dame and Stanford's Zach Ertz are the only potential first rounders of the group. Eiffert got the ideal size for a tight end at 6'6 250, and is a tough matchup as a receiver. He is a solid athlete with enough speed to line up all over the field and create mismatches. His size gives him an advantage against most back seven defenders. Eiffert may not be a game breaking receiving threat, but he should be an above average receiver that teams have to keep an eye on. His blocking leaves a lot to desire, but he has the natural size to become effective with added strength.
Stanford's Zach Ertz is pretty similar to Eiffert. He's also a receiving threat first, utilizing his great size and athleticism to cause match up problems in the passing game. He has the speed to get open and make some plays in the open field. Ertz will also have to bulk up and get stronger to aid in upgrading his blocking game.
The top senior tight end might be UCLA's Joseph Fauria. A developing trend among modern tight ends, Fauria is an overgrown receiver at the TE spot. He uses his tremendous size(6'7 255lbs) to be a difficult matchup in the red zone and middle of the field. He is a good athlete, and displays solid hands. With his length, he provides a massive target for his QB and could be very difficult in the red zone. He needs to show more effort in the running game and needs to add strength to his game to improve as a blocker. He profiles more as a second tight end and day three pick, but has the skills to play on Sundays.
Auburn's Phillip Lutzenkirchen is a solid all around tight end. He has solid size, very reliable hands, and can adjust to the football. As a blocker, he shows the ability to neutralize defenders at the point of attack but won't really drive them off the ball. Lutzenkirchen doesn't truly stand out in one area. He is a good receiver, but is limited athletically. He is a decent blocker, but isn't overpowering. He also carries a day three grade as a backup tight end.
There are a few underclassmen that could declare and push for second day status: Dion Sims(Michigan St), Jordan Reed(Florida), Levine Toilio(Stanford), and Gavin Escobar(San Diego St).