There is no more important position on the football field than the quarterback position. As a result, there is a premium placed on the position on draft day. While there are no Andrew Luck's or Robert Griffin III's in this draft, there are some players who will be drafted high, and some that could develop into quality signal callers at the next level.
QB RANKINGS
Geno Smith, West Virginia
Matt Barkley, USC
EJ Manuel, Florida St.
Tyler Wilson, Arkansas
Ryan Nassib, Syracuse
Mike Glennon, North Carolina St.
Landry Jones, Oklahoma
Tyler Bray, Tennessee
Zac Dysert, Miami(OH)
Matt Scott, Arizona
Geno Smith has placed himself atop most teams draft boards a big senior season. Although considered a potential first rounder, Smith is now looking at being a potential top ten selection. He is an excellent natural athlete that moves around the field with ease. Smith also has a very good arm, and can sling the ball all over the field. Playing in a spread system use to be a huge negative in terms of a players pro prospects, but not anymore. The success of Cam Newton and Robert Griffin III in the last two years has eased concerns about the transition to the pro game, though Smith will undoubtedly have to adapt his game at the next level. He will have to learn to take snaps under center, and how to survey the field while dropping back instead of receiving the ball in shot gun. Many people expect Smith to be a running threat, especially after clocking a 4.59 40 at the combine. Reality is, he has only rushed for 342 total yards in four seasons. The ability and potential to be a running threat is there though, because his natural athleticism and speed are apparent on the field. With his work ethic and dedication to the game, there are no questions that he will put in the work to give himself the best chance to succeed. Smith isn't the franchise, can't miss type of signal caller but could be a very good NFL QB.

Matt Barkley had a disaster of a senior season, based on expectations entering the year. He received the hype of Andrew Luck, but really should never have received that type of hype. When you eliminate the hype around him, you do have a very solid QB prospect. Barkley isn't going to impress anyone at first look or by watching him throw a couple passes. He has average size at best for a pure pocket passer, is not a very good athlete, and does not have a cannon for an arm. He does have a solid arm though, and it is not something to be concerned about in the NFL. What sets Barkley apart from most other quarterbacks are his development and intangibles. He is a polished passer from a pro style offense, and has been viewed as a team leader since his freshmen season. Barkley is very accurate on short and intermediate passes, and has the toughness to sit in the pocket and take a hit. There may be some durability questions, as he has been banged up a bit at times during his career. His college career was cut short by two games because of a shoulder injury, and the injury kept him from participating in throwing drills at the combine. Barkley did have a down season which magnified his shortcomings, but he shouldn't be held completely accountable for USC's troubles this year. He is a tough, intelligent passer with tremendous leadership qualities. He isn't a franchise savior and may fit certain offenses better than others, but Barkley is still a top notch prospect and should be a first round selection.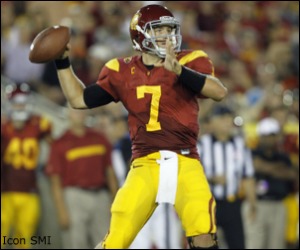 Syracuse's Ryan Nassib has climbed draft boards with a quality senior season. He is another QB with only average overall size for a pocket passer at 6'2 227, but he is a tough kid and can take a hit. He is equipped with one of the better arms in the draft, and isn't afraid to show it off. He has that gunslinger mentality and can sling it all over the field. That does lead to some poor decisions and forced throws, but he has improved over his career. Nassib doesn't have much experience lining up under center could become more consistent with the touch he puts on the ball, but all the tools are there to be an NFL starter. If there is a run on QB's early in the draft, it will push him up the boards, possibly into the first round although he is a better value pick in the second round.
Florida State's EJ Manuel is someone that does stand out when you first take a look at him. He has pocket passer size at 6'5 237lbs but is also a tremendous natural athlete with great speed, clocking a 4.65 40 at the combine. He is a threat with both his arm and feet, and fits the dual threat mold many teams are looking for nowadays. Not only does Manuel possess all the physical traits you want in a QB, but also has the intangibles you look for. He is tough, with a good work ethic, and is a good kid off the field. Manuel is a bit of a project, though. He needs to tighten up some fundamentals, in addition to gaining more experience to allow the game to slow down. Manuel's total package and upside will intrigue scouts looking for the next dual threat quarterback, and could surprise some in how early he goes on draft day.
Mike Glennon of North Carolina State finally brings a prospect with the size NFL teams look for. He is still lean and must add weight, but at 6'7, he can stand tall in the pocket and see the whole field with ease. From a talent stand point as a pocket passer, he is the complete prospect. Along with his size, he has a great arm and can make any throw with ease. He has an effortless motion when delivering the ball, and can fit it into tight spots, and get it downfield vertically. Consistency is the big issue with Glennon. He can get flustered by pressure at times, which leads to questionable decisions. Like most passers with big arms, he can trust it too much and force it into coverage. He also is not very mobile and can be a sitting target at times in the pocket. Glennon is a hard working kid with the height and arm NFL teams love. He may need some time to refine his mechanics and develop more consistency but there is big upside there.
Tyler Wilson of Arkansas is actually pretty comparable to Barkley, but is a better natural athlete. He isn't going to blow you away physically, but his talent level combined with his toughness and leadership make him an attractive prospect for teams looking for a QB on draft day. He is a fiery leader and on many occasions has stood up and taken charge of the team. Wilson shows good overall accuracy, and has the ability to leave the pocket and throw on the move. He does rely on his arm a bit too much and forces some passes he shouldn't but has overall been rather efficient. Wilson did suffer a concussion early this season and did miss some time, but did recover to have a solid senior season. With some of the second tier QB's possession outstanding measurables, Wilson may get lost in the shuffle a bit, but he is every bit the prospect Glennon, Nassib, and Manuel are.
Landry Jones of Oklahoma is another kid with some skills that jump right out at you. He has prototypical pocket passer size, and has a very good arm. He has a lot of experience and success at a high level of competition. When he's on, Jones can fire the ball all over the field with tremendous accuracy and authority. The knock on him however is that he can get rattled under pressure. If he is hit a couple times, the accuracy dips, the decision making is poor, and maybe worst of all, he can let his emotions get the best of him. Opinions on Jones can vary quite a bit. Some love the size, arm, and experience, but others are concerned about the poise under pressure. The skills are there for Jones, but he has some legitimate question marks about his ability to play at the next level. He Ôs definitely worth a gamble as a mid rounder that has the talent to start in the NFL.
Tyler Bray of Tennessee is an early entry, but really could have used the extra year of development to reach his potential. He has the height and arm every coach wants in his QB. He has a gunslinger mentality, and believes he can fit the ball into even the tightest of spaces. That faith in his arm can be detriment at times, and he needs to learn to be more patient and efficient with the football. Bray also has shown a propensity to wilt under pressure. The physical tools are there. He's another kid with the physical tools but is definitely a developmental prospect heading into the draft.
Other names to keep an eye on: Zach Dysert(Miami-OH), Brad Sorenson(Southern Utah), and Matt Scott(Arizona)