The quarterback class for the 2012 draft looks drastically different than it did two months ago. As the underclassmen deadline approached, two potential top pick picks Ð USC's Matt Barkley and Oklahoma's Landry Jones - decided to return to school. There are still two elite quarterbacks available however, and a number of talented performers available later on in the draft.
QB RANKINGS
Andrew Luck, Stanford
Robert Griffin III, Baylor
Ryan Tannehill, Texas AM
Brock Osweiler, Arizona St.
Brandon Weeden, Oklahoma St.
Kirk Cousins, Michigan St.
Nick Foles, Arizona
Russell Wilson, North Carolina St.
Ryan Lindley, San Diego St.
Kellen Moore, Boise St.
One thing that has not changed, is Stanford's Andrew Luck holding down the top spot. Luck draws praise for a classic pocket passer build and arm, along with the efficiency, accuracy, intelligence, and leadership to be one of the game's best. Luck also possesses surprising athleticism and mobility, and he put that on display at the combine, clocking a 4.67 40 at 234lbs. There is nothing Luck lacks, and he is the odds on favorite to be the #1 overall selection, replacing Peyton Manning as the Colts franchise quarterback.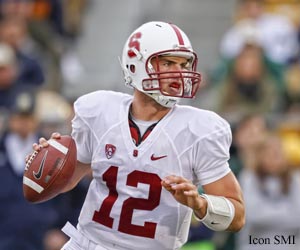 Baylor's Robert Griffin III has had a tremendous junior season that saw him take home the Heisman Trophy in December. Much like Luck, Griffin has the athletic gifts and character to be a true leader and special player in the NFL. The only real question before the combine with Griffin was based around his actual size. He erased those real quick, checking in at a few ticks over 6'2 and 223lbs in Indianapolis. While nobody questioned his athleticism or speed, he also blew people away with a 4.41 40 time, which just shows his truly amazing blend of physical tools. He is the complete package physically and has all the intangibles you could hope for in a QB. What sets Griffin apart from most dual threat QB's is that he really does look to pass first, and only utilizes his special running skills when he has to. He doesn't set up the pass because of his running ability. He can legitimately beat you threw the air, even if he isn't making plays with his feet. He is a better passer and more explosive rushing threat than last year's top pick and Offensive Rookie of the Year, Cam Newton. In comparison with Luck, Griffin is not as polished as a passer and lacks experience in a pro style offense though he is a bigger threat with his feet. Some teams may actually rank Griffin at the top of the QB rankings, but he will likely be the second quarterback and player selected in April.
Ryan Tannehill of Texas A&M is next on this list. He is another player with an impressive blend of natural gifts and leadership skills. He is a tremendous natural athlete that caught over 100 passes for ten touchdowns before becoming a true quarterback. Tannehill's natural athleticism shines in the pocket, as he can elude the rush with ease to buy more time to find an open receiver. He's also a threat once a play breaks down to keep the ball and pick up positive yardage. As a passer, he does not have cannon, but has enough arm to make all the throws at the next level. He's drawn a lot of praise for his work ethic, and how quickly he transformed into a playmaker at the QB position. Had he not spent so much time at receiver early in his career, Tannehill could be just a notch below Luck and Griffin on draft boards, and knocking on the top ten. As it stands, his lack of experience does show in games, locking onto receivers and forcing the action at times. He is a player that will need some time to develop his skills and mechanics as a passer, but has big time upside. He is a potential first round pick, and with the amount of teams in need of a QB, he could surprise some in how high he ultimately goes.
Arizona State's Brock Osweiler is another raw but immensely talented player. He possesses a massive frame, standing 6'7 242lbs. A great natural athlete, he could be looking at an NBA career right now instead of the NFL had he stuck with basketball. Osweiler has a big arm to go with his tremendous size, giving him a natural pocket passer build. His athleticism allows him to escape pressure and get outside the pocket, and even pick up some yardage when he needs to. He also possesses the toughness and leadership skills to lead an offense at the next level. Coming from a spread offense and only have one big year of production will cause him to need some developmental time at the next level, but the talent is there to be a very good starting QB in the NFL with the right coaching. As we saw last year, there could be a run on QB's, causing them to come off the board much higher than they normally would, so Osweiler is a name to watch on draft day.
Also from the Pac 12, Arizona's Nick Foles is a bit of a flashback to the pocket passer of the 90's. He stands 6'5 243 with a big arm that can sling it all over the field. Unfortunately, he also has the negatives. He has limited mobility and has trouble evading the rush in the pocket. He will also rely on his arm strength at times and force the ball into coverage in an attempt to make a big play. He is a very tough competitor and everyone raves about the work he puts in to improve his game, which will only help him in the NFL. Foles is a talented kid with the ability to sling the ball around the field and appears to have the work ethic and leadership skills to be an effective starting QB in the NFL.
Michigan State's Kirk Cousins isn't going to wow you with any one physical tool or with anything he does on the field, but he knows how to get the job and win games. He has decent size at 6'3 214, though he could bulk up a bit to deal with the physical part of the NFL game. He shows solid arm strength and shouldn't have any problems getting the ball to his receivers at the next level. He is accurate and efficient, and while not a rushing threat, can side step the pass rush in the pocket. Where Cousins does stand out, is his overall character and leadership skills. He is a three time team captain, and has the confidence of all his teammates to lead his team to victory. He is tough and poised, and performs well under pressure. The combination of solid physical tools and leadership could earn him a starting job in the NFL down the line. Off the field, he does a lot of community service and volunteer work, and is the type of kid you root for.
Brandon Weeden of Oklahoma State is an interesting prospect. He has the size, arm strength, and toughness to play in the NFL. The issue with Weeden is that he will be a 29 year old rookie. There won't be any maturity issues, but how much growth can he have entering the league at that age? He is a limited athlete coming from a spread system, so there will be a learning curve in the NFL, and he may not have the window to develop his skills and improve once he sees the field. His upside is ultimately limited because of his age, but he should be a capable backup that could surprise if forced into action, and start for a couple years in the league.
San Diego State's Ryan Lindley and Tennessee-Chattanooga's BJ Coleman are two players to keep an eye on on day three of the draft, because they undoubtedly have the physical tools to play in the NFL. Lindley needs to be more disciplined on the field and Coleman will have to deal with a huge step up in competition, but the tools are there to develop in a couple years with the right coaching.