OT RANKINGS

Matt Kalil, USC
Riley Reiff, Iowa
Jonathan Martin, Stanford
Mike Adams, Ohio St.
Bobbie Massey, Ole Miss
Zebrie Sanders, Florida St.
Jeff Allen, Illinois
Donald Stephenson, Oklahoma
Mitchell Schwartz, California
Brandon Mosley, Auburn
Everyone is always looking to improve their offensive line, and the draft is the best way to find a long term fixture at a reasonable price. The left tackle position carries as much value on draft day as any position outside of quarterback, and this year, there are a number of talented performers available. The top two lineman eligible for this year's draft reside on the west coast, and both have the option of returning to school for their senior seasons, should they choose to. USC's Matt Kalil and Stanford's Jonathan Martin at this point appear to be the headliners on the offensive line.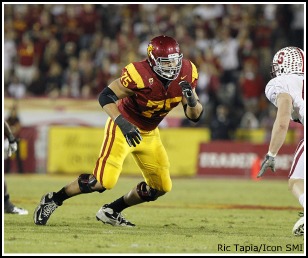 Matt Kalil, younger brother of Carolina Panthers' Ryan, is a true blue chip tackle prospect. He has everything you want in a left tackle: He has a long, lean, athletic, and tough. Kalil stands 6'7, but may need to pack some more weight on to his 290lb frame to full realize his potential in the running game. As a pass blocker, he is a terrific natural athlete with the ability to mirror a defenders moves, and keep his quarterback upright. Matt Barkley was only sacked six times this year, and Kalil was a major reason why. If he declares, Kalil has the look of a potential top five pick.
Stanford's Jonathan Martin also has a great blend of natural physical gifts. He has excellent size, and is actually a little bigger than Kalil, but combines that size with very good athleticism. The extra bulk and strength has may make him a better run blocker than Kalil at this point, but he is a bit inconsistent as a pass blocker. The natural athleticism is there, but he can stand tall and stop his feet at times. More experience will definitely take care of that. He's done a terrific job keeping Andrew Luck healthy this season on his run to the Heisman, and shouldn't have to wait much longer after Luck and Kalil to hear his name called on draft day, potentially landing in the top ten.
Iowa's Riley Reiff is just a tick below Martin, but could rate higher on some boards depending on scheme. His frame resembles Kalil, in that he will need to add some more bulk to hold up at the next level. But Reiff too is a solid athlete, and should have no problem staying on the left side at the next level. He isn't going to overpower anyone at the point of attack, and but is a quality run blocker. Iowa has a reputation of producing quality lineman, and Reiff could be as good as any of them in recent memory.
Mike Adams of Ohio State is arguably the top senior tackle available at this point. He has enjoyed a very good senior season, finally tapping into the immense potential many thought he had. He sat out the first five games of this season as a part of the mess at Ohio State that cost Jim Tressell his job. Adams has the most pro ready body of all the top tier lineman, carrying around 320lbs on his 6'5 frame. He is an impressive looking athlete, and has the mobility to play on the left side in the NFL. He shows the ability to shuffle his feet laterally to keep defenders at bay, although his footwork can get inconsistent at times. In the running game, he has flashed the ability to control defenders at the point of attack at times, but doesn't consistently control defensive lineman. The tools are there to play on either the left or the right in the NFL, and with some coaching, Adams could have a great NFL career.
Florida State has two senior tackles that could hear their names called in the first couple rounds in April. Zebrie Sanders carries a higher grade than Andrew Datko, because of his physical tools. Sanders has played on the right side for most of his career, but has stepped in on the left side when Datko has been out. Sanders' skills and game seem much better suited on the left side. He is a quality natural athlete that moves very well in pass protection, and some added weight would suit him well. Datko is more of a technician, with a develop body and seems more suited for the right side at the next level.
Oklahoma State's Levy Adcock and Boise State's Nate Potter are two other players to keep an eye on as potential selections in the first three rounds. Both players may have the skills to play on the left side for some teams, but project better on the right side. Adcock is bigger and more physical, while Potter is lighter and may fit better in a zone blocking scheme.
UAB's Matt McCants is a sleeper to watch. He is very raw as a prospect, but has the natural strength and athleticism to develop with a quality coach. He could impress in workouts and move up, but he has the look of a mid rounder with a lot of untapped potential.
G RANKINGS

David DeCastro, Stanford
Cordy Glenn, Georgia
Amini Silatolu, Midwestern St.
Kevin Zeitler, Wisconsin
Kelechi Osemele, Iowa St.
James Brown, Troy
Brandon Brooks, Miami(OH)
Brandon Washington, Miami
Joe Looney, Wake Forest
Senio Kelemete, Washington
On the interior line, all talks begin with a return trip to Stanford to talk about Jonathan Martin's teammate, David DeCastro. He is a rare guard prospect that carries a solid first round grade. He has the size to play right now in the NFL, along with the toughness, intelligence, and quickness to be an all around force. He may even be able to kick out to right tackle for some teams if the need ever arises.
Georgia's Cordy Glenn should be the next guard off the board, and he too could play some tackle in the NFL. Glenn's frame looks more like a right tackle, but he lacks the ability to consistently keep up in pass protection on the edge. As a guard, he is above average and shows good short area quickness and mobility. Run blocking is where he makes his money, and he can really drive defenders off the ball. Once his hands are on a defender, they aren't getting free, and his back will have a clear path to big yardage.
Kelechi Osemele of Iowa State is a pure power guard prospect. He has played tackle in college, but definitely projects inside at the next level. At 6'5 340lbs, Osemele has the raw size and natural strength to dominate defenders at the point of attack and drive them into the ground consistently. He plays with a mean streak and wants to beat you up, which will only endear him to a physical, power running scheme.
After those three, there is a group of players that have the look of day three players that could surprise. Washington's Sergio Kelemente won't jump out at you physically, but he will battle and get the job done. Colorado's Ryan Miller can play guard, but at 6'8, could have some serious leverage issues in the NFL, but lacks the athleticism to play tackle. California(PA)'s Rishaw Johnson is an Ole Miss transfer that has the tools to be an earlier pick, but has serious off the field issues from his time at Ole Miss that he will have to answer.
C RANKINGS

Peter Konz, Wisconsin
Ben Jones, Georgia
Michael Brewster, Ohio St.
Philip Blake, Baylor
David Molk, Michigan
At the center position, Wisconsin junior, Peter Konz is the only potential first rounder at the position. He has the complete package at center: good size, mobility, and intelligence. He flashes some pop initially at the point, and sets up very quickly after the snap. He does an excellent job getting out of the move and picking up a defender, and has no problems in space A dislocated ankle caused him to miss the final three games of the year, but he should be ready in the Rose Bowl against Oregon, and a solid performance could lead him towards declaring for the draft.
Georgia's Ben Jones, Ohio State's Michael Brewster, and Michigan's David Molk are players that could potentially hear their names called in the mid rounds of the draft.