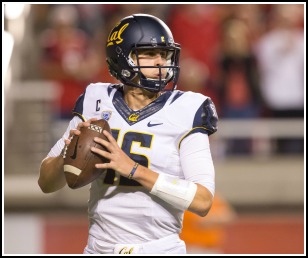 There is no more important position in the NFL than the quarterback. That notion isn't likely to change anytime soon. There are many teams looking for an upgrade at the position, which makes these prospects very important.
California's Jared Goff entered the year as the top QB and really hasn't done anything to change opinions of him. He's a tall, strong armed pocket passer that shows enough mobility to throw on the run and to elude the rush. He will stand tall in the pocket and has a quick release to get rid of the ball under pressure. He's a true junior, but has started since his true freshman season, so he comes with plenty of experience throwing the football. Goff does need to work on some things however. He's on the thin side for a pocket passer, so he will need to bulk up and get stronger. He's taken a beating over the years at Cal due to an average offensive line, and it's led to some bad habits. Goff doesn't always display trust in his blockers, and will get rid of the ball too early without setting up. It's led to some erratic throws and bad decisions. He's forced some more throws this year than he has in the past, resulting in more turnovers. Goff has the tools to be a star in the NFL and despite some flaws, will come into the NFL ready to play.
North Dakota State's Carson Wentz has been talked about heavily this year, despite a broken wrist has ended his college career. His all around physical tools are very comparable to the best in this draft. He's got great size, a good arm, and is a good athlete. He's a real threat as a runner in college, but the speed on defense in the NFL will cut into that. Still, he has the mobility to get out of the pocket and make things happen. He can throw well on the run but will also tuck it and pick up yardage if the room is there. Wentz as already on the rise entering the Senior Bowl, and he took full advantage of his opportunity there. Despite some rust after missing the last half of the season and poor weather in Mobile, Wentz put on a show. The physical tools jumped out as usual, but he wasn't in awe of the experience either. He knew he belonged and his confidence and leadership shined through as well. Wentz will still have some work to do adjusting to the speed of the NFL in a real game, but he's shot up the boards and is now in contention to be the top QB selected.
QB RANKINGS
Jared Goff, Cal
Carson Wentz, North Dakota
Paxton Lynch, Memphis
Connor Cook, Michigan St.
Christian Hackenberg, Penn St.
Dak Prescott, Mississippi St.
Cardale Jones, Ohio St.
Kevin Hogan, Stanford
Jacoby Brissett, North Carolina St.
Nate Sudfield, Indiana
Paxton Lynch of Memphis is another big riser this year. He's always stood out for his physical tools, but has improved every year and is now an elite passer. He's got excellent size at 6'7 245lbs, with a very good, and surprising athleticism. Lynch was up and down as a redshirt freshman starter, good as a sophomore, and tremendous this season. His accuracy has improved, and now can make all the throws and shows impressive touch to go with the accuracy. His athleticism gives him the ability to elude the rush and buy more time, but also to be a dual threat on roll outs. He can throw well on the run or keep it and pick up yardage on the ground if need be. Much of Memphis' offense relies on short, quick passes out of the shot gun, and he excels on the short to intermediate routes. Of course, as with all QB's coming from spread offenses in college, there will be an adjustment period at the next level. Even with NFL teams running more and more spread, Lynch will need to go through his progressions and read the defense quicker. He also just needs some more polish on his game. He can rush himself and his mechanics suffer at times. He has a tendency to rely on his arm strength and will throw off balance and throw into coverage too many times. Lynch is as talented as any QB in this draft. He may be a bit of a project and need some developmental time, which knocks him a notch below Goff and Wentz, but he is still a first round talent and will land there on draft day.
Michigan State's Connor Cook is no stranger to a top ranking list, as he was a top prospect for the 2015 draft had he opted to declare. He doesn't jump out at you physically like the guys above him, but Cook is solid across the board. He's got good size and is sturdy enough to take hits in the pocket. He's got a good arm, capable of making all the throws, and he's more athletic than he gets credit for. Cook is a seasoned veteran, starting for four years for the Spartans. He's tough, a team leader, and will be capable of playing day one on Sundays. Despite success as a winner and statistically, there are some questions about Cook's upside. His accuracy is still erratic, despite his experience and despite a lot of intermediate throws in his offense. Some of the inconsistency can be tied to mechanics, so a good coach may be able to correct that. Cook is a solid prospect and could be a quality NFL signal caller but he missed out on a chance to lock up a first round selection and improve his stock at the Senior Bowl. His decision to pass on the invite gave Carson Wentz the chance to firmly lock in his place in the pecking order, and leave the questions around Cook's game to linger. He is still a potential first round pick, but his stock is a bit unsettled at this point.
Dak Prescott of Mississippi State is an intriguing upside pick at the QB position. He's as gifted as a runner as he is as a passer, if not moreso. But he has real tools as a passer as well. He's got a very strong build, going 6'2 230lbs to go along with excellent athleticism and a good arm. The physical tools are there to be a threat as a runner and passer, but his bulk sets him apart from many other dual threat QB's. As a passer, Prescott has the arm to make any throw he needs to on the field, and has gotten more accurate and consistent each year. He shows impressive field awareness and doesn't make many mistakes. Prescott gets a lot of comparisons to Tim Tebow for his build and playing for a Dan Mullen offense. Some are valid, some are not. His arm is better than Tebow's ever was, and he's making plays through the air without the aid of elite playmakers around him at every position. He does need a lot of work polishing his passing skills though. The offense is very simple in his reads and he will need help fine tuning his footwork in the pocket. Prescott has the physical tools and the intangibles to be a very good NFL QB. He is a work in progress though. The Tebow comparisons may be apt, but coming in without the pressure Tebow had as a first rounder and having more time to sit and develop may be a positive for his development.
Christian Hackenburg of Penn State is another gifted passer with a lot of experience as a starter. He started as a true freshman, and almost immediately, he was hit with the can't miss tag because of his physical tools. He's got the classic look of a pocket passer: tall, sturdy frame at 6'4 235, and a cannon for an arm. He can make throws that most NFL quarterbacks can make. Outside of his natural gifts, Hackenburg is a good kid, a hard worker, and tough. There are a lot of questions about Hackenburg's game though. For as touted he is and as strong as his arm is, the success and production just haven't been there. Much of that is due to his supporting cast. He's had poor offensive line play the past two years, which has really taken it's toll. He's been beaten up physically with all the hits, but it's also hindered his development mentally. He expects to be pressured constantly, and even when there isn't pressure, he appears to rush himself. Hackenburg rushes passes, throws off balance, and his overall accuracy has really suffered. Since he's spent so much time running for his life at Penn State, it may take some time for him to develop confidence and improve his mechanics at the next level. He has top ten overall type of ability, but he's a gamble that high. Hackenburg will need time to sit on the bench and a good coach to work on his game. He simply hasn't gotten the help from his coaches or teammates at Penn State to develop as expected. The upside is huge in the NFL, but definitely a project.
Cardale Jones of Ohio State may rival Paxton Lynch for the total package physically. He's got the Cam Newton size/strength/athleticism combo. He's agile and fast enough to pick up chunks of yardage, but is an absolute load to bring down whether in the pocket or as a short yardage runner. As a passer, he's got the arm to make any throw you can dream of. The downside with Jones is that he's all projection right now. His hype began on his three game run to a national title last year. He had the chance to declare for the draft based solely on those three games and the upside his physical tools suggest he has. He's got a lot of work to do though, to live up to his tools and be an NFL QB. He needs work reading a defense, needs work on his footwork and passing mechanics, and overall needs more experience. Jones departed school early because he knew he wouldn't get the experience in school next year, with JT Barrett returning. He's got first round ability, but will not be drafted that highly because of how big of a project he is. He's a great developmental pick that could pay off huge dividends two years from now.
Indiana's Nate Sudfield is a name to keep an eye on. You can watch a few plays and see the physical tools. He's 6'5 240 with a very good arm, and has surprising athleticism for a pure pocket passer. He can elude the rush in the pocket, and shows some ability to scramble when things break down. He's not going to break off big runs, but he has functional mobility for a bigger QB. He's also shown some toughness and leadership. His on field play though, has been inconsistent. His throwing mechanics change from snap to snap, and he can trust his arm strength a bit too much. He's not ready to see the field as a rookie, but the tools and intangibles are there to become a starter one day. With the right coach, Sudfield could be a draft day steal.
Other names to watch: Kevin Hogan(Stanford), Brandon Doughty(Western Kentucky), Jacoby Brissett(North Carolina St), Matt Johnson(Bowling Green)