2017 NFL Mock Draft
By: Robert Davis | Updated: 4/27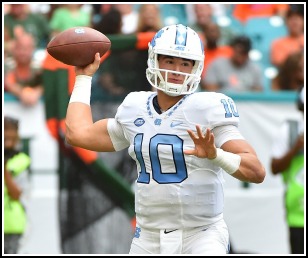 Cleveland - Myles Garrett, DE, Texas AM
Despite some reports to the contrary, this is an easy pick. Garrett is the best player in the draft, and its not even close. This should be the easy, but smart pick.
San Francisco - Mitchell Trubisky, QB, North Carolina
The amount of teams needing a long term answer at QB could lead to guys being overdrafted. The need for a long term answer at the position is too much for the 9ers to pass on. Signing Brian Hoyer and Matt Barkley give them stop gap options to keep them from rushing Trubisky and forcing him on the field week one, which is a good thing for his development.
Chicago - Jamal Adams, S, LSU
Safety is still a need despite the addition of Quintin Demps. Adams is an all around playmaker and team leader. Hes one of the safer picks in the draft, and the Bears need to hit on this pick.
Jacksonville - Leonard Fournette, RB, LSU
The best thing the Jags can do for Blake Bortles development is to give him a consistent rushing attack. Fournette is a game changer. He can carry is 25 times a game, can break off big runs, and is the type of guy the defense has to game plan for.
Tennessee(from LAR) - Marshon Lattimore, CB, Ohio St.
Bringing in Logan Ryan was a decent start, but the corner position still needs work. Lattimore's cover and ball skills are elite. If not for some concerns over some hamstring injuries, he might go in the top three. He's that good.
NY Jets - OJ Howard, TE, Alabama
There are a number of areas the Jets need to upgrade. Tight end isn't usually a need this high, but Howard's ability as a blocker and pass catcher helps out in multiple areas.
LA Chargers - Solomon Thomas, DL, Stanford
The move to the 4-3 puts more emphasis on the guys up front to create pressure. Melvin Ingram is on the franchise tag this year, and the Chargers may not want to fork over that much money again next year. Thomas gives them more depth on the edge, but he also has the ability to play inside.
Carolina - Christian McCaffrey, RB, Stanford
The Panthers offense lacks a playmaking punch, and few bring as much big play ability as McCaffrey. He brings a big play element to the backfield, and his versatility will give Cam Newton a big play guy in the passing game as well.
Cincinnati - Haason Reddick, LB, Temple
Reddick's versatility will give the Bengals a lot of options. He brings the speed and range they have coveted for years at linebacker. He can also put his hand on the ground and rush the passer on passing downs. The speed and playmaking will be a big boost to the front seven.
Buffalo - Mike Williams, WR, Clemson
The departure of Robert Woods and Marquise Goodwin has hurt depth at WR, and Sammy Watkins always seems to be hurt. Williams size and ability to go up and get the ball would be a great complement to Watkins' playmaking, but it also gives them a weapon when Watkins is out.

New Orleans - Charles Harris, DE, Missouri
It's clear that the Saints will address the defensive side of the ball, most likely the secondary and edge rusher. Harris brings big play ability as a pass rusher with his speed and athleticism.
Cleveland(from Phi) - Deshaun Watson, QB, Clemson
Hue Jackson has to get a QB this year, and with Trubisky off the board, he turns to Watson. Watson may be better, anyway, and under the tutelage of Jackson, could live up to his immense potential.
Arizona - Reuben Foster, LB, Alabama
Bruce Arians is aggressive and won't be turned off by the questions surrounding Foster. His ability as a middle linebacker would give the Cardinals someone who can step in from day one and make a big impact.
Philadelphia(from Min) - Jonathan Allen, DL, Alabama
Allen slides due to questions about the health of his shoulders, but he's simply too good to pass on here. The Eagles need corners, but they can address that later in the draft. Building a great defensive line has a way of making everything else fall into place.
Indianapolis - Takk McKinley, OLB/DE, UCLA
The Colts have added a couple pieces to the defensive side of the ball in free agency, but they aren't done yet. McKinley is in the mold of pass Colt standouts Robert Mathis and Dwight Freeney with his explosiveness off the edge.
Baltimore - Derek Barnett, OLB/DE, Tennessee
Barnett isn't a pure speed rusher, but he knows how to get after the QB. He's excellent value at this spot, for a team in search of a pass rush upgrade, he fills an immediate need.
Washington - Malik Hooker, S, Ohio St.
DJ Swearinger was added in free agency, but he's not someone you let get in the way of a potential all pro. Hooker's range and ball skills would fit very well on the back end of the Skins defense.
Tennessee John Ross, WR, Washington
The Titans want to give Marcus Mariota a playmaker in the passing game. Ross is as big of a playmaker as any at the position this year. 
Tampa Bay - Dalvin Cook, RB, Florida St.
There has been some talk of Cook sliding to potential character concerns, but that may be overstated. Cook is a gifted running back that would be a great addition to the Buc backfield.
Denver - Garrett Bolles, OT, Utah
This may be the best fit in the draft. Bolles is a great athlete and would fill an immediate need at left tackle.
Detroit - Corey Davis, WR, Western Michigan
There is some money tied up at the wide receiver position, but the Lions need to keep Matthew Stafford loaded with weapons. Davis has the talent to go higher than this, but he was unable to workout after ankle surgery, which may concern some teams.
Miami - Taco Charlton, DE, Michigan
Charlton's length and athleticism standout to many of the other ends at this point of the draft. Miami needs depth and youth, and Charlton would be a great pick at this spot.
NY Giants - Ryan Ramczyk, OT, Wisconsin
-David Njoku would make a lot of sense here, but the offensive line has to be addressed. TE is a deeper position in the draft and can be addressed later, but OT is very thin. Ramczyk is arguably the top tackle on the board and is exactly what the Giants need.
Oakland - Marlon Humphrey, CB, Alabama
Humphrey is as physically gifted as any corner in the draft. If his ball skills were better, he's pushing Lattimore for the top corner in the draft. The Raiders will take his physicality and stick him in the lineup right away.
Houston - Patrick Mahomes, QB, Texas Tech
Mahomes is a hot name as the draft approaches, and could go higher than this. He may need some work developing in a pro style offense but he is a gunslinger that can really spin the football.
Seattle - Forrest Lamp. OL, Western Kentucky
Lamp is the most versatile linemen available in the draft. He has the skills to play left tackle, but maybe not the length. Don't sleep on him as a tackle, but he could be a great guard if that doesn't work out.
Kansas City - Jarrad Davis, LB, Florida
Derrick Johnson's health is a concern, and the Chiefs need a playmaker in the middle to continue to contend. Davis has great range and Johnson would be a great mentor.
Dallas - Jordan Willis, DE, Kansas St.
The Cowboys have made no secret about their desire to upgrade the pass rush. Willis was productive on the field at Kansas St, then put on a show at the combine.
Green Bay - Kevin King, CB, Washington
The secondary continues to be a problem for the Packers. King brings tremendous physical skills, including length at 6'3. He has experience outside, in the slot, and at safety and that versatility would be a welcomed addition to the Packers secondary.
Pittsburgh - David Njoku, TE, Miami
Njoku is a freak athlete and could be a guy teams target in a trade up. If he's still on the board, the Steelers would love to give Big Ben a big playmaker over the middle of the field.
Atlanta - Tyus Bowser, DE/LB, Houston
The Falcons want more athletes that can attack to help out with the pass rush. Bowser is a tremendous athlete that is still growing into a consistent football player. He has experience playing with his hand down and standing up, and that versatility will help get him on the field.
New Orleans(from NE) - Tre'Davious White, CB, LSU
After going pass rusher earlier, the Saints look to continue adding pieces to the secondary. White is one of the best pure cover men in the draft and could help from the get go.
NFL Draft | 2016 NFL Mock Drafts | Profiles | 2016 NFL Free Agents | NFL Forum | Contact
Copyright &copy 2016 FootballsFuture.com. Do not duplicate or redistribute an any form.
Privacy Policy