2017 NFL Mock Draft
By: Robert Davis | Updated: 1/4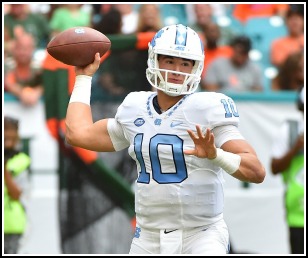 Cleveland - Jonathan Allen, DL, Alabama
The Browns could be active on the trade market again with two picks in the top twelve. If they stay put, they can actually grab the best player available. At this point, the versatility up front gives Allen the nod, because he can apply pressure from various spots on the defensive line.
San Francisco - Myles Garrett, DE/LB, Texas AM
It could be a two horse race at the top, and Garrett is neck and neck with Allen. With the need for a pass rusher being very apparent, this is an easy choice for the 9ers.
Chicago - Mitch Trubisky, QB, North Carolina
This is a bit high for Trubisky, but QB's are known to go higher than they should. The Bears need at the position could make them the team that has to reach.
Jacksonville - Leonard Fournette, RB, LSU
Adding a bellcow back like Fournette would go a lot way in terms of taking pressure off of Blake Bortles and the passing game.
Tennessee(from LA) - Mike Williams, WR, Clemson
In order for Marcus Mariota to reach his ceiling, he needs a go to receiver that can stretch the field. Williams is the complete pack at WR this year, and would give the Titans that can go up and get it with the best of them.
NY Jets - Tim Williams, LB, Alabama
A QB is going to be hard to pass on here, but the Jets may be able to fight the urge. They continue adding to their defense, this time upgrading their ability to apply pressure off the edge.
San Diego - Jabrill Peppers, S, Michigan
Peppers' ability to be used in a variety of roles will make him an attractive commodity on draft day. He can play in deep coverage, play in the box, and blitz. He could play a traditional safety role on one play, them drop down to play linebacker the next. He will likely blow people away at the combine with his physical gifts, pushing him into a top ten selection.
Carolina - Cam Robinson, OT, Alabama
Protecting Cam Newton is without question priority #1 for the Panthers. They will entrust this Cam to project the franchise Cam.
Cincinnati - Reuben Foster, LB, Alabama
The Bengals have been seeking more speed at linebacker for a couple years. They land it this year in a true middle linebacker, but his range and speed brings a new element to the front seven.
Buffalo - Deshaun Watson, QB, Clemson
Some love him, some hate him but Watson is a playmaker. He may need some work, but his experience at the college level and in big games should allow him to contribute early on in his career. With some real questions at the QB spot, the Bills could be in the market for a new starter next year.

New Orleans - Derek Barnett, DE, Tennessee
The Saints continue to search for someone to consistently apply pressure up front. Barnett is ready to play now and do just that.
Cleveland(from Phi) - DeShone Kizer, QB, Notre Dame
Kizer has as much potential as any QB in this class, but also declared after just two years of on field experience. Hue Jackson is up for the challenge to develop him, and it could be a great landing spot for Kizer.
Arizona - Marlon Humphrey, CB, Alabama
The Cards could go a number of ways here. QB and WR have surprisingly popped up as potential needs, but adding another talented defender on the back end may be too much to pass on here. Humphrey has the size and skill to be a shut down corner. Pairing him with Patrick Peterson could give the Cards the best corner tandem in the league.
Philadelphia(from Min) - Teez Tabor, CB, Florida
There may be an urge to get Carson Wentz some more weapons, but there should be talent available later at RB and WR. Adding a CB that can step in right away like Tabor may be harder to find later on.
Indianapolis - Dalvin Cook, RB, Florida St.
Frank Gore can't play forever, and Cook would clearly add a new playmaking element to the backfield. His big play ability and pass catching skills would help Andrew Luck out a lot.
Balitmore - Jamal Adams, S, LSU
Seeing Adams fall this far would make the Ravens very happy.
Washington - Malik Hooker, S, Ohio St.
Hooker has the range and ball skills the Skins are seeking on the back end. He's just a redshirt sophomore, but he has a nose for the ball.
Tennessee - Adoree' Jackson, CB, USC
Jackson is a playmaker with great natural cover skills. He needs some refinement but after dabbling with WR and on special teams for USC, he'll now get to focus on improving. His natural playmaking instincts can't be taught.
Tampa Bay - John Ross, WR, Washington
Jameis Winston needs more weapons. Ross is electric with the ball in his hands and would take pressure off both Winston and Mike Evans.
Denver Broncos - Ryan Ramczyk, OT, Wisconsin
In order for the Broncos to get back into the playoffs, they're going to have to improve up front. Ramczyk could push for the top tackle taken when all is said and done.
Detroit - Zach Cunningham, LB, Vanderbilt
A pass rusher will draw a lot of attention here, but its hard to pass on a linebacker that can cover as much ground as Cunningham can. Especially when it's a glaring need in your front seven.
Houston - Malik McDowell, DT, Michigan St
QB is the big question mark entering the off season, but that's not going to be a target here. McDowell has the size, athleticism, and power to really give the Texans a truly dominant front.
Miami - Charles Harris, DE, Missouri
Getting younger and improving depth off the edge is something the Phins will prioritize this off season. Adding the athletic Harris would fill that void.
Green Bay - OJ Howard, TE, Alabama
While there are a number of weapons on offense, there still is not a difference maker at TE. Howard brings the skills to be a playmaker at the position, and should be much more of a weapon in the NFL than he was in college.
Seattle - Mike McGlinchey, OT, Notre Dame
The offensive line has to be improved. McGlinchey is great value here and would be a great get for the Seahawks.
Atlanta - Montravius Adams, DT, Auburn
The collection of offensive talent is impressive, so expect to see the Falcons address the defense this off season. Landing a big, strong, and athletic tackle like Adams would make a big difference up front.
7 NY Giants - Corey Davis, WR, Western Michigan
Odell Beckham Jr is a stud on one side, and Sterling Shepard showed some promise as a rookie. Adding someone with some more size would be a nice complement, and Davis can do a lot more than just be a possession receiver. He's great value here and could really help open up the Giants passing attack.
Pittsburgh - Takk McKinley, LB, UCLA
This would be an absolute steal at this point. McKinley has game changing speed off the edge and could go a lot higher as a result. If he's here, the Steelers would take him off the board real quick.
Oakland - Marshon Lattimore, CB, Ohio St.
The Raiders made a huge improvement this year, but still have a glaring problem at the corner spot. Lattimore may need a little work, but has the talent to see the field early and make some plays.
Kansas City - Dan Feeney, OG, Indiana
Andy Reid has never shied away from big men in the first round. Feeney would step in and improve the guard play right away.
Dallas - Sidney Jones, CB, Washington
After hitting the lottery on the offensive side of the ball last year in the draft, the Cowboys will likely look to invest multiple picks on the defensive side of the ball. They have a clear need for a pass rusher or cover man, and opt for the playmaking Jones here.
New England - Taco Charlton, DE, Michigan
With three defensive ends hitting free agency this off season, the Patriots may be looking for edge help this off season. Charlton has the length and size teams covet, but has surprising movement skills as well.
NFL Draft | 2016 NFL Mock Drafts | Profiles | 2016 NFL Free Agents | NFL Forum | Contact
Copyright &copy 2016 FootballsFuture.com. Do not duplicate or redistribute an any form.
Privacy Policy