2014 NFL Mock Draft
By: Robert Davis | Updated: 3/6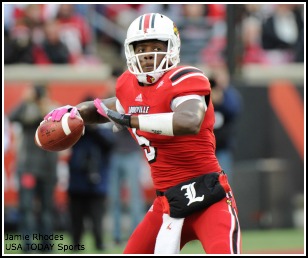 Houston - Teddy Bridgewater, QB, Louisville
QB has to be the pick, and Bridgewater is the best of the bunch. Blake Bortles may get some steam because he has more traditional size but he still has work to do. Bridgewater has the best combination of ability, poise, and polish. The Texans need a player ready to play right away.
St Louis(Was) - Jake Matthews, OT, Texas AM
Greg Robinson may have a bit more upside, but he also is raw. Matthews is going to be a fine pro and can play on either side of the line immediately. That versatility will help with the health questions surrounding Jake Long for the opener.
Jacksonville - Jadeveon Clowney, DE, South Carolina
All the tools are there to be a dominant edge player, and the Jaguars land the draftÕs top talent. There are some questions with ClowneyÕs motor, but the upside is through the roof.
Cleveland - Blake Bortles, QB, Central Florida
It will be hard for the Browns to go anywhere but QB with this pick. Johnny Manziel will draw some attention but his size and maturity raise too many red flags for the Browns. Bortles has less questions and just as much upside.
Oakland - Sammy Watkins, WR, Clemson
The Raiders will be tempted by Manziel, but heÕs a bit risky at this point. With little in the way of weapons, no quarterback will have any success until the unit is upgraded. Watkins is a big play threat that can turn short gains into big plays and get down the field vertically.
Atlanta - Greg Robinson, OT, Auburn
ItÕs hard to pass on potential franchise left tackles. Robinson may be one of the best two or three players in this draft, but as usual, quarterbacks dominate early on.
Tampa Bay - Khalil Mack, LB, Buffalo
Speed and pass rush ability off the edge is something the Bucs will be looking to add this off season. Mack can attack off the edge, but can also drop into coverage and play the run.
Minnesota - Johnny Manziel, QB, Texas AM
The Vikings started three different quarterbacks last year and none were the answer. They must upgrade the QB position, and Manziel is the top guy on the board. He comes with some baggage and risk but heÕs a gamer and just makes plays.
Buffalo - Eric Ebron, TE, North Carolina
Cordy Glenn played well last season to solidify the left tackle spot, which allows them to look to get EJ Manuel more weapons. Ebron is a fantastic receiver and gives the Bills a big body and dependable target over the middle as well as someone who can create mismatches out wide.
Detroit - Justin Gilbert, CB, Oklahoma St.
It will be interesting to see if Gilbert or Darqueze Dennard lands here, but corner should be the pick at this spot.

Tennessee - Taylor Lewan, OT, Michigan
Lewans combine performance may have pushed him into the top ten when all is said and done. But the Titans will be looking to upgrade the tackle position after an overhaul to the interior line last year.
NY Giants - Anthony Barr, LB, UCLA
Barr is slipping on some boards but he is a steal at this point. He is a jumbo linebacker but has the athleticism and speed to make plays all over the field. He can stand up and rush the passer or drop back, and may have the ability to put his hand down on third down and get upfield.
St. Louis - Ha Ha Clinton-Dix, S, Alabama
The #2 overall pick will be shopped so that will impact this pick. But at this spot, the Rams take the drafts top free safety by a big margin. Mike Evans may draw some interest but the Rams have invested a lot of picks into receivers lately, and TE Jared Cook can provide some of that ability when lined up out wide. The safety crop falls off after Clinton-Dix and Calvin Pryor, especially at the free safety spot.
Chicago - Timmy Jernigan, DT, Florida St.
Henry Melton is coming off an injury and is testing the free agent waters. Even if he is brought back, another body would help. Jernigan has tremendous quickness and agility for an interior linemen and would provide that disruption the Bears are in search of.
Pittsburgh - Louis Nix, DT, Notre Dame
There arenÕt many players born to play nose tackle. Nix is one of them and the Steelers would love to have him anchor their defensive line for the next decade.
Dallas - Aaron Donald, DT, Pitt
Short, light, and short arms be damned É Donald cannot be blocked. His quickness and speed is special for a defensive tackle, and the tenacity he plays with allows him to constantly make plays. The Cowboys need an interior presence for their defense to be effective, and Donald is exactly what they are searching for.
Baltimore - Mike Evans, WR, Texas AM
There have been a number of defections since the Ravens won the Super Bowl a year ago, perhaps none bigger than Anquan Boldin. His dependability as an intermediate threat is missed. Adams can provide that, but is much more of a big play threat and much taller.
NY Jets - Marqise Lee, WR, USC
The Jets havenÕt had much success with Trojans Mark Sanchez and Joe McKnight in recent years, but they hope Lee can buck that trend. He was the top receiver in the draft at the start of the season, but injuries and a case of the dropsies allowed Watkins and Evans to jump ahead. The Jets much add multiple receiving weapons this off season, and hope it starts with a playmaker of LeeÕs caliber.
Miami - Zack Martin, OL, Notre Dame
The Dolphins need help all over the line. Martin could possibly play all five offensive line positions, and that versatility will help the team build the rest of the line around him and Mike Pouncey.
Arizona - Darqueze Dennard, CB, Michigan St.
Dennard would team with Patrick Peterson and Tyrann Mathieu to form one of the leagues most young and exciting secondaries.
Green Bay - CJ Mosley, LB, Alabama
Mosley is a steal at this point and the Pack go for the best player available. His range would be a welcomed addition to the front seven from day one.
Philadelphia - Calvin Pryor, S, Louisville
The secondary continues to be a problem in Philadelphia. Pryor is a big hitter who will set the tone with his physicality. Safety is a position where there are a lot of questions after the top two, so you may see both Clinton-Dix and Pryor go a bit higher than expected.
Kansas City - Brandin Cooks, WR, Oregon St.
Cooks would bring much needed speed and playmaking ability to the Chiefs passing game.
Cincinnati - Kony Ealy, DE, Missouri
Michael Johnson is headed for free agency, and an upgrade could be had at the spot anyway. Ealy brings excellent athleticism and agility, which would work well with the size of Carlos Dunlap and Margus Hunt at the position.
San Diego - Bradley Roby, CB, Ohio St.
Roby had an up and down senior year, but is as gifted as any corner in this draft. The secondary needs a boost, and the draft is a great place to start.
Cleveland(Indy) - Odell Beckham, WR, LSU
The overhaul of the offense continues. Beckham would give the Browns three big time weapons in the passing game for rookie QB Bortles.
New Orleans - Dee Ford, LB, Auburn
Switching to a 3-4 requires speed and athleticism off the edge, which Ford brings in bunches. Hes explosive off the edge and is just what the Saints hope they can find on draft day.
Carolina - Kelvin Benjamin, WR, Florida St.
Offensive tackle and receiver will be two areas the Panthers look to address this May. With no tackle falling to them, they opt for the best receiver, and thatÕs Benjamin. His size and athleticism would give Cam Newton a huge weapon down field and in the red zone.
San Francisco - Jason Verrett, CB, TCU
The 9ers have done a great job accumulating talent and depth on both sides of the ball but the secondary could still use some help. Verrett may not be quite as big as youÕd like, but his aggressiveness and pure cover ability more than makes up for it.
New England - Jace Amaro, TE, Texas Tech
Amaro didnÕt have as good of a combine as expected, which may push him out of the first round. Bill Belichick loves tight ends though, and the team has a glaring need for help at the position. The offense is not the same without Gronk in there, and itÕs even more special when they utilize a two headed monster at the position. Amaro has the skills to play the flex role that Aaron Hernandez vacated when he departed for prison.
Denver - Kyle Fuller, CB, Virginia Tech
The secondary was trouble last year with injuries and a lack of depth. Fuller has the size, aggressiveness and awareness to play right away.
Seattle - Stephon Tuitt, DT, Notre Dame
The Seahawks could go a number of directions based on what their free agents do. Depth is always a concern on the defensive line, and the Seahawks just released Red Bryant. Tuitt is stout against the run, but also provies much more athleticism and is much more disruptive.
NFL Draft | 2014 NFL Mock Drafts | Profiles | 2014 NFL Free Agents | NFL Forum | Contact
Copyright &copy 2014 FootballsFuture.com. Do not duplicate or redistribute an any form.
Privacy Policy