2014 NFL Mock Draft
By: Robert Davis | Updated: 4/7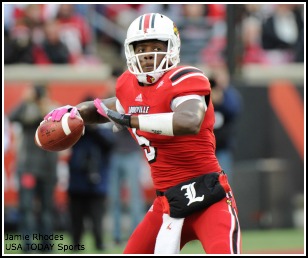 Houston - Blake Bortles, QB, Central Florida
QB has to be the way the Texans go here. They'll listen to trade offers but finding the right partner will be difficult. In the end, Bortles brings a great blend of talent, upside, and work ethic.
St Louis(Was) - Jake Matthews, OT, Texas AM
The Rams could be on their way to building a dominant offensive line. There is some question about Jake Long's health, however. Matthews provides a body to man the LT position if Long is not ready, or he can line up on the right side, giving them a great set of bookends.
Jacksonville - Jadeveon Clowney, DE, South Carolina
A stud pass rusher is as big of a need as QB, so the Jags opt for the player with the most upside and ability in this draft.
Cleveland - Teddy Bridgewater, QB, Louisville
The Browns won't get caught waiting to draft a QB in the 20's of the first round again. The need for a starter is obvious, and Bridgewater is the draft's most NFL ready signal caller.
Oakland - Greg Robinson, OT, Auburn
The Rodger Saffold deal falling apart for a failed physical may be a blessing in disguise for the Raiders. He was going to be terribly overpaid to play a position he is not suited to play. Donald Penn was signed to man the LT position in 2014, but he's a short term solution; very short term. Robinson could play any position up front initially, besides center, and eventually take over at left tackle.
Atlanta - Khalil Mack, LB, Buffalo
Upgrading the pass rush is a need for the Falcons, and landing a player like Mack would qualify as one of the best possible scenarios for them.
Tampa Bay - Sammy Watkins, WR, Clemson
Mike Williams act is getting old, and there is an obvious need for a playmaker alongside Vincent Jackson. Watkins is a dynamic weapon in the passing game, and would really help open up the offense for Doug Martin, and whoever lines up under center.
Minnesota - Johnny Manziel, QB, Texas AM
There are legitimate questions surrounding Manziel but there is also obvious upside. The Vikings are in dire need of a standout QB and they need to make a move now. Adrian Peterson isn't getting any younger, so the time is now to take the gamble and hope it pays off.
Buffalo - Eric Ebron, TE, North Carolina
Ebron is a big play threat at the TE position, which will be a welcomed addition to the Bills passing game. But hes also a big target that EJ Manuel will look to a ton on third downs.
Detroit - Justin Gilbert, CB, Oklahoma St
The corner position continues to be an issue for the Lions. They hope they landed themselves a shut down corner, and Gilbert has that type of playmaking ability. Consistency is an issue, but he could be a better pro than college player and the Lions are banking on it.

Tennessee - Anthony Barr, LB, UCLA
The Titans pass rush was a problem area last year, so it will look for a boost off the edge. Barr has the ability to provide a boost off the edge initially, even though it might take a little time to develop the rest of his game.
NY Giants - Taylor Lewan, OT, Michigan
For a team looking to upgrade its line, it would be very difficult to pass on one of the draft's more talented tackles. Lewan would step in at left tackle and be an upgrade right away.
St. Louis - Ha Ha Clinton-Dix, S, Alabama
The safety position is a bit thin this year, so you're going to see the top couple guys come off the board a bit earlier than they should. The Rams wont want to take the chance on missing on landing one, so they get their guy here. Clinton-Dix brings the range and awareness in coverage to pair well with 2nd year strong safety, TJ McDonald.
Chicago - Aaron Donald, DT, Pitt
The loss of Henry Melton destroyed the Bears front last year. His departure for Chicago leaves a hole on the interior line, despite the addition of Lamarr Houston. Donald wreaks havoc on the interior line, and he will play a big role in the revamped Bears defensive line.
Pittsburgh - Darqueze Dennard, CB, Michigan St.
Dennard may not be quite as athletically gifted as Gilbert, but his aggressiveness and all around game will fit very well in Pittsburgh.
Dallas - Calvin Pryor, S, Louisville
The addition of Henry Melton helps shore up the front, although they could still go in that direction here. The need at safety, and lack of depth at the position, pushes the Cowboys in Pryor's direction. His physical nature and aggressiveness at the safety position will add a much needed presence at the position.
Baltimore - Mike Evans, WR, Texas AM
Joe Flacco needs weapon, and adding a 35 year old Steve Smith isn't enough. Evans brings the toughness and physical style of play that the team missed when Anquan Boldin was traded. Torrey Smith can take the top off the defense, while Evans and Smith work underneath and over the middle of the field.
NY Jets - Marqise Lee, WR, USC
Adding Eric Decker was a nice start for the Jets, but the offense needs a lot more help. Lee is an all around playmaker that can take short plays to the house, or get down the field vertically.
Miami - Zach Martin, OL, Notre Dame
Martin has been a standout at left tackle but his frame may push him to another position. His skills could allow him to play all five spots up front. The signing of Branden Albert at left tackle isn't enough to fix the problems on the OL. Martin could step in at right tackle or either guard spot.
Arizona - Dee Ford, LB, Auburn
The Cards have done a good job in free agency, adding a left tackle and another corner already. The team does still lack an explosive edge rusher, which is where Ford comes in. He is a bit small for a DE in a 43 scheme, so he projects better to 34 defenses. He could be a force off the edge in Arizona, especially with the talent on the back end in coverage.
Green Bay - CJ Moseley, LB, Alabama
Addressing the defensive line will be under consideration but Moseley is simply too good to pass up here. He would look good alongside AJ Hawk inside and brings an all around game and leadership the Pack would love to add to the defense.
Philadelphia - Brandin Cooks, WR, Oregon St.
The release of DeSean Jackson leaves the Eagles very thin at wide receiver. Jeremy Maclin is back after missing the entire year, and Riley Cooper is back after a breakout season. But the team needs a player capable of scaring defenses like Jackson, and Cooks can do exactly that. He is electric with the ball in his hands but isn't just a situational receiver. He can play outside and in the slot, and is built for a lot more use than Jackson was.
Kansas City - Odell Beckham, WR, LSU
The Chiefs are looking to add some playmaking ability in the passing game this off season. They snuck up on some teams last year, but must add some speed and talent for Alex Smith if they want to be legitimate contenders.
Cincinnati - Kony Ealy, DE, Missouri
The loss of Michael Johnson leaves the Bengals with a need for someone to rush the passer off the edge. Ealy is an excellent athlete with very good size. He has the skills to be an all around end, but the agility from a 275lber is what makes him standout.
San Diego - Louis Nix, NT, Notre Dame
Nix was born to be a nose tackle, and at this point of the draft, he's a steal. He has the ability to really anchor a defensive line with his ability to hold his ground and shut down the running game.
Cleveland(Indy) - Courtney Roby, CB, Ohio St.
Roby needs a little work, but he's as physically gifted as any corner in this draft. He'd team with Joe Haden, giving the Browns a tremendously gifted pair of corners.
New Orleans - Kyle Fuller, CB, Virginia Tech
The Saints would love to find a 34 pass rusher here, but the value just isn't there. They settle for Fuller, an instinctive corner whose ability in run support and as an open field tackler are important in today's NFL.
Carolina - Kelvin Benjamin, WR, Florida St
Cam Newton needs weapons, plain and simple. The Panthers will probably select multiple receivers on draft weekend, the situation is so dire. Benjamin will provide Newton a huge target that can make plays vertically and in the red zone.
New England - Stephon Tuitt, DL, Notre Dame
The Patriots have aggressively addressed the defense this off season, and it is expected to continue during the draft. They have had a major upgrade in the secondary and now it's time to add some more talent up front. Tuitt gives the team some versatility, as he can play inside in a 43 or as an end in a three man front.
San Francisco - Jason Verrett, CB, TCU
Verett has all the skills you want in a corner, he's just a couple inches short. He's big enough to be a standout, just short enough to keep him from being a top ten pick. The aggressiveness and attitude he plays with will fit right in with the 9er defense.
Denver - Timmy Jernigan, DT, Florida St
The Broncos are loading up on defense in free agency, because the offense should still be explosive, despite a couple departures. Jernigan is strong against the run, and has a lot of potential as a pass rusher.
Seattle - Ra'Shede Hageman, DT, Minnesota
The Super Bowl Champs are poised for a run at a repeat, but they could definitely use some help. If a WR were to fall, they might be inclined to find snag one, but value lies at DT, with Hageman. Pete Carroll loves athletic guys who are physical, and Hageman fits that perfectly. He's a physical specimen that could give the Seahawks a difference maker inside.
NFL Draft | 2014 NFL Mock Drafts | Profiles | 2014 NFL Free Agents | NFL Forum | Contact
Copyright &copy 2014 FootballsFuture.com. Do not duplicate or redistribute an any form.
Privacy Policy