Quarterbacks
This must have been one of the most athletic quarterback classes in the history of the Scouting Combine. We had 7 quarterbacks who ran the 40 at or below 4.65, 5 quarterbacks that exceeded last year's broad jump average by at least a foot, and a positional short shuttle average that equals the mark set by last year's cornerback class. With that said, here are some that athletically stood out in a strong class and other quick comments on how some spun the football. Keep in mind as you read this that I think the results of throwing the ball here is about as relevant as the bench numbers for these guys. It's the mechanics, footwork, and arm strength that show above all else.
Cam Newton, Auburn – I guess I'm obligated to start with Newton, right? He had an impressive workout running a 4.59 at 248 pounds and a 10'6" broad jump. He's every bit the athlete we suspected he would be and has good footwork and mechanics. In drills, Newton looked amped up throwing high and misfiring on short passes—if that's something you put much stock into. Some interviews rubbed some the wrong way. I guess his stock remains sideways after this week. You'll see what you want to see with him. The real throwing test for him will be at his pro day.
Josh Portis, California (PA) – Josh, the cousin of Clinton Portis, is one helluva athlete. He put up the best workout numbers across the board and has flashed a strong arm to those who have had the opportunity to watch him at school. The interview process was important to him this week and if he came out in a favorable light, he's going to get some long hard looks in April.
Andy Dalton, TCU – Dalton wasn't one of those 5-7 workout warriors at the position, but he spun the ball well. He got the ball out in time and showed adequate arm strength on the deep balls.
Tyrod Taylor, Virginia Tech – Taylor officially posted the fastest time at his position in the 40 yard dash (4.51) with an even more impressive 4.09 in the short shuttle. I'm sure teams will approach him about a position conversion, but that would be unfair to Tyrod I feel. He's twice the prospect Pat White was with half the buzz. He looked tentative on his throws today as if he just didn't want to mess up, but if I'm an NFL team, I'm still giving him a chance. He's a much better passer than he's given credit for.
Jake Locker, Washington – Locker didn't look particularly impressive below the waist in his positional drills. Correct the footwork and maybe the accuracy will improve. There's no doubting his athletic ability though. If he can't make in football, there's always baseball. I still wouldn't touch him until in the late second round at the earliest.
Jeff Van Camp, Florida Atlantic – Of the tall, strong-armed late round prospects Van Camp is a guy to look out for. I haven't seen much of him in college, but if this week was any indication, he has some upside to work with.
Running Backs
Mark Ingram, Alabama – Like Newton, I guess I have to start with Ingram at running back. Such is the honor when you're a Heisman winner. If only all of the athletes knew they'd get this special treatment in my Combine recaps, they may have tried even harder to win the hardware. But I digress. The 4.62 time from Ingram is a tad slower than I expected, but then again, I didn't expect he'd have such poor running form either. He's a mid 4.5's guy in pads and would have proven it here if he wasn't so stiff and running upright. Good thing it's no problem when he's running live.
Mario Fannin, Auburn – There's generally one or two big backs with great straight line explosiveness each year. At 5'10, 231 with a 4.38 40, Fannin fits the bill. He's more fast than quick (generally it's better to be the other way around) and looked like a heavier back going through the positional drills that tested quickness and change of direction.
Roy Helu Jr., Nebraska – Helu, on the other hand, is a back that's both fast and quick. His 4.42 40 yard dash stands even brighter when positioned on paper next to his 219-pound weight. His workout numbers were strong across the board and he had no problems translating that to the drills either.
Jordan Todman, Connecticut – Fantastic day from Todman, who comes from one of the running back factories of the Big East, albeit they've had only mild success in the NFL. Todman had strong workout numbers including a 4.40 40 yard dash, which was 3rd best at his position.
Dion Lewis, Pittsburgh – No back looked better running through the drills in shorts than Lewis. He has the ability to stop on a dime and move laterally without losing even an ounce of his speed. He's going to succeed at the next level with that and his balance.
Derrick Locke, Kentucky – Locke's another one of those small, change-of-pace backs with remarkable start and stop ability. His workout numbers were impressive as was the lateral agility he demonstrated in the running back drills. He and Lewis really stood out as two of the more natural runners of their style.
DeMarco Murray, Oklahoma – Murray had as quiet a season as one can have with 1800 yards from scrimmage and 20 total offensive touchdowns. His 4.41 40 and the agility shown in drills reaffirms his position as one of the top speed backs in the class.
John Clay, Wisconsin – Clay did nothing to shake the stigma of Wisconsin running backs. His 4.87 40 is more reminiscent of a fullback than a primary ball carrier.
Wide Receivers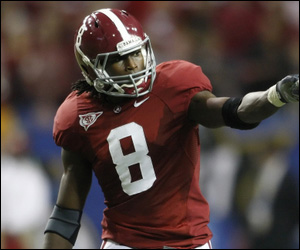 Julio Jones, Alabama – Green vs. Jones…that's the showdown at receiver. Though most have Green atop their rankings, it was Jones who came out on top at the Combine. At 220 pounds, he ran a 4.39 40 with an 11'3" broad jump. I don't want to diminish the meaning of athletic freak, but he's bordering in that territory. Jones is chiseled and an explosive athlete. His 3-cone time of 6.66 is less freakish, but indicative of some quick movement potential. The Rams would have loved to get him at their slot, but now I have the feeling may need to trade up into the top 10 to land Jones.
AJ Green, Georgia – If you're one of those ranking players from your couch and you're thinking of jumping Jones ahead of Green simply because of this week…don't. He had pedestrian workout numbers (I know, in what world is a 10'6" broad jump "pedestrian"), but Green makes his catches on superior route running and body control. Those aren't things that often impress this week. His 4.50 40 yard dash is sufficient for a player his size. Every millisecond of that speed translates to pads.
Jonathan Baldwin, Pittsburgh – It's going to be hard to keep Baldwin out of the first round after his week in Indy. After this week, he should be sitting comfortably atop the second tier of receivers. His 4.50 40 is a nice time for a player his size and his 42" vertical will help him maintain a comparison or two to Fitzgerald—though Fitzgerald he is not. He did round his cuts a bit as bigger receivers do, but I want to see his 3-cone and shuttle times before I decide that his potential for improvement in this area is limited.
Leonard Hankerson, Miami (FL) – Anyone else even a little surprised with Hankerson's 4.43 40 yard dash? I am. I'm not surprised that he dropped a couple more passes in the drills though. It's a serious problem of his that showed up in games, at the Senior Bowl, and now in Indy.
Titus Young, Boise State – It's tough to get a good read on Young. He makes his bank with speed and the 4.53 is a bit disheartening to fans of his. I don't want to put all my stock into one time, which sometimes doesn't even represent true pad speed (think 4.4's Devin Hester), but Young just didn't impressive me today. He didn't look like someone with the urgency and drive to earn a job, running through some of the drills at less than full speed.
Austin Pettis, Boise State – While you're at it, let me just travel some 30 yards across the field and hop onto the Pettis bandwagon. He's not your typical burner, but he has urgency in and out of cuts and will get separation at the next level. His 3.88 shuttle time led all receivers and shows some of that potential.