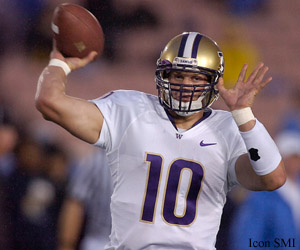 Robert Quinn, DE/OLB, North Carolina – It's the first time we'll be seeing Robert Quinn live in over a year and as potentially the nation's top 3-4 outside linebacker prospect, it'll be a crucial weekend for him. He'll not only have to face tough questions in the interview process, but also show that he's as good in space as most think he will be. With only 2 years of film on him, there's no player with more on the line this week.
Von Miller, DE/OLB, Texas A&M – After lighting up the Senior Bowl, there's a lot of buzz surrounding the exciting pass rusher. He weighed in on the light side, which may concern teams if he's going up against offensive tackles play after play. If he's drafted by a 4-3 team, can he play outside linebacker? Would that be a waste of his natural gifts? A lot of teams will try to answer these questions and more at the Combine through workouts and interviews. The one thing we do know is that he will impress in workouts we see.
Jake Locker, QB, Washington – Finishing last season on a high note, Locker had the potential to be drafted in the first 5 picks. Now, it appears as if he'll struggle to make it into the second round. The Combine should certainly help him regain some positive momentum and turn his stock around. At quarterback, few others have been gifted with the tools Locker has. Between him and Newton, the quarterback 40-yard dashes may actually be worth watching this year. It might not be very relevant, but it'll certainly make for some good Sunday morning television. Even more importantly for him this weekend, though, will be impressing in the interviews.
Cam Newton, QB, Auburn – Newton has promised the full workout for scouts this week and it will be another opportunity to test his athleticism and his accuracy. Personally, I'm not too fond of putting any stock into the passing drills at the Combine, but if he impresses here, it can only help his stock.
Torrey Smith, WR, Maryland – Smith is a somewhat unpolished prospect as a receiver, but is expected to be one of the guys that benefit most from this weekend. He's expected to run among the fastest times for a receiver, which would almost assure him of an early second round selection at worst.
Robert Sands, S, West Virginia – Sands is the behemoth 6'5 safety, which make him among the league's tallest secondary players in NFL history. Generally speaking, safeties and corners are built lower to the ground with the ability to change direction on a dime. If Sands can prove he has the quickness in and out of breaks as well as some long speed, his height could work for him rather than against him.
Tyron Smith, OT, USC – There's always that one offensive tackle that lets us know early Saturday morning that this sport contains the world's finest athletes. This year, that man could be Tyron Smith. Whether or not that will make an impact on his draft stock is tough to say. After watching Bruce Campbell perfect his workout then fall to the 4th round, maybe GMs are learning to rely on the tape when it comes to linemen. I'm more excited to see how he fares in the offensive line drills.
Dontay Moch, OLB, Nevada – Moch is a bit of a developmental prospect with swirling rumors about his absurd top end speed. There were rumblings of a 4.27 40 at 230 pounds, which would be unheard. Those pre-Combine numbers all prove to be fiction when the real thing rolls around, but you can bet all eyes will be on him when his name is called up for the first time for that 40 yard dash. It happens every year, but always generates a buzz.