2010 NFL Combine: Monday Recap
By: Roshan Bhagat | Updated: 3/1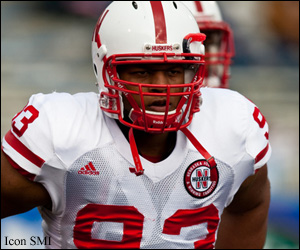 Defensive Linemen:
Ndamukong Suh, DT, Nebraska – Locked in a tight battle with Oklahoma's Gerald McCoy in a competition for first defensive tackle off the board and on a quest for the number one overall selection, Suh hit the field with his undivided concentration. At a solid 308 pounds with long arms, Suh is a threatening presence on the field. After benching 32 times, Suh hit the field, eased through movement drills and ran his 40 yard dash unofficially under 5 seconds. Though he made no separation from McCoy after this week, he did everything capable of trying to shake his competitor loose.
Gerald McCoy, DT, Oklahoma – On the field, McCoy didn't disappoint one bit. His 23 reps are a bit disconcerting, but it shows that he has plenty of room to improve in the weight room. Though he didn't look quite as fluid moving through the drills as did Nebraska's Suh, he ran the better 10 yard dash. The official split won't be unveiled for a couple weeks, but in comparison to Suh, it was at least a couple hundredths faster, which makes all the difference. It shows a quick first step, which confirms his body of work at Oklahoma. Above all, this is one charismatic, mature, and calm dude. Players as relaxed, respective, and quietly confident tend to make big splashes in their rookie year.
Lamarr Houston, DT, Texas – Houston is shooting up draft boards and could go as high as the tail-end of the first. After putting back-to-back productive campaigns at Texas, he showed his elite measurables and overall athleticism on Monday at the Combine. He ran an eye-opening 4.85 40 with a 33.5" vertical and a 9'6" broad jump. His explosion and footwork looked better than any other interior lineman on his feet. His 6'3, 305-pound body is far from maxed out, which could easily allow him to play a number of positions within any scheme.
Jason Pierre-Paul, DE, South Florida – Athletically speaking, Jason Pierre-Paul is the real deal. Combing into the week, he was receiving a lot of buzz from a lot of different circles which speaks volumes. Though he didn't time among the ten best linemen in the 40 yard dash, Pierre-Paul is a well-built athlete. Moving through the drills, he was very nimble on his feet and smooth in various forms of motion. He's a rangy athlete who will give tackles fits with his elite length, body control, and quick-twitch ability.
Al Woods, DT, LSU – At one point, Woods was considered a top 5 selection, based on nothing but his athletic potential. He was never able to even scratch the surface of his potential at LSU, but he has a skill set even the best athletes dream of. At 6'4, 309, Woods has 36" arms which are by far the longest among defensive tackles. He also ran an unofficial 5.12, getting off to a quick start and leaped an incredible 37 inches, nearly 2 greater than that of the average NFL wideout over the last 3 years. Depending on how his interviews proceeded, Woods may have reopened eyes and made a move up draft boards.
Clifton Geathers, DE, South Carolina – 6'7, 299 pounds, 37 ¾" arms! 4.96 40, 36" vertical, 9'4" broad jump. Take a second to let these numbers soak in. It's not often these types of numbers come along. Clifton, the brother of Cincinnati's Robert Geathers, has the mold for the ideal 5-technique. He didn't put up elite production in college, but stood out in one or two games this year as athlete who could develop into a special football player. I was a bit surprised by his decision to enter the draft, but don't be too surprised if he's gone by the 3rd round for a team looking to bolster the defensive line.
Jerry Hughes, DE/OLB, TCU – Monday is usually one of the more exciting days for teams running the 3-4 defense because they get the opportunity to see some of the "transition" players doing some drills standing up. At 6'2, 255, Hughes is one of those players who may be coveted as an outside rush linebacker. The 4.69 40, 26 reps, and 9'10" broad jump are all similar to those of Packers' rookie sensation Clay Matthews, but Hughes was equally impressive on his feet going through drills. However, Clay's most impressive marks were his 1.49 10 yard split and an unbelievable 4.18 shuttle, so we'll have to wait and see how Hughes' marks hold up against those. Monday's workouts do give indication that Hughes will be able to play the same ROLB position at the next level though that Matthews' does.
Linebackers:
Sean Weatherspoon, OLB, Missouri – Weatherspoon continued to build on his successful week in Mobile with a sensational performance in Indianapolis. At a solid 239 pounds, Weatherspoon ran a 4.68 40, one of the better times among all linebackers today. He translated this explosiveness to the jumps with a 40" vertical and a 10'3" broad jump. He glided through drills with quick feet and the ability to open his hips and run. Weatherspoon is the best coverage backer in this year's draft and virtually a lock for the first round. His best bets are as a WILL linebacker to a team selecting in the second half of the first round.
Dekoda Watson, OLB, Florida State – Few men can fill out a workout uniform better than Dekoda Watson. He gained 8 pounds of what seems to be pure muscle since the Senior Bowl to a filled out 240. Though he didn't truly challenge the 4.5 barrier, I wonder what kind of damage he would have done at his listed Mobile weight of 232. Still, what he accomplished here this week just about hit expectations in every regard. Aside from maybe Geathers' arm length measure a couple days ago, Watson's 11'2" broad jump nearly surpassed the measuring stick, and if it holds up, is the most astonishing number of the week. I'm still not sure if he has the tape to back up his numbers to sneak into the second round, but Watson has shown some impressive skills at Florida State, which includes exploding to the quarterback.
Jamar Chaney, ILB, Mississippi State – 6'0 ¾, 242 pound middle linebacker Jamar Cheney may have jumped a few guys after some of the numbers he put up this week. His 4.54 was impressive, but out of the gates, looks for his 10 yard split to open some eyes when that number's published. He also looked good going through his drills and could be an every-down linebacker if he continues to improve his technique in shedding blockers. His size, strength in the weight room, and explosiveness all indicate that he has the potential to do just that and become a starting linebacker at the next level.
Rolando McClain, ILB, Alabama – Midway through the workouts, we were informed that Rolando McClain is nursing a hamstring injury and pushed back his workouts to the Alabama Pro Day, where he'll go through the full process. It was a bit disappointing as many consider McClain to be the best linebacker prospect since Patrick Willis, and the top MIKE in the draft.
NFL Draft | 2016 NFL Mock Drafts | Profiles | 2016 NFL Free Agents | NFL Forum | Contact
Copyright &copy 2016 FootballsFuture.com. Do not duplicate or redistribute an any form.
Privacy Policy