The following players are not how I have them ranked on my big board nor are they whom I may feel are the best overall available in either the Draft or Free Agency. This list is simply my rankings of who I feel are the best fits for what the Saints want to do defensively based on scheme fit, versatility and value.



FREE AGENT'S





1. Anthony Spencer OLB Dallas Cowboys



Spencer is obviously the #1 guy on this list for a reason. Under Rob Ryan in Dallas, Spencer has seen his on field production soar over the last two seasons. While an underrated pass rusher, Spencer isn't elite in this area either. Where Spencer really excels is in his run defense. If the Saints were able to pry Spencer away from Dallas, they would (in my opinion) possess two of the most underrated run defenders in the league between him and current Saints DE Cameron Jordan. A lot is also being made of Spencer's age (29) but this defense will likely go through a veteran purge this offseason and will get much younger in the process. In New Orleans, Spencer could climb out of D-Ware's shadow and become the #1 guy and leader the Saints will need moving forward.
2. Keenan Lewis CB Pittsburgh Steelers
Keenan Lewis just might very well be the most underrated player hitting free agency this offseason. At 6'0" & 208lbs, Lewis possesses a physical press man skill set very similar to that of Cowboys cornerback Brandon Carr whom Rob Ryan targeted last offseason in Dallas. Lewis is a New Orleans native and even publicly pleaded with the Saints to draft him coming out of college. He's also been extremely well coached by two of the best secondary coaches in the business in Mike Riley (Oregon State) & Mike Tomlin (Pittsburgh). In the Big Easy, Lewis would play the role of Brandon Carr while Patrick Robinson's skill set is vaguely similar to what was asked of Mo Claiborne. His addition also allows Corey White to fill the role of Mike Jenkins and gives Ryan 3 physical press man corners that he needs to make his defense go.
3. Dashon Goldson SS San Francisco 49ers
Dashon Goldson brings attitude and intimidation to the football field. He's a vicious hitter and above average cover guy with good ball skills. Goldson would give the Saints a tremendous upgrade over Roman Harper and finally give this team some consistent play from the safety position.
4. Randy Starks DT/DE Miami Dolphins
Randy Starks has excelled in every defensive scheme he's been in. He's been a great tackle in the 43 and an even better end in a 34. Like Spencer, Starks would give the Saints a talented veteran defensive starter, which would allow youngster Akiem Hicks to become the rotational lineman at each position up front taking advantage of his versatility. Starks addition would also give the "still raw" Hicks a great veteran leader as a mentor, to help guide the up and comer as he progresses and develops.
5. Dannell Ellerbe ILB Baltimore Ravens

I don't care what Sean Payton says… keeping Vilma in this 34 defense is like trying to put a square peg in a round hole, It just won't work! The ONLY reason that idea has even been uttered is out of the sheer respect Payton has for Vilma as a person but if we are to allow our loyalties to dictate protocol, then why fire Spagnuolo in the first place?

Ellerbe possesses the size and athletic ability for this position and would be an ideal fit next to Lofton in Rob Ryan's scheme. Ellerbe is a playmaker and covers ground sideline to sideline. He flashes the ability of a above average Blitzer and is one of the more efficient coverage linebackers in the game.

It's important to note that I am in no way saying that we can afford all of these players. Simply landing one of them this offseason would represent a solid offseason for us with our cap situation but if the Saints were to somehow land two off this list then there would be no other way to describe this offseason other than as a HOMERUN!!!





DRAFT PROSPECTS





1. Star Lotulelei DT/DE Utah



Lotulelei might not be the top player on my big board but he's the top player on my list of scheme fits for the Saints. Lotulelei's rare combination of size, strength and versatility simply cannot be overlooked for a team switching over to a 34 alignment. In New Orleans, Lotulelei would form a lethal unit between Jordan, Hicks and himself. He would also give Rob Ryan extreme versatility upfront between Lotulelei and Hicks at either NT or LE.
2. Ezekiel Ansah DE/OLB BYU
If Ansah had played high school football, I doubt anyone would argue that he isn't a top 10 talent. The major knock on him is how raw he is. Yes, he's raw… he's also EXTREMLY gifted athletically! Athletes like Ansah come along only so often and most times they are always worth the risk. However, it's not like Ansah can't play the game… he was an ascending player at BYU and dominated the Senior Bowl. In New Orleans, Ansah would be a great value to Rob Ryan's scheme with his incredible skill set and ability to play both as a stand up outside rush linebacker as well as putting his hand in the dirt and giving the Saints a pass rush presence at LE at times.
3. Shariff Floyd DE/DT Florida
Floyd has been soaring up draft boards lately and I personally feel he possesses more athletic ability and potential than Lotulelei but as a scheme fit for the Saints he comes in 3rd on this list. In the big easy, Floyd's best position would be at LE but he also has the ability to play the right side as well. Floyd would give the Saints a disruptive player upfront with strength and base to excel as a pass rusher and run defender in Rob Ryan's scheme.
4. Dion Jordan OLB Oregon
My only problem with Jordan is his limits on versatility. Many will call Jordan a versatile player but in Rob Ryan's scheme I don't see it. That isn't entirely a bad thing neither… In Rob Ryan's scheme, Jordan would obviously make his home as a standup outside pass rushing linebacker in the mold of an Aldon Smith. I feel he's to light and takes away from what he does best to ever try to put his hand in the dirt and kicking inside would be a disaster for him. However, he's excellent in coverage for such a big man and quite frankly the NFL has yet to see anyone who compares to his skill set.
5. Kenny Vaccaro SS Texas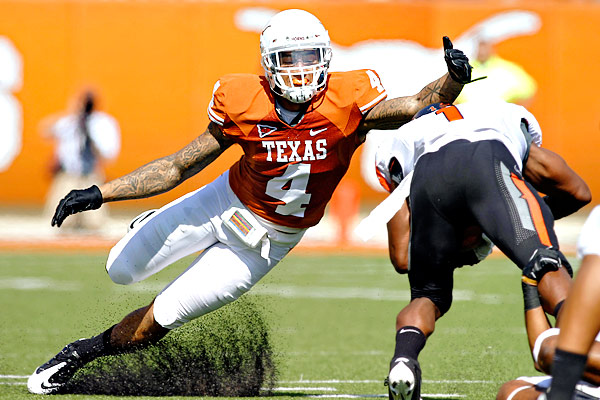 I might have Vaccaro a lot higher on my big board than others but that's because I truly believe he's a special player with special gifts. I liken him to a bigger Earl Thomas in that he's larger than Thomas but also possesses a physical nature against the run and the coverage skills of a cornerback. In New Orleans, Vaccaro would give the Saints a playmaker on the back end that is all over the field and will have to be accounted for by opposing quarterbacks.




Of course these draft prospects might very well all be gone by the 15th selection, but I guess in my assessment… if the Saints were to somehow come away from this offseason with two of the free agents on this list while landing one of these draft prospects with their top selection, well that to be would be a coup de gras to our recent suffering as Saints fans as far as I'm concerned!





WHODAT


_________________

WHODAT91FOREVER