S-jax39

Joined: 23 Aug 2010
Posts: 7558
Location: [D]MV
Posted: Fri Jan 18, 2013 5:43 am

Post subject: Sjax39's thoughts & mini mock
---
2012 was a different season for the Rams. It felt different from the 7-9 season a few seasons ago. No, this season was clearly a step in the right direction. This season had it's ups and downs, but towards the end I saw tough, resilient team that never gave up no matter who they played. IMO, this team has several issues that the forum seems divided about and I will attempt to address each one before a small mock.






Sam "Chipmunk" Bradford



The biggest topic of the forum. Is Sammy B a franchise Qb or isnt he? Well, I still have faith in him. With rookie qbs coming in and having instant success I feel like expectations have been raised. Is that fair to Sam? Not really, but I can understand fellow fans frustration. I think its only fair to point however that not all quarterbacks progress the same. And is it really fair to judge a quarterback with a below average supporting cast who doesnt even have a full 3 years worth of games under his belt? I believe that this offseason we address some of the holes on the offensive side of the ball and we see more improvement from Sam.







Schotty



I have mixed feelings about this one. At times, he seemed great. Other times...not so much. I frequently felt like every yard was a struggle. It's really annoying to see us struggle for most of the game only to adjust when its almost too late. I am however happy to see him stay with us for Sam's sake. Hopefully next year he will call more games like he did against San Fran.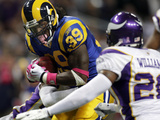 Steven Jackson



I think it goes without saying that S-jax has lost a step. Theres no way we can pay him his current salary. However, I think he comes back with a paycut. I think he has another 1k season left in him. He's also still our best passblocking and receiving back. He knows he's not what he used to be and he wants to retire a ram. I expect richardson and pead to be more of a factor next year though.



Mini Mock



Im predicting we lose Fletch, Hayes, Stewart and Amendola. Tru replaces Fletch, someone wants Hayes to be a starter, Stewart couldnt even get in over he who shall not be named and Amendola is injury prone. Amendola leaving is gut feeling. Givens takes his spot and we use that money elsewhere (dont want it to happen though). Hunter and Mikell imo will be cut. I think Gibson and Turner will be resigned.

As for signings, I think we get Keller, Goldson, Barden, and Andre Smith. Keller and Barden should be cheap. Keller is coming off of an injury and will reunite with his old OC and get a real quarterback. Smith wont cost much and will help sure up the line. Goldson is just what this defense needs and we steal him from a rival. Barden is another cheap player with potential that we grab. Low risk, high reward,

Finally, I have us grabbing Allen and Warmack with our two first rounders. We get our WR and then we cant pass up a great guard at 22.
_________________
Welp
Flatlyner

Joined: 06 Feb 2006
Posts: 6626
Location: WESTCOAST
Posted: Fri Jan 18, 2013 4:03 pm

Post subject:
---
Thats super optimistic that Warmack will be there for #22, let alone be at #18. I'm not sold on Allen in the first either. I honestly cannot see him getting past 15 at this point. He is an elite prospect in a draft lacking elite talents.

Also, I think Jax is gone. The Rams essentially announced to the media that they and Jax had agreed to terminate contract at the end of the year and move on. I dont think they do that if they intend to try and restructure or resign him.
_________________