I am bored. Update time.



Restructures/Extensions:



We are currently about $20M over the cap, so moves need to be made.



Sign Tony Romo to a five year extension worth $75M.





We are committed to Tony as our quarterback, and we think we have the ability to finally surround him with teammates who can help him win. He may be turning 33, but he is young in terms of playing time. We want him long term, and we will find a guy to groom in the next draft or two.





Restructure Brandon Carr's contract.





Carr has a built-in clause in his contract that will allow us to save $10.4M by restructuring his deal off the cap. This is a no-brainer for us. Combined with the Romo deal and rolling over about $2.3M from our cap last year, we are back even with the projected salary cap.





Restructure Jason Witten's contract.





By restructuring Witten's deal, we are doing two things. One, we are saving $3.6M off the cap. Two, we are showing Witten how much he means to this team. We want him here long term, and we think he still has some great football ahead of him.





Total Savings:

$24.3M (roughly)



Cuts:



Dan Connor - $3M
Doug Free - $2.88M
Marcus Spears - $1.65M
Gerald Sensabaugh - $1.5M
Ryan Cook - $1.1M
Eric Frampton - $950K
Anthony Armstrong - $630K
Josh Brent - $575K
Phillip Tanner - $555K
Carlton Mitchell - $555K
Brandon Underwood - $555K
Vince Agnew - $480K
Donovon Kemp - $480K



Total Savings:

$11.9M



Re-signings



Ernie Sims - One year deal worth $1.5M.
L.P. Ladouceur - Three year deal for the veteran minimum.



Pre-Draft Trades:



The Dallas Cowboys trade WR Miles Austin to the Miami Dolphins for the 77th pick in the draft (205 points).



Total Savings:

$3.5M

New Draft Picks:

1.18
2.47
3.77
3.80
4.111
5.144
6.175
6.181



Free Agency




William Hayes signed to a three year deal worth $7M.
Hayes is coming off a fantastic year with the Rams, but is still an unknown commodity. Hayes graded out as PFF's 9th best run stopping 4-3 DE, and he registered a career high seven sacks. He does not have a place on the Rams with Chris Long and Robert Quinn, and Dallas will give him a chance to win the starting SDE job. He should help keep legs fresh in the defensive line rotation.
Pat Lee signed to a two year deal worth $3M.
After losing our special teams ace in Danny McCray, we bring in Pat Lee to take over duties. He will also be our dime corner.
Robert Turner signed to a two year deal worth $1.5M.
A Callahan guy who can play multiple positions along the line. Will be our main swing man.



Brandon Moore signed to a three year deal worth $10M.





After some deliberation, Moore decides to come back and play for his former offensive line coach, Bill Callahan. If Moore were five years younger, he would be in line for a bigger pay day. He is still one of the more underrated guards in the NFL, and we believe that he can be a solid guy that can upgrade our line.



The Dallas Cowboys trade the 18th pick (900 points) in the draft to the San Francisco 49ers for the 31st (600 points), 61st (292 points), and the 125th pick (47 points) in the 2013 NFL Draft.



The 49ers really coveted Xavier Rhodes and couldn't wait any longer to jump up and grab him. They have many picks in this draft and very few needs, one of them being a lockdown cornerback. With our main targets, Chance Warmack, Shariff Floyd, and Sheldon Richardson off the board, we moved back.



The Dallas Cowboys trade the 61st pick (292 points) to the San Diego Chargers for the 76th (210 points) and the 107th picks (80 points) in the 2013 NFL Draft.

New Draft Order:

1.31
2.47
3.76
3.77
3.80
4.107
4.111
4.125
5.144
6.175



1st Round







Jonathan Cooper - Offensive Guard


Height - 6'3
Weight - 310
School - North Carolina



FM30's Scouting Report


Strengths:

Arguably the most athletic guard in the draft. Moves very well in open space and can get to the second level to deal some damage. Able to wall off defenders and flashes the ability to move them around. Head is always on a swivel and he demonstrates great awareness. Anchors well. Handles speed and power pass rushers very well. Wide base, long arms, and strong hands. Good balance and ability to pull. Does everything well.



Weaknesses:

Main issue with Cooper is his strength. Can get knocked back by bigger, stronger tackles. Doesn't maul defenders like you want your franchise guard to do. Can allow pad level to rise from time to time. Shoulder surgery prior to his senior season that may need to be checked out.





2nd Round







Kawann Short - Defensive Tackle


Height - 6'3
Weight - 308
School - Purdue



FM30's Scouting Report


Strengths:

Quick first step, can really shoot the gaps to make plays in the backfield. Takes on double teams regularly and does it well. Able to stack and shed into gaps. Advanced pass rush moves at this stage. Swim, club, and rip moves are well used. Active hands. Effective bullrush as well. Tough player and will chase down plays from behind. Good about getting his long arms up in the air to knock passes down. Flashes pure dominance at times.



Weaknesses:

Conditioning, conditioning, conditioning. Short takes too many plays off, likely because he saw so many double teams at Purdue. Because of this, he is inconsistent. Plays with a narrow base and can get washed down the line. Doesn't protect legs. Content with just occupying gaps and not making plays. When he gets tired, his technique suffers.





3rd Round







Bacarri Rambo - Safety


Height - 6'1
Weight - 215
School - Georgia



FM30's Scouting Report


Strengths:

Classic centerfield free safety. Reads quarterbacks well and has good instincts. Fast enough to be the last line of defense. Good ball skills. Flashes big play potential heading the other way. Aggressive hitter. Smart about hits, doesn't draw many penalties. Good size for either safety position, but I think his best fit is as a free safety in a cover two style.



Weaknesses:

Not the best wrap up tackler. Too often goes for the big hit and misses. Gambles on a lot of deep passes and can get beat because of it. In run support, he is not an "in the box" safety. Can get caught up in traffic and give up running lanes. Failed two drug tests at Georgia.



*Disclaimer - I do not believe that RKG means that our football players need to be perfect off the field. Garrett is looking for the right players that fit his mold, not choir boys as TO_7 puts it.





Brian Schwenke - Center


Height - 6'3
Weight - 307
School - California



FM30's Scouting Report


Strengths:

Possesses good size, and uses his build to his advantage. Leverages and anchors well against bigger tackles. Very quick off the snap and quick to get his hands into defenders. Shows a nice pop and punch on contact. Blocks through the whistle. Head is always on a swivel in pass protection. Does damage at the second level. Helps out guards. Walls off and turns defenders well.



Weaknesses:

Lacks elite strength in the upper body. Can get lost sometimes. Inexperienced at center, only one season under his belt. Awareness is still improving. Shotgun snaps are a little off at times. Doesn't maul his man, strictly a wall and turn blocker.







Cornellius Carradine - Defensive End


Height - 6'4
Weight - 265
School - Florida State



FM30's Scouting Report


Strengths -

Very good athlete with natural flexibility and bend around the edge. Quick hands and feet. Light on his feet laterally and in pursuit. Very fluid. Active, strong hands. Gets up in the passing lane and takes away QB's vision. Good instincts. Really sets the edge well, and continued to improve in this department all year. Generally keeps good pad level and learning to use hands. Violent hands that rip well. One of the best motors in the draft. Always on the move and looking to make a play.



Weaknesses:

Bit of a one-year wonder. Most of his experience comes at the JUCO level, and only stepped in to start in place of Brandon Jenkins. Still very raw and will need some seasoning. Still developing pass rush moves. Can get overpowered and needs to bulk up. The ACL tear is an obvious concern as well. Otherwise, he is likely a first round pick.





4th Round





Mike Gillislee - Runningback
Height - 5'11
Weight - 207
College - Florida



FM30's Scouting Report


Strengths:

Good frame for a back with room to add ten more pounds without losing elusiveness. Lateral agility and acceleration are his strong suits. Very quick burst through the hole. Enough speed to break away through the secondary. While elusive, he does not necessarily shy away from contact. Effective spin move that makes him tough to tackle. Potential is there to be a weapon receiving out of the backfield. Gives effort in pass protection.



Weaknesses:

Runs too upright, and doesn't break as many tackles because of it as his size would suggest. When there isn't an obvious hole, he tends to bounce around the line too much. Doesn't always protect the ball by moving it to the outside arm. Doesn't do too much after contact.







Brennan Williams - Offensive Tackle


Height - 6'7
Weight - 315
School - North Carolina



FM30's Scouting Report


Strengths:

Ridiculous size for the position. Long arms, big hands, large and athletic frame. Good quickness off the line and into his set. Uses long arms and strong hands to control pass rushers. Able to recover well when beaten to make blocks. Nasty player that likes to finish blocks. Potential is very high. Could be the bookend right tackle that teams covet.



Weaknesses:

Still fairly raw. Quick hands, but bad placement. Too often gets his hands outside the numbers of defenders and gets called for holding. Injury is a bit of a concern. Would like to see him get a little more agile when blocking downfield.







Chris Harper - Wide Receiver


Height - 6'1
Weight - 228
School - Kansas State



FM30's Scouting Report


Strengths:

Big, physical receiver. Improving route runner who takes pride in his craft. Good athlete. Able to really control his body well and box out corners on comeback routes. Big, soft hands with great concentration. Fast, projecting something along the lines of 4.45 speed. Good blocker on the outside and always gives effort. Very frustrating to cover one on one due to his physicality.



Weaknesses:

Fast, but not explosive. Doesn't really accelerate well in and out of his breaks. Still learning to be a full time wide receiver, as he was recruited as a quarterback. Not the best red zone target despite his size. Not the most elusive running after the catch.





5th Round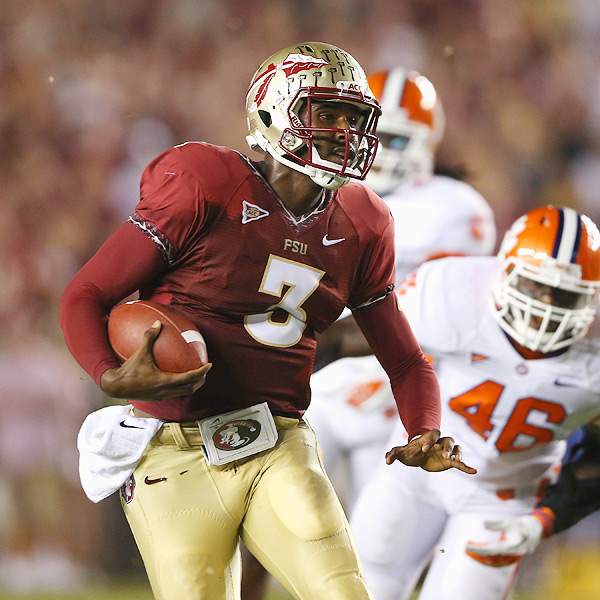 E.J. Manuel - Quarterback


Height - 6'5
Weight - 237
School - Florida State



FM30's Scouting Report


Strengths:

Great frame. Tall and very athletic. Possesses a strong arm and can really spin the football. Accurate short passing. Throws a nice deep ball. Aware in the pocket and can move around well. Scrambles very well. Real threat running the ball. Great leader on and off the field. Sky is the limit, just needs proper coaching and time to develop.



Weaknesses:

Still getting a feel for the position. Touch passes need a lot of work. Pats the ball before throwing, leading to late passes. Accuracy is below average past eight yards or so. Needs more confidence in his receivers. Doesn't throw the ball until after the receiver makes break.





6th Round







Terry Hawthorne - Cornerback


Height - 6'0
Weight - 194
School - Illinois



FM30's Scouting Report


Strengths:

Nice size for a corner, with speed and loose hips to boot. Phenomenal athlete with good footwork. Nice ball skills and will jump routes when he has a chance. Physical player in run support. Shows the swagger that you want in a shutdown corner. Decent understanding of zone coverage.



Weaknesses:

Good size, but lanky and should bulk up if he can. Technique needs a little work, he could stay lower in backpedal and bump receivers better. Poor discipline in regards to fakes. Injury concerns.





Undrafted Free Agents



Jack Doyle, TE - Western Kentucky
Mitchell Gale, QB - Abilene Christian
Chris Jacobson, OG - Pittsburgh
Mike Catapano, DE - Princeton
Braden Wilson, FB - Kansas State
Jumal Rolle, CB - Catawba


Offense: 25
QB: Tony Romo | Kyle Orton | E.J. Manuel
RB: Demarco Murray | Mike Gillislee | Lance Dunbar
FB: Lawrence Vickers
WR: Dez Bryant | Chris Harper | Cole Beasley
WR: Dwayne Harris | Danny Coale
TE: Jason Witten | James Hanna | Jack Doyle
LT: Tyron Smith | Robert Turner
LG: Jonathan Cooper | Nate Livings
C: Brian Schwenke | Kevin Kowalski
RG: Brandon Moore | Mackenzy Bernadeau
RT: Brennan Williams | Jeremy Parnell

Defense: 25
DE: William Hayes | Tyrone Crawford
DT: Jason Hatcher | Sean Lissemore | Brian Price
DT: Jay Ratliff | Kawann Short
DE: Demarcus Ware | Cornellius Carradine
OLB: Bruce Carter | Ernie Sims
ILB: Sean Lee | Orie Lemon | Caleb McSurdy
OLB: Kyle Wilber | Alex Albright
CB: Brandon Carr | Orlando Scandrick | Terry Hawthorne
SS: Barry Church | Sterling Moore
FS: Bacarri Rambo | Matt Johnson
CB: Morris Claiborne | Pat Lee

Special Teams: 3
K: Dan Bailey
P: Chris Jones
LS: L.P. Ladouceur

Finished this much later than expected so I got lazy. Numbers may be off and I don't want to check to see if pictures work. Trades are wacky, but I don't care. The points match up well, so deal with it.