khodder


Joined: 19 Dec 2005
Posts: 52070
Location: New New York
Posted: Sun Dec 02, 2012 2:25 am

Post subject: Lindley to Roberts, 21 yard Gain.
---
Haven't done one of these in a while and I figured that hey, I will put this one out there to show that there are still some very well designed plays being run by our offense.

The play I picked out is a 21 yard gain to Andre Roberts on the first drive of the game. I don't want to state this as fact, but this play is possibly a direct result of film work of watching the Rams defense operate in this area of the field.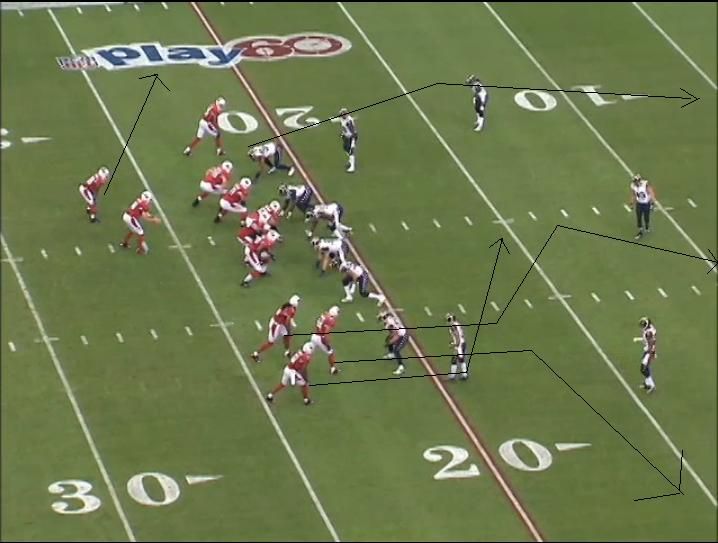 The Cards align in a Bunch Set to the field side. Housler on the LOS allows both Roberts and Fitzgerald to get a free release off the LOS. Fitzgerald runs a Post Corner route, this takes his man and one of the deep men out of the picture. It also leads to a clearing out of the middle of the field for Andre Roberts.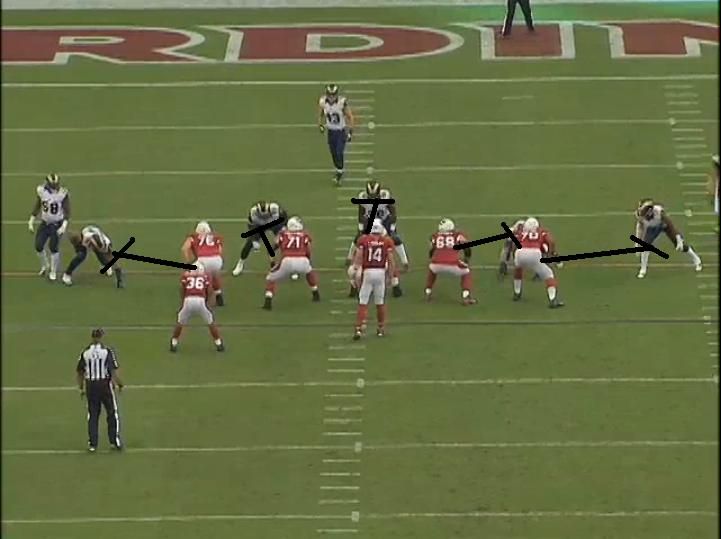 The Rams were coming with Five, a 3 deep zone with three underneath men in man coverage, one of which is a linebacker. With five receivers in routes the Cards had a hat on a hat in blocking. They had to hold up in pass protection 1 v 1 to allow this play to develop and work. All Five do a fine job of picking up their men and allowing Lindley to work from a clean pocket.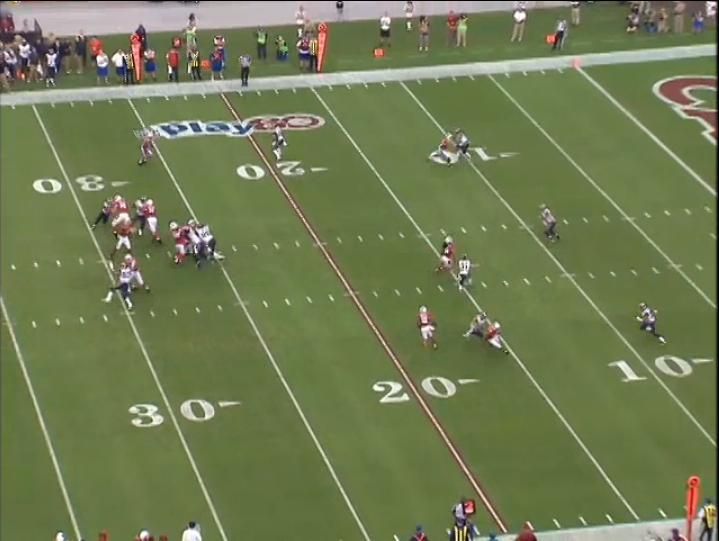 The culmination of the play. You can see the Cardinals offensive line has done very well and has given Lindley a nice pocket to work from. Housler running the out route takes his his man away from the intended direction of the play. Fitzgerald has the full attention of the man in the deep middle and you have a lot of space for Roberts to work into to make this catch.

You can also see Floyd in a 1 v 1 matchup at the top of the screen.

This route scheme against a three deep defense is designed to put stress on two of the three deep men. The deep middle man has to decide whether to break downhill on Roberts coming into the middle or play over the top on Fitzgerald. The same decision needs to be made by the safety playing on the right hand side of the field in these pictures. If the middle man bites down and the man on the right hand side plays over the top of Fitzgerald then you have a receiver (Floyd) on the other side of the field with inside position on a DB while running and inside breaking route into space for an easy pitch and catch.

A well designed play against a defense that it wanted to exploit. Whether this was borne out of luck or hard work in the film room is another question, but the bottom line is that our offensive coaching staff was able to draw up and run a play that exploited a defense. These plays are still out there for our players. We just need to execute.
_________________