Spags Short List: Top 5



Ok, here's the objective… Predict who you believe would be the top 5 prospects on Spags board right now.

I'll go first



1. Jarvis Jones OLB Georgia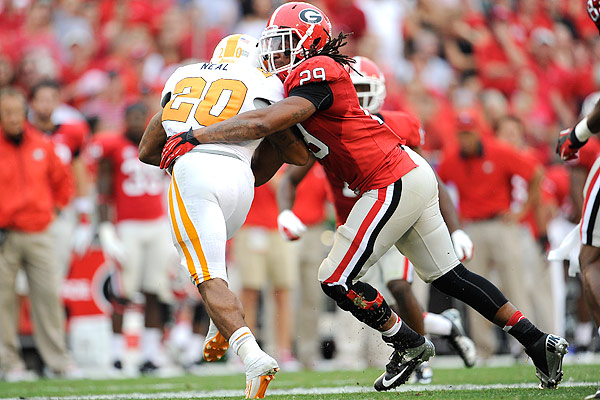 While some may point to the fact that Jones has been extremely successful in college as a 34 outside edge rusher and therefore his best fit would be in that same role in the pros. I disagree, do to Jones's leaner looking frame, elite speed and athletic ability I feel Jones can be successful in any defensive scheme in the NFL. The Georgia Bulldog defender is simply the best defensive playmaker in the draft and if he clears medically would likely be the #1 prospect on Spags board come draft day.
2. Sam Montgomery RDE Louisiana State
Bjoren Werner is widely considered the top defensive end available in this year's draft but there are questions about whether he's a right end or left. To me I feel Spags might prefer Montgomery's skill set over Werner's for his scheme. I know this is personally opinion but I feel if the Saints were to pick an end this upcoming draft and had to choose between Montgomery and Werner… Montgomery would be the pick.
3. Star Lotulelei NT/DT Utah
There are a few quality defensive tackles in this draft but as a fit in Spags scheme, for me it's Lotolelei. Akiem Hicks is developing into a very disruptive inside playmaker but the Saints are still lacking someone inside to plug up the running lanes. Brodrick Bunkley has been a disappointment thus far this season and Lotulelei has the potential to develop into a Haloti Ngata type of difference maker.
4. Bjoren Werner RDE Florida State
While I might be of the opinion that Montgomery is a better fit than Werner, I still recognize the immense potential of the Florida State Seminole. Werner decreased his body weight down to 255 lbs this season to be better conditioned for the college game but his typical playing weight is usually around the 270-275lb range. Werner would be better off in the NFL getting back to this physical makeup to better hold up in the NFL game. While Werner possesses an elite burst off the line he typically utilizes his raw power and strength to overwhelm offensive tackles. This has caused a debate among NFL scouts about which side of the defensive line Werner fits best. Normally in a 43 front Werner would play on the left side but in New Orleans because of Cam Jordan's similar makeup as far as size and power and Werner's elite burst and pass rushing potential the Big German would undoubtedly play mostly on the right side for Spags.
5. Dee Milliner CB Alabama
To me, Milliner is the guy who kind of gets lost in the shuffle when we talk about potential Saints 1st round picks. The Saints have holes all over their defensive unit and while Patrick Robinson flashes promise, I have my doubts about him ever developing into an ace cover corner for the Saints. Milliner possesses great size, speed and physicality for the corner position. He has all the makings of a #1 corner for an NFL franchise and would allow Robinson to be the #2 corner where expectations for him would be more accurately placed on him.
Honorable Mention: Manti Te'o MLB Notre Dame



Curtis Lofton is arguably our best defender right now. Depending on who you listen to some feel he's a middle linebacker only and if that the case there might not be a spot for Te'o on this roster. Spags seems to believe that Lofton would excel on the strong side and if he still believes this and the Saints truly go by the "best player available" mantra then I find it to be a likely scenario that we could be cheering for a Lofton, Te'o & Hawthorne linebacking core next season.



So… What's your prediction for Spags top 5?



WHODAT!


_________________

WHODAT91FOREVER