Everyone is doing them so why not try one out and with the new 4th round we get P.S I am going buy the draft order in the 2013 Mock Draft



With the First Round Pick the

Tampa Bay Buccaneers

Select

Johnthan Banks, CB, Mississippi State
Every Bucs fan knows that we need a CB badly and after the Talib trade there is no doubt that we need one more even ever. Bucs got burned almost every game so far in the passing game. Now that Talib is gone we only have Wright,Johnson,Biggers,Lewis,Gaitor that doesnt look to well for us. Banks is pretty tall at 6'2 and his projected 40 would be around 4.40-4.45. He has been playing pretty well this year with 3 INTS and he has been playing since he was a true freshman for the Bulldogs.
With the 2nd Round Pick the

Tampa Bay Buccaneers

Select

Robert Lester, S, Alabama
As much as this hurts me to say but I dont think Barber will be back next year. He has done an amazing job for us his whole career and I would hate to see him go but it is come soon. We do have some decent Saftey but getting Barron teammate would be a good tadem for years to come. We do have depth behind them, when we draft Lester are backfield of the defense will be looking pretty good. Lester isn't having a big season as some of us would like to see but he is pretty good in pass coverage and as stated above we need some help in that area. Another big prospect at 6'2 210 he can and probably wil run in the 4.50-4.55 40.
With the 3rd Round Pick the

Tampa Bay Buccaneers

Select

John Simon, DE, Ohio State
I know a lot of defense of players but are defense isn't that great besides rushing (suprising

). It was really hard for me to mock a DE since we do have 3 good ones if they stay healthy (Key Word). Adding someone like Simon to the rotation of Clayborne/Bowers/Bennett would be a good tadem, if we resign Bennett and no one gets hurt. Simon is doing good this year and his draft stock mite keep rising by the time the draft comes around. Big dude at 6'3 263 can come off the edge but mite not get to many sacks but he sure can get to the QB and give him some pressure.
With the 4th Round Pick the

Tampa Bay Buccaneers

Select

Dion Sims, TE, Michigan State
Finally we take a offense of player and we could use someone like Sims. We brought in Dallas Clark who is a decent TE for a year or two but his play has been downgrading the past couple of years and he doesn't have much lefted in the tank. Luke Stocker hasn't lived up to what we thought he would be worth of a 4th round. He still has time to get better. Sims isn't just a decent pass catcher he is a good run blocker and thats what we need in a TE for this run first offense. Another big player at 6'5 285 can learn behind Clark for maybe another year then sept in with Stocker and hopefully they make a good tadem at TE.
With the 4th Round Pick the

Tampa Bay Buccaneers

Select

Prentiss Waggner, CB/S Tennessee
Sorry I don't mean to take almost all SEC defense it just played itself out like that. Like I said early this team needs to get better in the pass coverage and getting 2 players like Bank and Lester and add Waggner to it looks like a good way to start the next season off. People probably are thinking why get another CB when we would have Banks/Wright/Johnson well you can't have to many CB in this league or even in the NFC South with Ryan/Brees/Newton. Waggner not only can play the CB spot but he can play the Saftey spot as well a very versatile player. He stands around 6'2 185. He has done pretty good this year verus some tough teams in the SEC.
With the 5th Round Pick the

Tampa Bay Buccaneers

Select

Justin Pugh, OT, Syracuse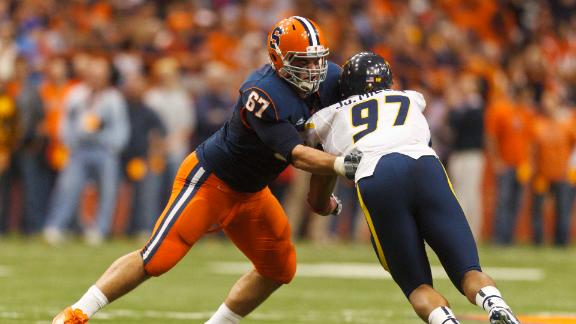 With the last 2 picks the will be depth players. As much as we have invested in this O-line we have no one behind them we have seen Joseph and Nicks fall down from injury this year. Dotson has played decent but not great at RT, better then Trueblood would. Pugh has played LT and for the Cuse. Schieno we all know coached Rugters so we know he has to take a big east player at some point in this draft. Pugh can also be put in gaurd poistion as he isn't the biggest linemen out there 6'6 292.
With the 6th Round Pick the

Tampa Bay Buccaneers

Select

Aaron Tipoti, DT, California




Like I said with the previous pick the Bucs need to add depth at some of the poistion. Are DT are playing pretty good this year. McCoy is playing great since he hasn't got injured (Knock on wood) Miller hasn't been to much of a help but he has been there for us. Bring in someone like Tipoti in the late round of the draft. He isn't the biggest but if he wants to stay this weight he can play either DT/DE. He is 6-2 274 hasn't shown much flash this year but he is worth a shot at a depth player.


_________________