KingTitan


Joined: 10 Mar 2006
Posts: 14792
Location: Nashville,TN
Posted: Thu Oct 25, 2012 3:35 pm

Post subject: Breakdown of Chris Johnson's 83 yard run
---
Very interesting....it was against an 8man front also.

http://www.nationalfootballpost.com/Playbook-Chris-Johnson-runs-past-the-Bills.html


Quote:
On Sunday, Chris Johnson filled up the box score with 195-yards rushing and 2 TDs in the Titans' 35-34 win over the Bills. The RB was patient with the ball, used his vision to find cut back lanes and displayed the top-end speed we are all accustomed to seeing in his game.

Today, let's use the All-22 tape and breakdown Johnson's 83-yard TD run vs. the Bills' 8-Man front (Cover 1).

Titans vs. Bills
Personnel: Regular (2WR-1TE-2RB)
Alignment: Pro I
Scheme: Inside Zone ("Bim")
Defense: "Over" 4-3 Cover 1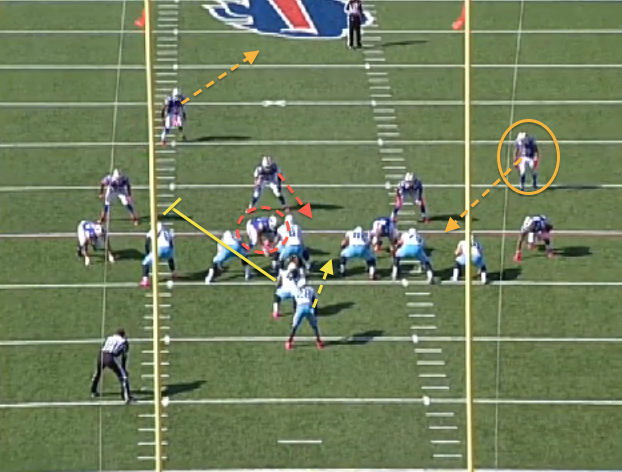 Start with the defensive look from Buffalo. A 4-3 "Over" front (Nose shaded to the open side of the formation) with SS George Wilson (orange) walked down the closed (strong) side and filling the "C" gap on the run. An eight man-front (Cover 1) with the FS playing the deep middle of the field.

- This is a base Inside Zone scheme from the Titans with a "Bim" block (FB blocks away from run action). When the RB steps to the closed side of the formation, FB Quinn Johnson will work to the second level and block Will LB Nick Barnett.

_________________
Proud member of the

DARK SIDE

. I've embraced Mike Murlarkey as my Head Coach.