18th Overall

is where we are after seasons end. I'm not THAT happy at the moment but I am excited for this draft which might be the cornerstone draft of this organization.

Before we go onto the mock Let's check out Jason Garrett;s first draft and analyze the players. If any indication has shown from his first draft it;s that his player usually figure it out by thier sophomore season which is why I currently have no one about the 2012 draft class which we will find out this coming season. Be excited. Come on.



2011 Draft





Tyron Smith LT/RT, USC (1st round)





Panned out





Had a good rookie season and really improved as the season went along at the LT position.





Bruce Carter ILB, North Carolina(2nd Round)





Panned out





Didn't do much his rookie season. But went down guns blazing with his injury. At times he looked even better than Sean Lee with his extreme athletic ability. Bright future. Really Bright. Hes a specimen.





Demarco Murray RB, Oklahoma (3rd Round)





Panned out



Bright future. Has been injured, and injured even more. Very hard-working and dedicated player. Needs to fix his random fumbling issues but I would say he was great pick.



Dwayne Harris WR/KR/PR, ECU (6th round)





Panned out





Much like Bruce. Didn't do much his rookie season, even got cut. But seems like he kicked it into a whole new gear this season. With his electric returns in the special teams and gaining Romo's trust more and more on the offense making plays in space. Kid looks like a real steal in from the late rounds.





Busts





Bill Nagy C, Wisconsin (7th Round)





Josh Thomas CB, Buffalo (5th Round)





David Arkin G, Missouri St. (4th Round)

UNDECIDED.





Shaun Chapas FB, Georgia (7th Round)



See the trend? This draft was ridicolous in how many valuable players were obtained. Much more they all started to show up in thier sophomore year which the exception of T.Smith and D.Murray.




2013 Dallas Cowboys NFL Mock Draft





John Jenkins NT, Georgia (1st Round 18th Overall) 6'3 326 lb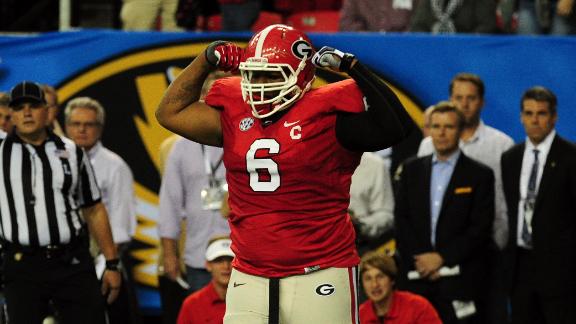 This pick is a hybrid of need and talent. Hes immovable. Literally I feel like he is the most underrated player in the draft that is considered one of the higher ones. Gap discipline. Busting plays dead. Creating havoc in the backfield. Requiring Double teams constantly. I feel like he is the perfect fit on our defence with Jay-Rat on the down side of his career and our bright young star that was taken away by alcohol. Many people has this guy rated in the 2nd round which im blown away by. No way this is happening
Trent Murphy OLB/DE, Stanford (2nd Round) 6'6 261 lb
Preachin a lil RKG here. Relentless player on the outside. Argubly the top player on the stingy cardinal defence this year. Can compete for OLB or DE starting job depending on the situation. At his best during crunch time. Disruptive player. His 6'6 height and 261 pounds is a ideal measurables added onto his intagibles which is his main attraction. To add to this he is very versatile. Rob Ryan could make really good use of him.
Larry Warford G, Kentucky (3rd Round) 6'3 343 lb
Executes. Efficient. Does his job.Very Smart Player. Will probably be the first thing that people will notice right away when watching his game flim. Adjusts very well to blitzes and is very efficient in his moves during screens which leads to a perfectly executed play on his behalf. Earned AP All-american first team playing from the SEC. That's saying something when you play for a horrible team like Kentucky.
Quinton Patton WR, LTU 6'2 195 lb (4th Round)
TO BE CHANGED because his draft stock is shooting up now.
Classic BPA pick. I know some might argue with me why do we need another WR so early? but this guy at this point is too good pass up. Efficient route runner, Great body control, fluid hips, great GAME speed.

Is part of the highest scoring offense in nation.

His knock is that he didn't face great competition but I think Texas A&M in the SEC had enough of him for one season.
Mike Gillislee RB, Florida (5th Round) 5'11 210 lb
Complimentary back to D.Murray. Smart senior who specializes in third down with his blocking skills an receiving ability in the passing game. Again RKG here, was voted team captain and is a very hard worker.
Tank Carradine DE, Florida St. 6'4 265 lb (6th Round)




Our Injury pick of the year. Was primed to be a 1st-round pick if he came but but suffered a ACL tear against florida where he played injured in the first place. He won't be able to play for the senior bowl or participate in the NFL combine which really kills his draft stock. Has Elite talent and as our last pick of the draft we take a flyer on him. Just stressing Defensive line here. Cause I feel like our safety in Barry Church will be significant enough with slight competition from free agency or Matt Johnson.




That's it folks. I couldn't sleep tonight so I just stayed up most of the night just making this draft for you guys to probably see in the morning. I'm sorry to anyone who reads this and feel bitter about the washington loss but I'm just excited.
_________________