Iceman's Titan Off-Season



Disclosure: There may be moves that you like or don't like throughout this mock, constructive criticism is okay but realize that I will always be right in the end…..




Resignings
S Bernard Pollard
DL Ropati Pitoitua
DL Antonio Johnson
RB/KR Leon Washington
WR/KR Marc Mariani (Note: I think both Wash and Mariani will be resigned and battle for return duties, Im not sure who would win so I have them both listed)
OL Chris Spencer



Cuts or Not Resigned


RB Chris Johnson
DE Kam Wimbley
TE Craig Stevens
CB Alterraun Verner
OT David Stewart
OT Mike Otto
OL Rob Turner
WR Kenny Britt
WR Damien Williams
LB Patrick Bailey
LB Colin McCarthy

Signings

RB Toby Gerhart- 3yrs/$8M

Gerhart is a talent that I have always liked since his time at Stanford. He is more dynamic than most think and has the ability to be effective out of the backfield and in the receiving game. I know we just recently signed Greene and since they are similar players we might not look at Gerhart. But truly Toby offers more speed and elusiveness than Greene. Gerhart showed when he was filling in for AP that he could carry the load and be very effective in doing so. He would be a solid under the radar signing that could really pay dividends.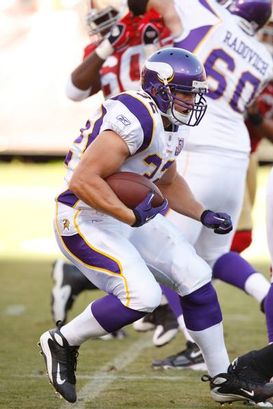 OT Tyson Clabo- 2yrs/$6M

I most likely will get flack for this as well but I think we need to add a veteran tackle to play opposite Roos. I think that Clabo is a perfect fit. He struggled early in Miami, but eventually stepped up and played very well down the stretch. He is from Tennessee and could be a solid lineman at a decent price for a couple years. I think Clabo is more of a sure thing than Stewart at this juncture.






DE/OLB Shaun Phillips- 1yr/$4M



With the switch to the 3-4 scheme we will need to add more potential playmakers in the short term while we work on drafting younger players. Phillips has experience in both the 4-3 and 3-4 and could be solid in either look. Coming off a great season he may get a multiyear deal and if that is the case I could see 2yrs/$7.5M on a deal. He would likely start right away opposite Ayers and give them more depth and flexibility in year one of the new hybrid scheme.




ILB Karlos Dansby- 3yrs/$18M

I know there will be some potential backlash here but we really need to add a capable inside linebacker that has experience in the 3-4 scheme and the likely best fit is Dansby. He has a proven track record of success and has connections to our coaching staff. He is not going to come cheap, but we will have a big hole in the middle of the defense without a player like Dansby. Also in our favor is Tennessee's proximity to his Alabama home.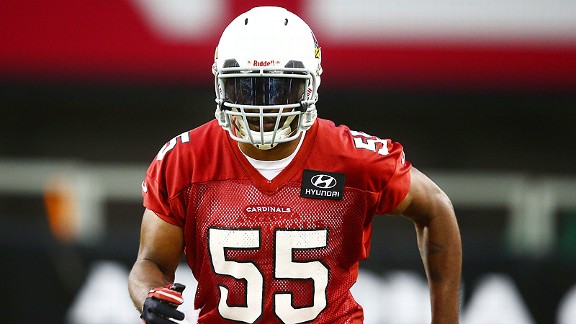 We will likely target other veteran players, especially on the offensive line to backup Schwenke, Warmack and Levitre. We could potentially bring back Turner or Spencer as offensive line depth.



Draft


I know that it is cliché to trade down, but guess what I am going to do just that….IMO there are only two players that I really want at #11 and they are Watkins and Mack (would consider Matthews as well). So here we go….

The Titans trade pick #11 to the Browns for #26, #71, #83, 6th round and 2015 2nd Round Pick so the Browns can either get the WR or QB they did not get with #4.

Then we offer our 4th to move up 3 spots to #23 to secure our target in the 1st….

Round 1 (#23 via KC)-

Louis Nix, NT, Notre Dame



Nix gives us a true NT, which is something that we are completely lacking at this point in time. Nix has some injury issues but that this spot he has great value and could really become solid piece of our defensive line for years to come.




Round 2 (#42)-

Jeremiah Attaochu, OLB/DE, Georgia Tech



Another piece of the puzzle with the switch to the 3-4 is a OLB to fit into that scheme. Attaochu was impressive last season and could potentially slide into the first depending on his pro day. He would instantly give depth and situational pass rush and could replace Phillips after one season. Round 3 (#71)-

Jared Abbrederis, WR, Wisconson



With Kenny Britt on his way out of two and Washington on the final year of his deal a WR could be ideal in this extremely deep draft. Abbrederis is sneaky fast and he has great hands. He destroyed Bradley Roby in a game this season and shows potential to be a high end #2 WR. He will be a great combination with Kendall Wright and Justin Hunter.




Round 3 (#83)-

Jack Mewhort, OT, Ohio State



With the David Stewart era coming to an end we will need to land a long term replacement pretty soon. If a guy like Mewhort is hanging around at this point in the 3rd it would be a steal. Mewhort is a safer prospect and his ceiling is a very solid RT. He could sit behind Clabo or another vet for a year or two before taking over full time.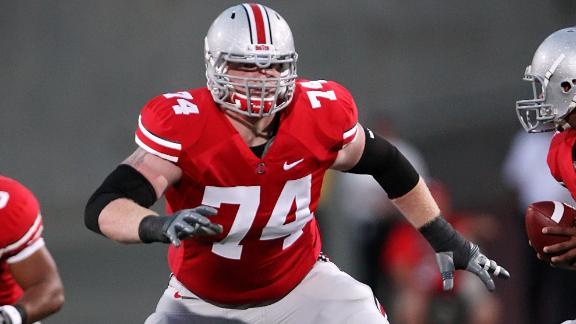 Round 5 (#144)-

Lamin Barrow, ILB, LSU



With the signing of Dansby the need for an ILB is not extremely high but adding a younger option would be ideal for the future and depth. Barrow is a great athlete with good size and strength. He is also a leader with great character.




Round 6 (#?)-

De'Anthony Thomas, RB/WR, Oregon



With the signing of Gerhart the need for a RB right away is not extremely high and it is rumored that the Titans have interest gadget players like Darren Sproles. Archer would be ideal but he will likely be overdrafted. Thomas could still be around in the early 6th and would give Whiz a Danny Woodhead type player.




Round 6 (#178)-

Prince Shembo, OLB, Notre Dame



After a great performance at the combine, Shembo has the athleticism to play almost any spot at linebacker. He could serve as a solid 3-4 OLB that can put pressure on the QB and give depth behind Ayers.




Round 7 (#224)- Tom Savage, QB, Pittsburgh

We will likely target one QB at some point just as insurance and a potential project. The two options that I can see is Connor Shaw or Tom Savage. It will all depend on who Whiz wants and since Savage is the more prototypical pocket passer he would be the odds on favorite. Could potentially offer starting potential down the road.






FA/Resignings - Blue




Draft - Green





QB

- Jake Locker | Ryan Fitzpatrick |

Tom Savage

| Tyler Wilson


RB

-

Toby Gerhart

| Shonn Greene |

De'Anthony Thomas




FB

- Collin Mooney


WR

- Nate Washington | Justin Hunter


WR

- Kendall Wright |

Jared Abbrederis

| Michael Preston


TE

- Delanie Walker | Taylor Thompson


LT

- Michael Roos | Byron Stingily


LG

- Andy Levitre | Chris Spencer


C

- Brian Schwenke


RG

- Chance Warmack


RT

-

Tyson Clabo

|

Jack Mewhort





LDE

- Derrick Morgan | Karl Klug | Lavar Edwards


NT

-

Louis Nix

| Sammie Lee Hill |

Antonio Johnson




RDE

- Jurrell Casey | Mike Martin


OLB

- Akeem Ayers |

Prince Shembo




ILB

- Zach Brown |

Lamin Barrow

| Zaviar Gooden


ILB

-

Karlos Dansby

| Moise Fokou


OLB

-

Shaun Phillips

|

Jeremiah Attaochu




CB

- Jason McCourty | Tommie Campbell | Khalid Wooten


FS

- Michael Griffin | Damion Stafford


SS

-

Bernard Pollard

| George Wilson


CB

- Blidi Wreh-Wilson | Coty Sensabaugh



K

- Rob Bironas


P

- Brett Kern


LS

- Beau Brinkley


KR/PR

- Leon Washington/Marc Mariani

Thoughts?



_________________


Props to Kempes ^