Resigns
Evan Dietrich Smith- Center- Our starting center for now till we upgrade.

[b]


Tom Crabtree-TE- One of our key blocking tightends and special teamers.

[b]


Sam Shields-CB-Shields has played well for us is resigned could continue to be a starter.

[b]
Brad Jones-LB Jones is resigned due to being able to play the inside and outside backer slots and did fine in relief for us last season.

Players-Released/Retired/Cut/Free Agent





Jeff Saturday

- Center-Retired


Donald Driver

-WR-Retired


Greg Jennings

-WR-Free Agent-Whats to much money.


Ryan Grant

-RB-Free Agent-better options out there


Cedric Benson

-RB-Free Agent-better options out there.


Brandon Saine

-RB-Cut-Not enough talent to make roster


James Starks

-RB-Cut have better healthy backs on team to many injurys


Jammari Lattimore

-LB-Cut-To many linebackers on team better than him and to many good players to keep so therefore he is cut.


Frank Zombo

-LB-Cut-been injury prone to long, more talent on team so therefore he is cut.


Erik Walden

-LB-Cut-He has seen his time in Green Bay starts to disappear towards end of season all the time his time is done.


Ryan Taylor

-TE-Cut-With the draft pick of Kelce and Quarless healthy Taylor is cut.
We let Jennings go without tagging him look towards the draft for offensive weapons.

Free Agency Pickups- No One of course.


In the draft we receive two 4th round Comp. picks with the losses of Wells and Fynn. Just think about our Comp pick next year with losing Jennings should be real good for us.
NFL DRAFT
In this draft the Packers finally get their needed starting running back this guy will be a change of pace back to feature with Harris!





1st Round Pick
Eddie Lacey RB 5-10 220lbs Alabama
This guy will become our starting running back with Harris coming in for change of pace and Green being a solid backup.
2nd Round Pick
Travis Kelce TE 6-5 260lbs Cincinnati
This guy is soaring up draft boards getting him at the end of the second does sound kinda high but he is the 3rd best tightend out there he is ranked on some boards as 2nd round and 3rd round so this is like top of third kinda. Anyways he can lineup in the slot if we continue to have issues with Finley then we have found our replacement.
3rd Round Pick





[b]Brian Schwenke Center 6-3 307lbs California
Schwenke will backup Smith for now could eventually become our starting center in very near future.
4th Round Pick
DJ Swearinger S South Carolina 5-11 210lbs
DJ gives us a hard hitting safety slips to us some here could become the starter after Woodson calls it a career.
4th Round Comp Pick
Tavarres King WR 6-0 192lbs Georgia
I've watched highlights of this guy and he can catch the short slant throws and take them the distance he can go over the middle and hes best known for his deep routes his nicknmae is TK and he is always smiling is a good team player just sounds like a Packers pick and could be our replacement for Jennings.
4th Round Comp Pick
Joe Kruger DE 6-8 280lbs Utah
Joe Kruger is the brother of Ravens DE Paul Kruger he also has another brother on Utah. Kruger should fit right in our rotation and get to the QB
5th Round Pick
Kwame Geathers DT 6-5 355lbs Georgia
Geathers will be our eventual replacement for Pickett but for now he will be a rotational player and help us plug up the line with some added beef.
6th Round Pick
Corey Fuller WR 6-2 192lbs Virginia Tech
Fuller has shot to make this team be a battle between him and Boykins if Fuller don't make team he can be put on practice squad this guy is a very good deep threat and still learning the game.
7th Round Pick
Tanner Hawkinson OT 6-5 304lbs Kansas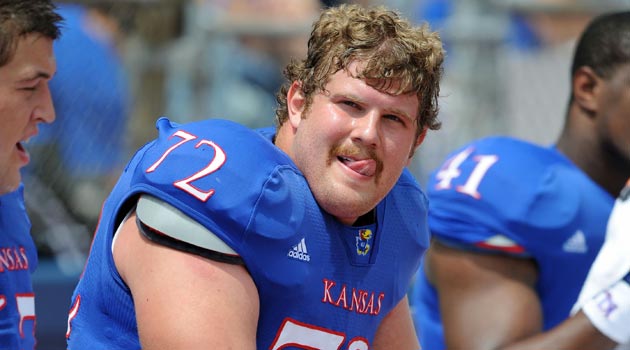 Tanner is a nice pick here in the seventh round to throw on the practice squad to groom very experience player.







Depth Chart Roster



QB Rodgers/Harrell

RB Lacey/Harris/Green/Kuhn


WR Nelson/Jones/Cobb/King/Boykins


TE Finley/Quarless/Crabtree/Kelce/DJ Williams


OL Newhouse/Sitton/E Smith/Lang/Sherrod/Bulaga/Barclay/Schwenke


DL Wilson/Raji/Pickett/Daniels/Neal/Kruger/Geathers/ PUP Worthy




LB's Matthews/Bishop/Hawk/Smith/Moses/Perry/Francois/Manning/Jones



DB's Woodson/Burnett/Hayward/Williams/Shields/House/Bush/Jennings/McMillian/Swearinger


Special Crosby/Masthay/Goode






Practice Squad




BJ Coleman QB
Andrew Datko OT
Jeremy Ross WR
Corey Fuller WR
Tanner Hawkinson OT
Dave Kruger DE (Joe and Paul Kruger's brother)
Greg Van Roten OG
Sean Richardson S


Please enjoy draft and comment thanks!
_________________