Letís just get right to itÖ

Round 1
Jarvis Jones OLB Georgia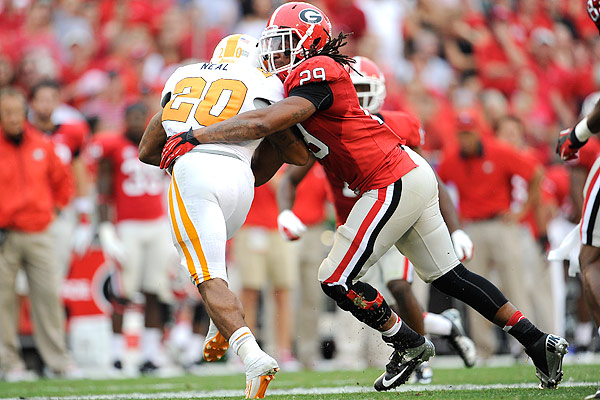 Most NFL mocks will have Jones going in the top 10 or even the top 5 but that simply isnít going to happen. There is no doubt that Jones is a top 5 talent, maybe even the top talent overall in this draft but the fact that he has been diagnosed with spinal stenosis will affect his draft stock severely. In the 2006 NFL draft, then Auburn Tackle Marcus McNeill was touted as a top 10 talent leading up to the draft like Jones is now. He had the prototypical size and skill set scouts looked for at the position but after it was discovered that McNeill suffered from spinal stenosis his draft stock plummeted and he wound up being drafted 50th overall by the San Diego Chargers. McNeill went on to have an extremely productive pro career but was forced to retire due to the disease after only 7 years in the league. This is why Jones will not be a top 10 pick. While his case is less advanced and severe than McNeillís was and Jones isnít carrying around 325lbs of body weight on his frame. He still plays a high impact position and teams will be very wary about investing a high 1st round pick into a player that might not reach his second contract.

So why then would the Saints take a chance on Jones?

Simple answerÖ because they have to! Due to his condition, Jones will likely see players like Demontre Moore, Bjoern Werner, Barkevious Mingo and Dion Jordan all go before him in the draft. This also hinders the Saints because they will be in contention for any of those players. The Saints have shown in the past that they arenít afraid to take injury or character risk if the player is talented enough to merit the gamble and this situation with Jones will be the perfect example of that.

In the Big Easy, Jones would join a 3 man rotation with Junior Galette and Martez Wilson as a rush linebacker in our new 34 scheme. The very same position that Jones was able to amass 28 sacks in just two years at Georgia and lord knows the Saints can use that kind of production!
Round 3
Bacarri Rambo SS Georgia
The Saints go right back to one of collegeís 34 defensive wells at Georgia to nab yet another starter for their new defense. Rambo has late 1st round skills but is viewed as a character risk, He possesses all the skills needed to take over for Roman Harper at the SS position and exceed the play of the slot he will be selected. While not as talented as Rams corner Janoris Jenkins, Rambo can have a similar effect like the one Jenkins had for the Rams on the this Saints squad .
Round 4
Darius Slay CB Mississippi State
While Slayís college teammate Jonathan Banks receives all the buzz for his tremendous athletic ability, Darius Slay is a top NFL prospect in his own right and in my opinion one of the most underrated prospects in this entire draft. At 6í1Ē 190lbs, Slay has great ball skills and man coverage potential. The former Bulldog registered 5 intís along with being a solid contributor in run support for the dog defense. Slay is a guy who can come in and provide quality depth and really push Robinson and White for one of those starting corner positions in 2013.
The New Orleans Saints trade RB Chris Ivory for a 4th round draft pick.
Round 4
Jonathan Bostic ILB Florida
Sometimes you have to rob Peter to pay Paul and thatís what the Saints do here by shipping off Chris Ivory for a 4th round pick in an effort to continue to improve the leagueís worst defense. Bostic was a animal on the inside for Florida in their 335 stack that features multiple defensive looks. His skill set would be a perfect complement to Curtis Lofton on the inside in our new 34 defense and he would bring passion, leadership and some really hard hitting to our unit.
Round 5
Damion Square DE/DT Alabama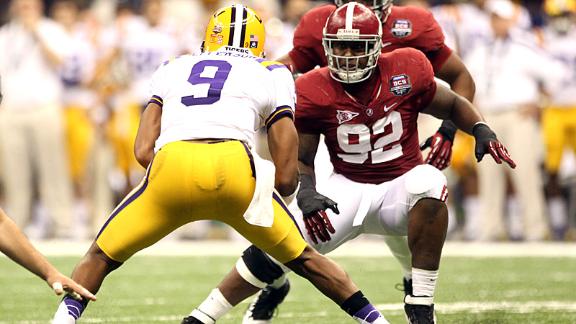 Square is a player that had some injury problems at Alabama but has been one of Nick Sabanís leaderís on defense for some time now. While Square isnít a flashy player, heís very good at what he does. He has tons of experience in the 34 defense and has the versatility to play anywhere along the front in that scheme making him an extremely valuable reserve for a roster beginning a conversion like the Saints currently are. Square may never be a starter on this team but heíll be a solid role player, leader and key rotational lineman for this new alignment.
Round 6
Tyrann Mathieu CB Louisiana State

Despite Mathieuís attempts to improve his image since his latest arrest, I just have a hard time seeing a team investing anything more than a late round flier pick on a troubled, undersized cornerback whoís been out of football for a year. The 5th round is as high as I see the Honey Badger going but in the end I see him coming off the board somewhere in the 6th or 7th round.

For the Saints, Mathieu would be well worth the risk here in the 6th. New Orleans is in desperate need of a playmaker on the back end with ball skills and at the end of the day, thatís what Mathieu will needÖ someone desperate for his skill set.


PS: This mock wasen't SEC bias, it just worked out that way...





WHODAT!!!


_________________

WHODAT91FOREVER