FRONT OFFICE and COACHING STAFF



General Manager: Marc Ross (

Director of College Scouting - New York Giants

)
Marc has work his way up through the ranks of the personnel department and has past experience working with Joe Banner in Philadelphia.





Head Coach: Casey "Gus" Bradley (

Defensive Coordinator - Seattle Seahawks

)
Bradley has done a phenomenal job coaching up a very young defense that has become one of the premier defenses in the League. He's only 46 years old and learned under Monte Kiffin while in Tampa Bay





Offensive Coordinator: Chad Morris (

Offensive Coordinator - Clemson Tigers

)
Morris's schemes have made a rising star out of QB Tajh Boyd. Morris was a highly successful high school head coach in Texas and parlayed that into becoming the highest paid assistant coach in college football. Morris is only 44 years old.





Defensive Coordinator: Ken Norton Jr. (

Linebackers Coach - Seattle Seahawks

)
Son of a former World Heavyweight Boxing Champion, won multiple Super Bowl championships, broke in as a coach under Pete Carroll at USC and coached the likes of Rey Maualuga, Keith Rivers, Brian Cushing, and Clay Matthews. He will benefit implementing Bradley's familiar system having worked together in Seattle.





Special Teams Coordinator: Tracy Smith (

Special Teams Assistant - San Francisco 49ers

)
The son of Seahawks QB Coach , Tracy has spent the last several years learning under the best Special Teams coaches in the game, Brad Seely. Having worked under Seely in Cleveland and San Francisco, Tracy is ready to step up and make his own mark.








CLEVELAND BROWNS FREE AGENTS


RB Chris Ogbonnaya (RFA) – Re-Signed
DL Emmanuel Stephens (ERFA) – Re-Signed
K Phil Dawson – Re-Signed
LS Christian Yount (ERFA) – Re-Signed




FREE AGENT SIGNINGS


DE Cliff Avril (Detroit Lions)
G Andy Levitre (Buffalo Bills)
TE Delanie Walker (San Francisco 49ers)
CB Aquib Talib (New England Patriots)
RB Danny Woodhead (New England Patriots)




2013 NFL DRAFT




1st ROUND: ***TRADE***


Buffalo Bills receive 1st RND (#6)
Cleveland Browns receive 1st RND (#8 ), 2nd RND (#41), and 4th RND (#103)



1st ROUND (#8 ): CB Jonathan Banks (Mississippi State)


Cover CB to bookend with Joe Haden for the next 5 to 7 years.







2nd ROUND (#41): ***TRADE***


Miami Dolphins receive 2nd RND (#41)
Cleveland Browns receive 2nd RND (#54) and 3rd RND (#78 )



2nd ROUND (#54): LB Khaseem Greene (Rutgers)


Speedy LB that Ken Norton can mold to be a nasty pass rusher.







3rd ROUND (#68 ): LB Sean Porter (Texas A&M)


See Khaseem Greene above.







3rd ROUND (#78 ): FS Bacarri Rambo (Georgia)


First round talent but has character concerns. Hopefully Ken Norton, JR can knock him out if he acts the fool.







4th ROUND: TE Michael Williams (Alabama)


MASSIVE Tight End who is a scoring threat in the red zone.







4th ROUND: QB E.J. Manuel (Florida State)


Nice project QB for the new regime to groom. He shows flashes of RGIII and Russell Wilson in a bigger frame.







5th ROUND: P Ryan Allen (Louisiana Tech)


Nation's leading punter…..bye bye Reggie.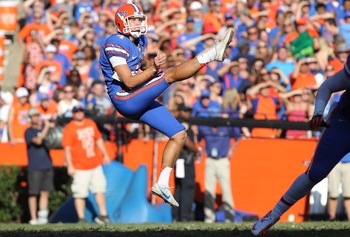 6th ROUND: FB Braden Wilson (Kansas State)


Wilson is an old school, throwback type of Fullback. Honestly, anything would be better than Own Marecic.







7th ROUND: QB Denard Robinson (Michigan)


Denard can be the new Cribbs. He does it all and is super-fast.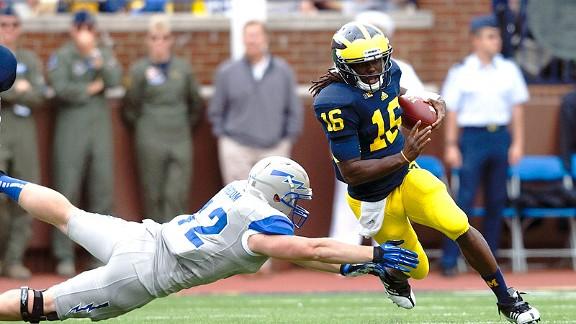 CLEVELAND BROWNS 2013 ROSTER


QB: Brandon Weeden | E.J. Manuel | Thadeus Lewis
RB: Trent Richardson | Danny Woodhead | Chris Ogbonnaya
FB: Braden Wilson | Brad Smelley
WR: Josh Gordon | Greg Little | Travis Benjamin | Denard Robinson | Josh Cooper
TE: Delanie Walker | Michael Williams | Jordan Cameron
LT: Joe Thomas
LG: Andy LeVitre | Jason Pinkston
OC: Alex Mack
RG: John Greco | Shawn Luavao
RT: Mitchell Schwartz | Ryan Miller

DE: Jabaal Sheard | Hall Davis
DT: Ahtyba Rubin | John Hughes
DT: Phil Taylor | Billy Winn
DE: Cliff Avril | Frostee Rucker
WLB: Khaseem Greene | Craig Robertson
MLB: D'Qwell Jackson | L.J. Fort
SLB: Sean Porter | James-Michael Johnson | Tank Carder
CB: Joe Haden | Aquib Talib | Johnson Bademosi
CB: Jonathan Banks | Buster Skrine | Trevin Wade
FS: Bacari Rambo | Usama Young | Tashaun Gipson
SS: T.J. Ward | Eric Hagg
LS: Christian Yount
PK: Phil Dawson
P: Ryan Allen