:
Pick #1) Carolina Panthers (2-14): QB Andrew Luck, Stanford
The Panthers are most likely going to have a new head coach and possibly new GM as well. Jimmy Claussen has not played well at all and with a new regime in town they may want there own guy. Luck is the consensus #1 guy, he is a very smart QB, who can make all the NFL throws. Luck would be a great face of the franchise in Carolina and would make any new head coach lucky to have this kind of talent to build with.
:
Pick #2) Denver Broncos (4-12): DE/DT Nick Fairley, Auburn
The Broncos defense is in need of major repair, CB could be a big need here , they have a lot of needs on the defensive side of the ball so I think they go with the best defensive player and I believe it to be Nick Fairley. Fairley has been a monster this season at Auburn, wreaking havoc in the backfield with TFL's and sacks. I think Fairley comes in and helps this Broncos defense that has been awful against the run and pass and helps build them back up to whatever the scheme they play 3-4 or 4-3.
:
Pick #3) Cincinnati Bengals (4-12): WR A.J. Green, Georgia
In all likely hood, Chad Ochocinco and Terrell Owens will not be back in Cincinnati next off-season, although there younger WRs, Shipley, Caldwell, and Simpson have all shown glimpses of being good NFL WR's, they would not have a true #1 game breaking talent on the offensive side of the ball. A.J. Green would be there man here he has all the tools and athletic ability to be a star in the NFL. He has great hands and great leaping ability and should be a big weapon for whoever is the QB in the Cincinnati next season.
:
Pick #4) Buffalo Bills (4-12): QB Cam Newton, Auburn
The Bills have shown some progress as of late and I think they have a great building block for next season as some of there young players have stepped up. I believe Chan Gailey is going to want his own guy at the QB spot and although Fitzpatrick played well, I think Cam Newton is the type of guy Chan Gailey will want. Newton has tremendous mobility and surprisingly very accurate arm as well. I think Newton from this point now until draft day is going to be biggest gainer and may challenge Andrew Luck for the #1 spot. Gailey has worked with some mobile QB's in his time and a talent like Newton could be just what he needs for his offense.
: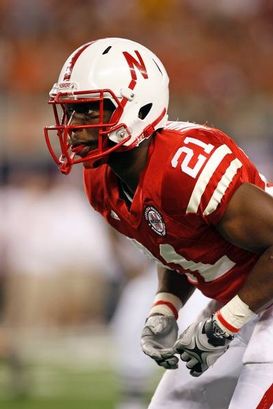 Pick #5) San Francisco 49ers (5-11): CB Prince Amukamara, Nebraska
The 49ers will have a new staff for next season and one of the places they need to address is the CB spot where they were awful this season. Amukamara is a shut-down type corner who brings all the physical attributes you look for. He can cover well, good ball skills, and be a tough physical corner at the line playing Bump N Run. Prince I think will be the top corner selected in the draft and will be a big piece added to that young very solid 49ers Defense. QB is also a spot they could consider filling but I think Troy Smith is going to get a serious look as the starting QB is the 49ers don't sign a Donovan McNabb or another veteran.
:
Pick #6) Dallas Cowboys (5-11): CB Patrick Peterson, LSU
The Cowboys pass defense has been awful this season and it needs some help. Getting a athletic talent like Peterson would be ideal for the Cowboys, he's fast, and great cover skills and a playmaker on the defensive side of the ball. He is one of the most gifted corners in this draft and will be fighting Prince for the top CB taken in this years draft. He could even play a little safety if possible as well. I think Peterson is a great pick and ideal fit for the Cowboys defense.
:
Pick #7) Minnesota Vikings (5-11): QB Ryan Mallett, Arkansas
The Vikings had a loss season and with a possible new coach coming in if Leslie Frazier is not hired, there going to need a QB of the future and big armed Ryan Mallett is the guy. Mallett has drawn comparisons to Drew Bledsoe, big 6'6 frame and a cannon of an arm that can make all the throws and more. He needs to work on his accuracy but it has improved and he has become a better QB over the season. Favre wont be back and Taravis Jackson may get the nod to start the year for the Vikings but Mallett would def. be the guy of the future that they need with a vertical offense that utilizes Sidney Rice and Percy Harvin well.
: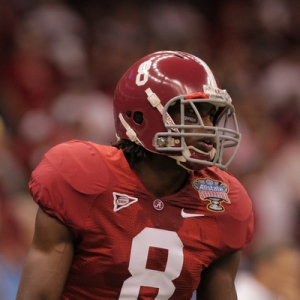 Pick #8 ) Cleveland Browns (5-11): WR Julio Jones, Alabama
The Browns could look in a couple of directions here but I think Julio Jones is the guy here. Jones is a big athletic target who can come in and be the guy for the Browns and give Colt McCoy a nice target to throw to for years. The Browns could also look at some guys like Robert Quinn, DaQuan Bowers, and Marcel Dareus here for that 3-4 defense that can use an upgrade as well. Jones I think gives this offense a play maker other than Peyton Hillis and Ben Watson that they really need on the edge and give the Browns a threat deep.
: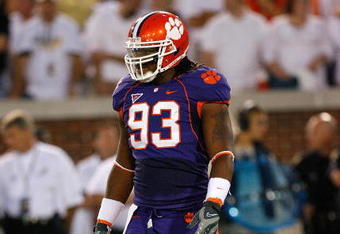 Pick #9) Arizona Cardinals (6-10): DE/OLB DaQuan Bowers, Clemson
The Cardinals have some aging pass rushers in Joey Porter and Clark Haggans and they really could use another playmaker there coming off the edge. Bowers is a Top 3 talent who falls here a little bit based on the other teams needs and is an excellent pick up for the Cardinals here. The Cardinals have a pretty decent defense already together and adding a talent like Bowers would be huge. He's got tremendous pass rushing skills and can stand up in the 3-4 D as an outside rusher. Bowers would be an excellent fit for the Cardinals here .
:
Pick #10) Seattle Seahawks (6-10): DE Robert Quinn, North Carolina
The Seahawks under Pete Carroll had a rough year and still almost pulled out the NFC West title, I think the Seahawks could use an upgrade on there pass rush and Robert Quinn is it. A tremendous talent who had to sit out the entire season this year, there's enough tape out there to show how dynamic of a pass rusher he can be. He can play in 3-4 or 4-3 and the Seahawks could really use this guy off the edge. Quinn will be wreaking havoc in opponents back fields on Sunday and will really help that Seattle defense out to get better .
:
Pick #11) Tennessee Titans (6-10): DT Marcell Dareus, Alabama
The Titans no one is really sure where everything is going right now will Vince Young still be there QB? Is Jeff Fisher going to get fired? No one knows yet. I think in this spot here the Titans would take the best available player and that would be DT Marcell Dareus. The Titans biggest need may not be DT but it can definitely use the help of Dareus. Dareus is a solid, powerful DT who's good against the rush and can still do some damage rushing the passer as well. I think Dareus will help provide a solid cog here right in the middle for the Titans, other potentials here I could see is Jake Locker, or an OLB like Travis Lewis or Akeem Ayers.
: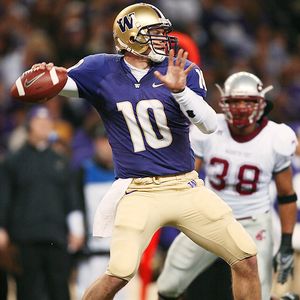 Pick #12) Washington Redskins (6-10): QB Jake Locker, Washington
I think most everyone thinks that Donovan McNabb is done in Washington and Mike Shanahan wants to find his own guy. I think that guy is Jake Locker who I've heard rumored as the guy Shanahan likes. Locker had a rocky senior campaign but is still a tremendous talented QB. Shanahan who loves to run the bootlegs, Locker would be a perfect fit for his offense with his mobility and solid arm. He needs to improve on his decision making and I think Locker will be the man in Washington for a long time to come .
: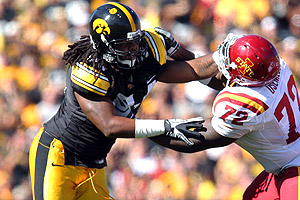 Pick #13) Houston Texans (6-10): DE Adrian Clayborn, Iowa
The Texans defense has been one of the worst in the NFL this season and it's for many reasons. There CB's have been getting burned consistently all season long, injurys, and many more reasons as well. It's time to add some more playmakers on that side of the ball and I think Adrian Clayborn opposite of Mario Williams is in order here. Clayborn had a rough season but there's still no doubting his talent. He's an excellent pass rusher, physical at the point of attack and can get those important TFL's. I think the Texans have many holes on defense so they could choose to address CB,S,DT here as well but I think another solid pass rusher opposite of Mario Williams will be a good key building block to making this D better.
: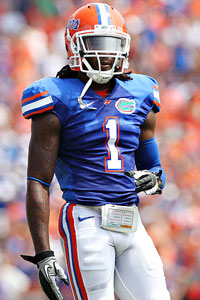 Pick #14) Detroit Lions (6-10): CB Janoris Jenkins, Florida
The Lions have been drafting very well the last few seasons and they now have one of the best young teams in the league brewing. One of there weaknesses though is at the CB spot on defense. Grabbing the next best corner which I think would be Janoris Jenkins would be huge for the Lions. Jenkins went up against fellow 1st RDers Julio Jones and A.J. Green and is def. battled tested. Jenkins is a play maker on that side of the ball and good in coverage he will provide the Lions with another solid CB on the outside to help improve this defense even more into one of the top units.
:
Pick #15) New England Patriots (F: Oakland Raiders (6-10): DE Allen Bailey, Miami FL
The Patriots who get this pick from the Raiders, are prepared to get richer here and do just that by upgrading the defensive line. The Patriots could look to upgrade the secondary here but I think a very solid defensive lineman who can play 3-4 DE or 3-4 NT in passing situations would be great for them. Bailey is a big boy , very powerful, and is good against the run. He'll be asked to eat up some blocks and rush the passer on passing downs and Bailey can do just that and I think would be a great fit for the Patriots here.
:
Pick #16) Miami Dolphins (7-9): RB Mark Ingram, Alabama
The Dolphins are most likely going to lose Ricky Williams and/or Ronnie Brown this off-season to free agency and getting a young stud back like Mark Ingram is in store for them. Ingram the former Heisman trophy winner doesn't wow with you anything but he does everything so well. He has tremendous vision as a runner, and he's got surprising power as well for his size. I think Ingram will be a solid in Miami's current run first offense and give them a star in the making .
:
Pick #17) Jacksonville Jaguars (9-7): DE Ryan Kerrigan, Purdue
The Jaguars defense was pretty poor at parts this season and it could use an upgrade at all most any position. One of the troubling spots for years now has been the DE spot and generating a pass rush. Ryan Kerrigan is a guy who has a non stop motor, great at getting to the QB and wreaking havoc in the backfield getting a lot of TFL. I think this is the type of guy Jack Del Rio would love to have on his defense and would really improve the Jags defense .
: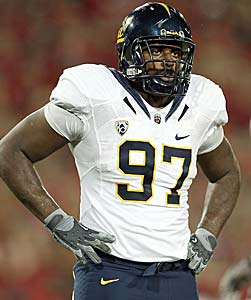 Pick #18 ) Tampa Bay Bucs (9-7): DE Cameron Jordan, California
The Bucs did a great job in last years draft in upgrading there defense, they still do not have a solid pass rushing DE and I think a guy like Cameron Jordan could be in store for them here. He's a real tough DE stout against the run and can do some damage in the back field. He's a good athlete for a bigger guy and can still get some pressure on the QB. I think a good overall pick here for the Bucs .
:
Pick #19) San Diego Chargers (9-7): DE Cameron Heyward, THE Ohio State
The Chargers just missed the playoffs and are still a team with not to many holes. They could use an upgrade along the defensive front and a guy like Cameron Heyward would be perfect. The perfect size for a 3-4 DE Heyward can come right in and provide some help against the run in what has become a run first division just about. Heyward is big and strong and physical and will be perfect against the run, but can still provide a pass rush as well. On passing down he can go down and be the NT in the passing downs as well and really be a nice player for the Bolts Defense for years to come solid pick here .
: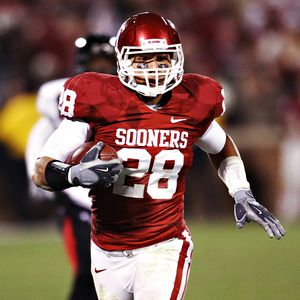 Pick #20) New York Giants (10-6): OLB Travis Lewis, Oklahoma
The Giants could use some help at the LB spot and they have for a few years. They have a few nice players there but adding a talent like Travis Lewis would be huge. He's a good sideline to sideline type of OLB who will really help the Giants at that spot. A good play maker to add on the otherside of the ball.
:
Pick #21) St. Louis Rams (8-8 ): OLB Akeem Ayers, UCLA
The Rams make the playoffs but get the first round exit, and they can still use some upgrades at a few spots. I think adding a OLB with Akeem Ayers talent would do wonders for there defense. Ayers is a great sideline to sideline guy with good coverage skills and can blitz a little bit as well. Next to Laurinitias in the middle, Ayers would be a perfect fit next to him and really help out the Rams defense even more. Solid pick here.
:
Pick #22) Kansas City Chiefs (11-5): WR Justin Blackmon, Oklahoma State
The Chiefs had a great year and are really coming along as a tremendous football team. The defense could use an upgrade but I think it can be addressed later on, adding a play maker of Justin Blackmon's abilities with the likes of Dwayne Bowe who had an awesome season would do wonders for them. It will help free up Bowe or even Blackmon and adds another solid receiving threat opposite of Bowe that the Chiefs really lack. Blackmon is a physical type WR who just makes plays and is being compared to Dez Bryant. Very good pick to an already dangerous team in KC .
:
Pick #23) Chicago Bears (11-5): OT Nate Solder, Colorado
The Bears obvious need is still at the offensive line spot and I think after the combine and such, Nate Solder is going to be the top offensive tackle in this draft. A big man at 6'9 and still athletic I think he can be just what the Bears need there. He's not going to be savior but he's going to be a solid piece to upgrading it. I think the Bears will still upgrade here whether it's FA or later in the draft but this will def. help the Bears .
:
Pick #24) Indianapolis Colts (11-5): OT Anthony Castonzo, Boston College
The Colts offensive line was pretty bad this year as well and they need an obvious upgrade on the offensive line. A solid tackle in Anthony Castonzo is a typical Colts type pick. Castonzo has been battled tested in the ACC and will be a solid piece to add along the Colts front to protect Peyton Manning and help them run the rock better. Castonzo is a solid all around tackle and will really benefit the Colts offense .
:
Pick #25) Green Bay Packers (10-6): OLB Von Miller, Texas A&M
The Packers defense has really been a strong point for them the last few seasons but could still use an upgrade or two. Adding another guy opposite of Clay Matthews is key in my opinion. Von Miller is a tremendous pass rusher and him opposite of Clay could be deadly. Miller is a guy who can wreak havoc in the opponents back field and in Dom Camper's defense will be utilized well. A solid pick here .
:
Pick #26) New York Jets (10-6): OLB Justin Houston, Georgia
The Jets pass rush wasn't great this season, although they could upgrade anywhere just about along the front seven, I think an OLB like Houston would be to good to pass up. Houston has really come on this season as a pass rusher and would provide the Jets with some much needed pass rush help. They could also look at DE,NT here as well as they can upgrade there as well .
:
Pick #27) New Orleans Saints (12-4): DE J.J. Watt, Wisconsin
The Saints could really use some pass rushing help and adding a guy with the heart and the motor like J.J. Watt would be huge. Watt is a guy a lot of people have fallen in love with as of late and may even go higher come draft day. Watt had a tremendous motor and a guy I think the Saints would fall in love with and want on there team. Watt could be an immediate upgrade for the Saints at the DE spot .
:
Pick #28 ) Baltimore Ravens (12-4): CB Brandon Harris, Miami FL
The Ravens CB's are a little weak and with the impending free agency of a few of them who may not be brought back, the Ravens could really upgrade there. A guy like Brandon Harris falling to them this late would be perfect for them. A good play maker on the ball Harris showed great skills in college and could be a really good cover guy for them for years to come .
:
Pick #29) Pittsburgh Steelers (12-4): OT Derek Sherrod, Mississippi State
The Steelers offensive line has been a problem the last few seasons and it's time to address it. A guy like Sherrod who's a big OT, but also a very athletic one would be perfect to add to the front line of the Steelers. Sherrod is a good pick here for the Steelers and will help protect Big Ben and help Mendenhall in the ground game .
:
Pick #30) Atlanta Falcons (13-3): WR Jonathan Baldwin, Pittsburgh
The Falcons could use another play maker opposite of Roddy White for Matt Ryan. Tony Gonzalez is getting older but still a solid player, but not the play maker he once was. Adding a huge target in 6'5 Jonathan Baldwin could be huge for this offense. Matt Ryan could become one of the best QB's in the league with this trio of play makers to throw to and I think it would be an excellent addition to an already great offense .
: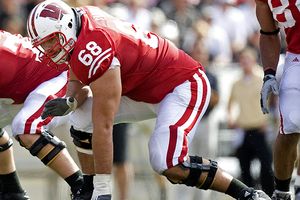 Pick #31) New England Patriots (14-2): OT Gabe Carimi, Wisconsin
The Patriots don't have to many weaknesses, adding a WR, or some secondary help could be the pick here as well but I think adding a tackle like Gabe Carimi would be a perfect Patriots pick. He would help along that offensive line that is aging a little bit and could step in and play RT right away while Vollmer moves over to the left side or vice versa. Solid pick for the Pats here .
:



Pick #32) Philadelphia Eagles (12-4): CB Aaron Williams, Texas




The Eagles CB spot def. needs an upgrade opposite of Asante Samuel. Ellis Hobbs career may be over, and Hanson and Patterson are better nickelbacks if anything. Adding a talented guy like Williams would be ideal. The Eagles could use some LB help as well and maybe a DT as well. The Eagles could address any of those spots but adding talent like Williams here would be perfect to this already great defense .



Willing to defend all pick, draft order is based on my predictions for the rest of the season. Hope you enjoyed it, lot of work went it this. Thank you
_________________
Second Mock of 2011