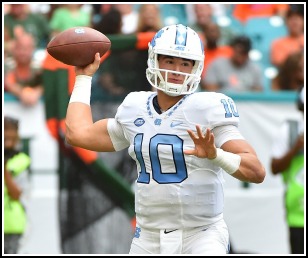 There is no more coveted position than a franchise caliber quarterback. Teams are constantly looking for an upgrade and every year there are teams that have obvious holes at the position. There are a number of talented passers in the 2017 NFL Draft, but teams may be turned off by the readiness of the players. None of the top tier prospects appear to be ideally suited to start early on during their rookie year.
Deshaun Watson of Clemson entered the year as the biggest name at the position, and he still possesses big time upside thanks to his incredible athleticism and dual threat ability. He is as dangerous as a runner as he is with his arm, and has had big games on the biggest stages of college football. Watson doesn't have a cannon, but it's good enough to make any throw he needs to. At times, he has shown tremendous accuracy and the ability to put the ball right where it needs to be. As a runner, he has the speed and elusiveness to routinely make big plays. Consistency has been an issue with Watson as a junior, as his accuracy has not been as good as it has in the past. The Clemson offense also has not given him a great foundation of development for the NFL game. The read option with a heavy emphasis on the run is not an NFL offense, and Watson is going to need to learn to be more consistent as a passer. He needs to learn to line up under center, as well as locating secondary options in the passing game instead of taking off as a runner. Watson is a superb playmaker, and he is a bright kid that has been on the Dean's list at Clemson. The talent, the intelligence, and the work ethic are top notch. He is not a polished passer and despite being a three year starter, he will need some time to develop his passing skills at the next level. His ability to step up on the big stage may be the deciding factor on which QB comes off the board first.
North Carolina's Mitchell Trubisky has come out of nowhere to be among the best players at the position available this year. After two years as a backup, he has really taken off this year, showing off a nice blend of physical tools, accuracy, and intelligence. Trubisky has good size(6'2 222), is a good athlete, and has a strong arm. The athleticism is put to good use, as he shows excellent pocket mobility and also has the ability to pick up occasional yardage on the ground. He has the arm strength to make throws all over the field, and is an accurate passer on all levels. The knock on Trubisky is his lack of real game experience. This past season was his only season as a starter, and he is an early entry candidate. There isn't a lot of film on him period to see his growth and development, and he hasn't had to face a lot of different looks from coaches that have coached against him previously. Even with just one year of starting experience, Trubisky has all the tools and smarts, and has shown enough polish to put him in the first round with a chance to be the first QB off the board.
QB RANKINGS
Deshaun Watson, Clemson
Mitchell Trubisky, North Carolina
DeShone Kizer, Notre Dame
Patrick Mahomes, Texas Tech
Nathan Peterman, Pitt
Davis Webb, Cal
Brad Kaaya, Miami
Josh Dobbs, Tennessee
Chad Kelly, Ole Miss
Zach Terrell, Western Michigan
DeShone Kizer of Notre Dame may be the most physically gifted player at the position this year, which combined with his intelligence, gives him as much upside as any player in the draft. He has fantastic size and athleticism, standing 6'4 and weighing 233lbs. Watch one play and the athleticism stands out. He has the feet and agility to move around the pocket and elude the rush, to buy more time to throw, and he is also a threat to run with the ball as well. Kizer also has a strong arm. There isn't a throw on the field that he cannot make. The problem with Kizer is his lack of experience, polish, and consistency. On one play, he looks like he's the surefire #1 pick. On the very next, it's clear he's not ready for the NFL. The mechanics are inconsistent, the accuracy is inconsistent, and his decision making is inconsistent. Kizer has declared for the draft as a draft eligible sophomore, and he will definitely require a bit of patience in the NFL. All the tools are there to be a star, including the intelligence and work ethic. It just may take some time. Kizer's draft projection could be all over the place. Some teams may buy into his potential and coachability and take him in the top 15. Others may view the time needed to develop him not worth a first round pick. The ideal situation for Kizer would be to sit behind a veteran for his rookie year to continue to develop, without the pressure of winning games. Wherever he lands, the upside is undeniable, but patience will be needed.
Texas Tech junior Patrick Mahomes is another talented signal caller whose ranking is seen as all over the place. Nobody questions his physical tools. He's got a stout frame at 6'2 225, has a cannon for an arm, is mobile, and athletic. He has the bloodlines as well, as his dad pitched in the bigs for a decade. There isn't anything he can't do physically on the field. He has a gunslinger's mentality and throws it a ton, and can make any throw with ease. He can move around well inside the pocket and out. The questions with Mahomes stem from the Texas Tech offense. He isn't tasked with many responsibilities NFL QB's are, and the history of Air Raid quarterbacks is very poor. That gunslinger mentality can also lead to some poor decisions with the ball. Mahomes is very gifted, and it would be unfair to him to write him off based on past failures in the Texas Tech offense. All the ability is there, but the common trend in this draft continues: he's a work in progress. Mahomes will need time to develop his skills as a passer and to become more careful with the ball. He's a kid who has the talent to be a first rounder, but the lack of polish and experience with pro concepts could push him into day two.
Pitt's Nathan Peterman is one of the more polished quarterbacks available this year, and could be a surprise in terms of playing time as a rookie. His tools across the board do not stand out. He's got the size at 6'2 225 that compares to many others in this draft, and is more than good enough to handle the position in the NFL. His arm is decent and is enough to start, but he shouldn't be challenging defenders with throws with small windows. Peterman has enough mobility to buy extra time and elude the rush, but he isn't going to be much of a threat as a runner. Where Peterman truly stands out is his makeup and his accuracy. He plays with a lot of poise, and has seen some adversity and overcome it. He began his career at Tennessee, but injury and the presence of Josh Dobbs led to his transfer to Pitt. Peterman's experience in a pro style offense and under center makes him much more pro ready that other guys in this draft, even if he doesn't stack up physically. His ability to accurately throw the ball on all levels, the ability to go through his progressions, and ability to anticipate throws could make him the most productive rookie passer in the right situation. Peterman has enough tools to go with his accuracy, poise, and leadership skills to be a quality NFL starter in the right situation. He isn't as gifted as many of the guys in this draft, but he is a better passer than many, and that's more important. Many teams will value his experience and polish over a more gifted player. Peterman looks like a second day pick, but in the right system, could have a very successful career, and he could potentially see the field sooner than the guys drafted ahead of him.
Miami's Brad Kaaya is yet another underclassmen that is shows up on this list. He's one of the most experienced passers in the draft despite being a true junior. He's the first true, somewhat of a throw back, pocket passer on this list. He is tall, with plenty of arm, and operates well in the pocket. He can put the ball on the money with a quick release and plenty of zip on the ball. The downside to being labeled a true pocket passer is that Kaaya is a bit of a statue. He lacks the mobility to do anything with his feet if plays break down, and his in pocket mobility isn't great either. He can get flustered when pressure comes and his accuracy and decision making suffer. For a guy that stands in the pocket, Kaaya also needs to bulk up some more. He is a very lean 6'4 215lbs. Despite his flaws, Kaaya's experience under center gives him a potentially shorter learning curve in the NFL than some of the other guys in the draft. He had some momentum entering the year as a guy that could push his way up the list, but the inconsistencies remained. Kaaya is a good kid with all the intangibles you want from a quarterback, but there is work to do physically. In time, he has a real chance to be a quality NFL starter.
Yet another prospect with an Air Raid background is California's Davis Webb. He began his career at Texas Tech under their version of the offense, and ended his career at Cal under theirs. He has the classic drop back passer frame and game. He's 6'5 230 with a big time arm. His best trait is his ability to fire strikes into openings very few can fit it into. That is something that is needed in the NFL, and he can do it. Webb has a quick release to go with the arm strength, which gets the ball where it needs to be in a hurry. He shows impressive accuracy over the middle of the field when he has time to throw a strike. When it comes to throwing the ball, he can make every throw, and put it on the money when given time. The obvious question about his game is the offenses he's been developed in. He simply hasn't been tasked with basic NFL fundamentals and will need time to polish those skills. Outside of the system, Webb is also not very mobile. He's not a threat to escape and run, and he has trouble eluding the rush in the pocket. Webb has some traits and skills that cannot be taught, and because of that, he is an interesting prospect this year. He needs some work, but so does everyone else this year. As a mid round prospect, he brings real upside.
Other names to watch: Chad Kelly(Ole Miss), Josh Dobbs(Tennessee), and Zach Terrell(Western Michigan)
NFL Draft | 2016 NFL Mock Drafts | Profiles | 2016 NFL Free Agents | NFL Forum | Contact
Copyright &copy 2016 FootballsFuture.com. Do not duplicate or redistribute an any form.
Privacy Policy