As we approach the mid way point of the NFL season, most colleges are already in the second half of their seasons. So we are deep enough in to start to see how prospects are shaping up for the draft. Here are a few players that may be sliding under the radar a bit in terms of their draft status.
John Skelton, QB, Fordham
Youíre going to hear a lot about Skelton as the draft continues to inch upon us. And as the draft does get closer, youíre going to hear a lot of Joe Flacco comparisons for Skelton. While he may not be as gifted or end up going as high as Flacco did, there are some similarities. He brings a very nice blend of physical tools to the QB position. Skelton is a jumbo quarterback, going about 6'5 and 250lbs. He has the big arm that you expect from a player that size, but he also brings surprising athleticism and mobility to the field as well. He is not facing the toughest competition, but he has a lot of experience, taking over the starting job midway through his freshman season. Entering the 2009 season, Skelton had passed for 6,215 yards and 43 touchdowns, while throwing 26 picks. He had added 443 yards rushing and nice career scores as well. Through six games as a senior, he is having his best year yet. He is completing over 60% of his passes for 1,945 yards and 15 scores(six INT), and has rushed for 146 yards and four more scores on the ground. Skelton isnít likely to have the massive rise that Flacco had, but do not be surprised to hear his name called in the middle rounds and be a player to watch as he develops at the next level.
Maurice Greer, RB, Troy
Greer a highly sought after high school recruit that originally signed with Colorado. He didnít meet academic requirements and was forced to go to junior college. While at Garden City(KS) CC, something much more important kept Greer off the field. In 2006, he was diagnosed with testicular cancer. After surgery and chemotherapy, he found out the cancer was gone. Treatments to maintain his health caused his weight to balloon to 260lbs. He gradually worked his weight down, performed well at GCCC, and landed at Troy. In his first season of Division 1 football, Greer ran for 294 yards and two scores, while averaging over 6 yards per carry. So far this season in six games, he has ran for 162 yards and a score on just 15 carries. The numbers do not jump out at you, but the work ethic and determination to get back on the field does. He runs with authority on the field, and packs more punch than his 5'10 210lb frame would suggest. He has the quickness to the hole, and gets to top speed quickly once he makes a cut. With his lack of carries and exposure at the D1 level, Greer has a lot to prove to NFL scouts as well. He may not get the carries to warrant being drafted, but he will get looks as a free agent. Once in camp, you never know what can happen. Greer is the type of player you root for and hope he does well, no matter what happens.
Tony Moeaki, TE, Iowa
Moeaki was one of the best tight end recruits in the country in 2005, and big things were expected out of him. He has shown on the field to be a very good receiver with some blocking ability. He has decent size, is a good athlete, and is tough. Whenever he has gotten consistent minutes, he has produced. The problem is however, the consistent minutes have been few and far between for Moeaki while at Iowa. Injuries to just about every part of his body has limited his impact over the years. He has had hamstring, calf, foot, ankle, elbow, and concussion issues that have really slowed him down. Moeaki has missed three games as a senior to injury, but has been extremely impressive in the for games he has played. He has career high across the board with 20 catches, 247 yards and four touchdowns so far this season. Moeaki has looked like a Top 100 pick on the field, but the durability concerns raise a major red flag. They will cause him to fall in the draft, but he is worth the gamble in rounds four to six because of his upside. If he is healthy, he will make a fine pro tight end.
Tony Washington, OT, Abilene Christian
Washington is a name to get to know. He plays at Abilene Christian so he will not get the screen time or press players from bigger school receive, but he is a legitimate left tackle prospect. There arenít many tackles at any school that possess the type of size and athleticism combo that Washington has. He has a classic left tackle frame at 6'7 305lbs, and is very light on his feet. Those two traits cannot be taught and are going to make him very attractive on draft day. He is a work in progress though, and may not be ready to play much as a rookie. Despite topping 300lbs, he is a bit light in the lower body and must get stronger to hold his ground against NFL caliber defensive lineman. His footwork can also be inconsistent, which leads him to look a bit stiff at times. This is only his fifth year of playing football, so there is a lot of catching up to do on fundamentals and experience. The physical tools are there though, and Washington is the type of player that could really rise in the post season.
Jeff Byers, OL, USC
From a guy who has only played five years total of football, to a guy that has played six years of college ball: Jeff Byers has been around seemingly forever. He was one of the truly elite prospects at any position coming out of high school, and made an immediate splash at USC as a true freshman backing up both center and guard, while earning three starts at the end of the year. A hip injury took his sophomore season away, and a back injury to the following season away. Those two injuries allowed him to gain a sixth year of eligibility and return for the 2009 season. Byers has played the last two seasons for SC without a problem, earning All Pac 10 honors each season. From a physical standpoint, he is an extremely mobile lineman. Byers is light on his feet and very nimble, and it is not uncommon to see him ten yards down the field trying to pick up blockers. He is very intelligent, can play guard or center, and plays with a mean streak. The questions about Byersí game stem from his durability issues previously mentioned, but also his lack of power at the point of attack and average size. He may profile best to a zone blocking scheme, but he could be a quality lineman in that scheme. Byers deserves talk in the middle rounds, and could arguably be the top center prospect in the draft once the draft rolls around.
Ko Quaye, DT, South Dakota
Quaye came to the University of South Dakota as a 255lb lineman, and is now topping the 300lb mark. He spent his first season as a redshirt, then played mostly as a reserve his first two seasons for the Coyotes. He moved into the starting lineup as a junior, and had 44 tackles, 7.5 for loss, and 2.5 sacks to go along with an interception. So far this year through seven games, he has 23 tackles, 5.5 for loss, and half a sack. Quaye is your typical fireplug defensive tackle: his quickness and low center of gravity make it tough for blockers to get a hold of and drive off the line. He is a good athlete and shows the ability to control the line and get penetration to disrupt the action in the backfield. The obvious questions about Quaye stem from the level of compeition and how well he will stack up at the point of attack against bigger, stronger lineman on a consistent basis. He will likely only carry a late round grade, but heís a player that could provide solid depth along a defensive line at the next level.
Boris Lee, LB, Troy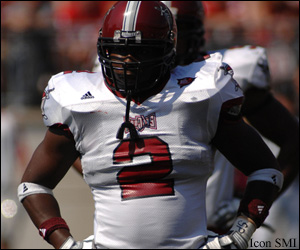 Troy has gotten a lot of attention with the success of DeMarcus Ware in the NFL. This year they have two hybrid ends in Cameron Sheffield and Brandon Lang that envoke some Ware discussions, but itís a true linebacker that leads the defense. Lee plays in the middle of the defense and makes plays all over the field. He is tough and aggressive, willing to come up and sift through the garbage to make a tackle at the line of scrimmage. He is very active and can get to the perimeter to stop the run. What stands out the most is his awareness in coverage. He is a bit short at barely 6' tall, and may not be the most explosive athlete, but he gets good depth in his drops and shows ball skills you do not always find in linebackers. Lee has seven career interceptions coming into his senior season. He is a very solid all around linebacker prospect that could provide depth inside or out, and may surprise some and become a starter one day.
Kevin Thomas, CB, USC
The USC defense has sent quite a few players to the NFL in recent seasons, and the trend should continue this year. There are a number of players on the defense that carry big names in draft circles, but there are other players that have pro potential that simply slide through without any recognition. Thomas is one of those guys. He has shown very good ball skills since his true freshman season. He is tall and athletic, and does a very good job picking up the ball while it is in the air. He is also not afraid to come up in run support and throw his body around. Injuries have slowed him down at various times during his career, which has played a role in his lack of attention. He was slated to start as a sophomore but redshirted the season because of a shoulder injury. When he came back last year, he played in a reserve capacity but still led the team with three interceptions. Thomas does have some shortcomings. He is on the thin side and must bulk up, and may not possess ideal top end speed for a corner. However, his combination of height, ball skills, athleticism, and toughness should allow him to be a contributor at the next level, no matter where he is drafted.
Alterraun Verner, CB, UCLA
You can tell itís been a down time for the UCLA program. Ten years ago if they had a corner with the playmaking skills that Verner possesses, everyone would know his name. As it stands now, Verner doesnít get much hype when talking about the top cover men or playmakers at the CB spot when he should be in the middle of the discussion. He is a tremendous athlete with excellent quickness and change of direction skills. He can locate the ball and does a great job anticipating the action and making a play on the football. Entering his senior season, he had eight career picks with three of them being taken back for touchdowns. Through six games as a senior, he already has three more picks. Average size limits him a bit, and he may not have true game breaking straight line speed but Verner is a legit playmaker. Workouts should ultimately determine how high he goes in the draft, but from what he shows on Saturdays, he could be a fine nickel corner in the NFL.
Barry Church, S, Toledo
Church chose Toledo because of the opportunity to play right away. He made the most of that opportunity, earning 1st team all MAC honors as a true freshman. He earned 1st team honors as a sophomore and junior as well, and is now vying to become a four time 1st team All MAC defender. He is well on his way with 65 tackles, 5.5 for loss, 1.5 sacks, a pick, and two blocked kicks through the first seven games of this season. Church is just a natural on the football field. He seems to know where the action is, and gets himself in position to make a play no matter where it is. He is excellent at coming up to the line of scrimmage and supporting the run. He is aggressive and loves to make a hit. Packing almost 220lbs on his 6'2 frame gives him the size to consistently come up and make plays without much worry about the toll it takes on his body. Church also shows tremendous instincts in coverage, as his eight career picks before this season prove. He may not have the best speed and may not be the best athlete, but Church is an excellent football player. He wonít make plays on raw talent alone but he has the instincts to always be near the action. His size, toughness, instincts and solid enough physical tools could give him a long life in the NFL.